Guns, gear and ammo found at the second day of SHOT Show 2020.
The second day of SHOT Shot 2020 is under our belts and there was plenty to see. As for any major world-shaking announcements or releases? Not so much. But that doesn't mean there weren't some cool new guns, gear and ammo coming down the pipeline.
Timney Triggers Daniel Horner
There's fast, then there's fast. Timney's new competitive AR trigger is the latter. Adjustable down to a 1 1/2-pound pull weight, the Daniel Horner signature adjustable two-stage can move when it wants to. But its basement on break isn't what caught my eye (or trigger finger). The drop-in trigger's quick reset was impressive. Fractions of an inch. It has the potential to cook, which any competitor should love.
Taurus G3
In the hand, Taurus seems to have gotten the G3 right. This is fairly important, given nearly any company producing striker-fired pistols should have a Glock 19 competitor. Where the company succeeded was a pistol that fits the hand well and seems very controllable. Nice stippling as well–not a cheese grater, but aggressive enough to keep it in place. The trigger felt respectable as well. Are there better out there? Yes. But for a very economical pistol, it was good and make the G3 feel like it would be a performer.
Trijicon Optics And Devices
There's no doubt about it, Trijicon has its sights set on becoming a major player at every level of the market. Their catalog expands by 80 some products this year. Granted that number is somewhat inflated, given it accounts for different magnifications of the same model. But overall it's still impressive and opens the company to many who thought they could never afford something from it.
The belle of the ball was Trijicon's Ventus. Not officially released until later this year, the device has the potential to be a game-changer, not only ranging shots, but measuring the wind and delivering a solution in one swoop. It's all done by lasers and is as accurate as you can get.
Also impressive were the company's entry-level optics. The Huron line might start in the $600, but it delivers. The lenses are the same as what Trijicon puts in his high-end options, so it's crystal clear. It's the company's first non-illuminated scope, so the company saves considerably there.
True Velocity-Sierra Ammo
True Velocity has teamed up with a legend for its first commercial venture–Sierra Bullets. It could be a quite revolutionary partnership. The poly-cased ammunition not only drastically changes this segment of the industry's material, but also the ammo's accuracy potential. The way the guys at the Sierra booth put it, along with being more consistently uniform, the space-age material is also more easily tailored to a specific load. But you'll have to wait to get your hands on some to test it out yourself. True Velocity put delivery of the first ammo at some time in 2020.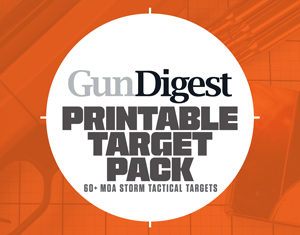 Next Step: Get your FREE Printable Target Pack
Enhance your shooting precision with our 62 MOA Targets, perfect for rifles and handguns. Crafted in collaboration with Storm Tactical for accuracy and versatility.
Subscribe to the Gun Digest email newsletter and get your downloadable target pack sent straight to your inbox. Stay updated with the latest firearms info in the industry.