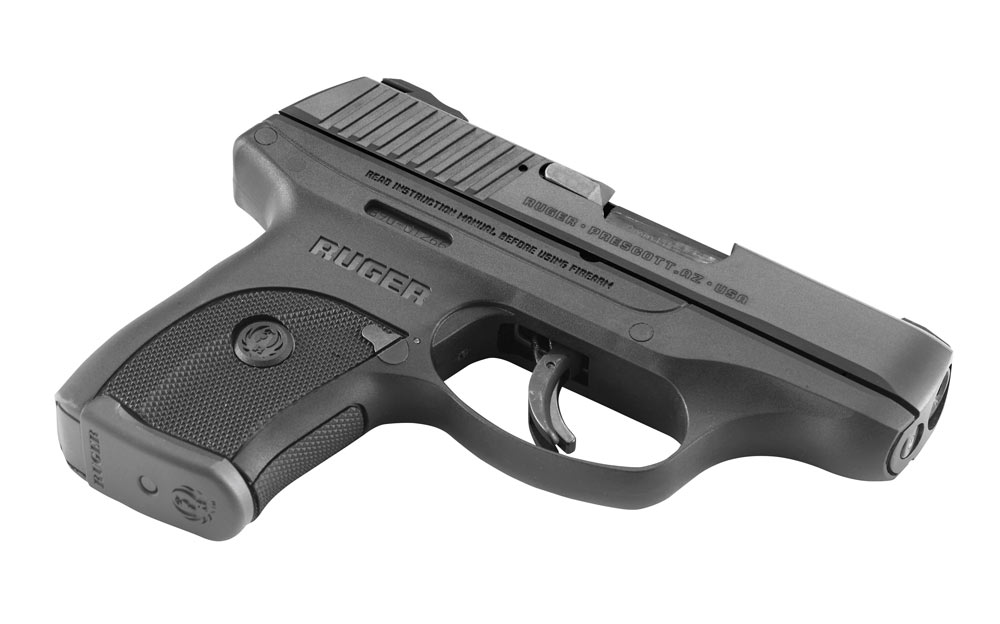 When it comes to producing reliable petite pistols, one company has ruled the roost.
Ruger has found smaller is better when it comes to semi-automatic handguns with its .380 LCP and 9mm LC9 developing dedicated followings. And the Connecticut/Arizona manufacturer doesn't appear it plans to stray from that formula anytime soon.
Ruger reiterated its devotion to the diminutive pistol market on July 29 with the release of the LC9s (which we'll do a full gun review of in the August 28 edition of Gun Digest the Magazine).
From the outside, the new handgun appears to be a slightly refined clone of its predecessor. However, get under the slide of the LC9s and it's a whole different ball game.
The pistol is a striker-fired version of the LC9, an alteration that has the potential to hit the sweet spot with shooters. What the switch from the double-action, hammer-fire operation of the earlier version means is a crisper and shorter trigger pull.
The LC9s trigger pull is nearly 1 pound less than and .2 inches shorter than its predecessor, according to the handgun's spec sheet. It also incorporates a blade safety on the trigger, a popular feature found on most striker-fired pistols.
Ruger, however, has retained the thumb safety on its new pistol – a feature common to the entire Lightweight Compact Pistol line. It also has included a number of other safety features, such as a magazine disconnect, inert magazine for safe disassembly and a visual inspection port that allows for visual confirmation of a loaded or empty chamber.
Ruger has kept the proportions of the LC9s identical to the earlier version of the gun, making it ideal for regular carry. The pistol has a 3.12-inch barrel and is 6 inches in length, 4.5 inches in height and .9 inches in width.
The LC9s is also lightweight tipping the scales at 17.2 ounces unloaded. As a comparison, Ruger's standard-sized 9mm – SR9 – comes in nearly 10-ounces heavier.
Further bolstering the LC9s' carry cred is its capacity, which is 7+1. But, where some might find a bone to pick with Ruger is the pistol only comes with one 7-round magazine.
The handgun boasts a through-hardened alloy steel slide, blued to prevent corrosion. It has a one-piece, glass-filled nylon grip frame with aggressive checkering.
The LC9s also features a 3-dot sight with a fixed front and windage-adjustable rear.
The one aspect of the new gun – actually any small handgun – shooters will have to deal with is recoil and muzzle flip. As light and small as the LC9s is, both of these have the potential of being pronounced.
Plenty of range time and continued practice should help shooters overcome these aforementioned aspects. But for safe measure, Ruger offers a finger grip extension floorplate that can be added to the magazine to increase comfort and grip.
The LC9s is compatible with all accessory designed for previous models of Ruger's Lightweight Compact Pistol line. And the handgun isn't only light on the beltline, but also the wallet with an MSRP of $449.
---
NEXT STEP: Download Your Free Storm Tactical Printable Target Pack
62 Printable MOA Targets with DOT Drills - Rifle Range in YARDS
This impressive target pack from our friends at Storm Tactical contains
62 printable targets
for rifle and handgun range use. Target grids and bullseye sizes are in MOA. Ideal for long-range shooting!
Subscribe to the Gun Digest email newsletter and we'll send your print-at-home target pack right away.
Just enter your email address below.
---