There's no arguing that if you're out to buy a .380 ACP, you've got your work cut out for you. Everybody and their cousin seems to be turning out a pistol that grazes on the John M. Browning designed cartridge, for obvious reasons.
Presently, concealed carry is one of the big drivers in firearm sales and the .380 is a popular choice for this task. And the market appear set to get a bit more crowded when it comes to handguns that feed off the diminutive self-defense round.
Remington has officially jumped the micro-pistol game with the unveiling the RM380 earlier this month. And while there are plenty of .380s out there, the New York/North Carolina manufacturer looks to have given shooters some reasons to look in its direction.
Perhaps the most notable aspect of Big Green's new handgun is it has broken from the polymer-pistol pack with the company opting for a metal frame. Remington has built the RM380's backbone with lightweight, yet durable 7075 aluminum — an alloy used in some pretty unforgiving environments.
The aluminum is utilized extensively in the aircraft and aerospace industries, typically for structural parts. But the wear-resistant alloy can also be found in many AR-style rifle's receivers. While durable, the material does little to weight the gun down with Remington listing the RM380 at 12.2 ounces unloaded.
The other intriguing feature is the pistol is double-action only, hammer-fired. This is quite a break from present trends, but swimming against the striker-fired tide could swing both ways with shooters.
On the one hand, the system gives shooters an extra piece of mind given the 6+1-capacity .380 has second-strike capabilities. That is, if a primer does not go off on the first trigger pull a shooter can have another whack at it without having to rack the slide.
On the other hand, at a stout 10 pounds, the trigger's pull weight might be a hair more than many are comfortable with in a self-defense gun. This hefty weight, however, has a function in the RM380's system, acting as the pistol's safety.
The pistol has slight dimensions, measuring in at 5.3-inches long, 3.8-inches tall, .94-inches in width, with a 2.9-inch stainless-steel barrel. The gun's last measurement is actually a tick longer than many in the class, which could help the round achieve better ballistics.
The design also has the potential to win some fans given it's a locked-breach. Many of the RM380's contemporaries are simple blow-back operated, which is know to produce an uncomfortable amount of recoil.
The locked-breach design not only mitigates that factor quite a bit, but also the typically stiff springs also associated with blow-back pistols. In turn, the new .380 should have a much easier slide to rack, which is never a bad thing on a self-defense weapon — particularly one on the small side.
Remington has included an extended beavertail on the gun, an addition that should help shooters get a solid grip on the pistol, in addition to helping them avoid a bite from the slide. The RM380 also features an ambidextrous magazine release, making it a fit for righties and lefties.
A few of the gun's other features include: replaceable grip panels, checkered front strap, aggressive cocking serrations, fully functional slide stop with last-round hold open, and fixed sights.
The RM380 ships with two magazines, one with a flush floor plate, the other with a grip extender. The MSRP of the new pistol is $417.
Remington RM380 Specs
Caliber: . 380 Auto
Magazine Capacity: 6+1
Barrel Length: 2.9 inches
Barrel Type: 410 Stainless Steel
Twist Rate: 1:16
Overall Length: 5.27 inches
Overall Height: 3.86 inches
Overall Width: .94 inches
Sights: Fixed
Trigger Pull: Double Action Only (10-pound pull weight)
Average Weight: 12.2 Ounces (unloaded & without magazine)
MSRP: $417.00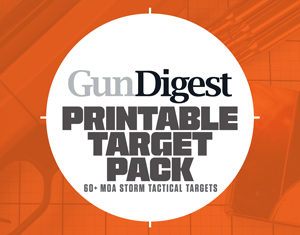 Next Step: Get your FREE Printable Target Pack
Enhance your shooting precision with our 62 MOA Targets, perfect for rifles and handguns. Crafted in collaboration with Storm Tactical for accuracy and versatility.
Subscribe to the Gun Digest email newsletter and get your downloadable target pack sent straight to your inbox. Stay updated with the latest firearms info in the industry.