Jeff Gabel and Johnathon Akers each added a Sig Sauer P320 pistol to their gun collections. Soon, one of them will stuff the gun safe with a heck of a lot more Sig hardware.
The finalist of Sig Sauer's P320 Take-A-SHOT contest face off at the 2015 SHOT Show in a bid to take home a $10,000 prize package. And, boy, if you like the New Hampshire manufacturer's guns, it's a heck of roster of goods to nab.
The grand prize includes a SIG MCX, SIG MPX, M11-A1, MK25, extra barrels for both pistols, extra magazines and SIG SAUER Elite Ammunition all in a custom Pelican case.
But to pocket all those goodies Gabel or Akers will have to have a steady hand. The grand prize winner will be determined at the Sig Sauer VIP Range Day, through a series of shooting challenges.
Gabel, of Cedar Falls, Iowa, was the winner of the video contest, with his entry "A Gun For Every Hand". Akers of Katy, Texas was selected in the P320 Sweepstakes. Check out Sig Sauer's Facebook page or You Tube page for video of the final competition.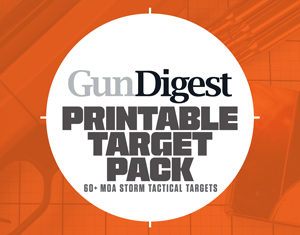 Next Step: Get your FREE Printable Target Pack
Enhance your shooting precision with our 62 MOA Targets, perfect for rifles and handguns. Crafted in collaboration with Storm Tactical for accuracy and versatility.
Subscribe to the Gun Digest email newsletter and get your downloadable target pack sent straight to your inbox. Stay updated with the latest firearms info in the industry.