Chambered for some of the largest pistol calibers available, the Desert Eagle has always packed plenty of punch. Now, Magnum Research is packing twice the wallop into its legendary hand-howitzer, in a manner of speaking.
The Minnesota-based gunmaker has introduced a combo caliber package for its popular semi-automatic pistol, allowing it to jump between two potent rounds. The Desert Eagle Mark XIX comes complete with everything shooters need to throw both .44 Magnum and .50 AE rounds downrange at their leisure.
This has been a popular conversion for many shooters of the Israeli-made handgun, but one that required multiple purchases. But through the package now being offered, only one separate acquisition needs to be made to get the pistol ready to handle either large-bore round — a .50 AE magazine.
The three-piece package comes with two 6-inch barrels, one chambered for .44 Magnum and one for .50 AE, and a .44 Magnum magazine. The caliber conversion takes only seconds to accomplish, giving shooters plenty of bang for their buck.
Like the rest of the Desert Eagle line, the pistol boasts a hefty steel frame and rather large proportions. In all, the gun measures 10.75-inches in overall length and 6.25-inches in height. It also tips the scales at nearly 3 pounds.
The combo package pistol has a black oxide finish and of course utilizes the line's unique gas operating system. The suggested retail price for the Desert Eagle package is $1,949.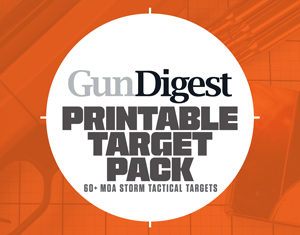 Next Step: Get your FREE Printable Target Pack
Enhance your shooting precision with our 62 MOA Targets, perfect for rifles and handguns. Crafted in collaboration with Storm Tactical for accuracy and versatility.
Subscribe to the Gun Digest email newsletter and get your downloadable target pack sent straight to your inbox. Stay updated with the latest firearms info in the industry.