Champion Traps and Targets has been producing a wide variety of reactive targets for some time now. These have included a range of molded DuraSeal, breakable VisiChalk, clay pigeons, VisiColor paper, and small metal spinners for rimfire guns.
However, what the manufacturer has not produced – until now – is larger steel targets rated for use with centerfire calibers. That has changed with Champion's recent introduction of its new Center Mass AR500 Steel Targets.
Designed for years of reliable usage, the new Champion Target Center Mass AR500 Steel Targets feature a premium rolled and hardened AR500 steel construction. Targets are available in either 1/4-inch thickness or 3/8-inch thickness. The 1/4-inch thick steel targets are rated for centerfire handgun calibers, while the 3/8-inch thick targets are approved for centerfire rifle calibers. Of course, as with all steel targets, these still need to placed at the appropriate distances given the calibers used.
The Center Mass targets are precision laser-cut and feature square holes for mounting with 1/2-inch carriage bolts. All of the targets are 100-percent made in the U.S.
The new Champion Target Center Mass AR500 Steel Targets come in three different shapes and sizes. Two gong options are available: 4-inch and 8-inch. There are also 4- or 8-inch square options, as well as 66-percent and full-size IPSC silhouette-style targets. All of this is to say that shooters will have plenty of steel target options to choose from when they head out for an enjoyable trip to the range.
"Interactivity is the name of the game when it comes to the range today," said Eliza Graves, Brand Manager for Champion. "Shooters want to have fun and improve their skills with immediate feedback. Hearing is believing with Champion Center Mass Steel Targets."
The new Center Mass Targets range in price from $14.95 for the 3/8-inch thick 4-inch gong and square up to $189.95 for the full-size, 3/8-inch thick IPSC target. For more information, visit the Champion Traps and Targets website.
---
Recommended: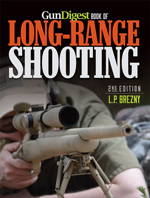 Gun Digest Book of Long-Range Shooting, 2nd Edition
Get the most recent advances in guns and gear to extend your range for hunting, informal target shooting, and formal competition. Discover new tools for long-range shooters both in the field and on the firing range, with coverage of new developments from advances in military applied combat theory. Learn more