StealthGearUSA
The ONYX IWB holster is for all-day concealment, and what makes it comfortable is the inner VentCore breathable platform that dissipates your sweat and keeps your waistline area dry. The outer shell is Kydex, and the rig attaches with stainless steel clips. Each holster is custom built. Made in the USA. (See StealthGearUSA IWB Holsters at Amazon.com)
---
Crossbreed

The SuperTuck Deluxe is a blend of stability and comfort. The backing is offered in horsehide, cowhide or hard-rolled cowhide. One option to consider is the Combat Cut where some of the leather is trimmed from the backing. This allows the shooter to get a better grip and a faster draw. The trade-off is a slight decrease in comfort. ($67 – $78, amazon.com)
---
Blackhawk!
The Epoch Level 3 Light Bearing Duty Holster is designed for Glock and Smith & Wesson M&P pistols mounted with an under-barrel pistol light. It will fit with Streamlight's TLR-1 and TLR-2 and the SureFire X300. Made of a proprietary polymer blend, the holster has the same master grip release principle as the Serpa series of holsters, which involves a thumb-activated release that disengages both the ejection-port lock and the protective pivot guard. ($68 to $169, amazon.com)
---
Galco
The Royal Guard is a great choice for larger defensive pistols that are to be worn inside the pants. The rough side of the leather faces out, with the friction adding stability. The smooth side is on the inside for a quick draw and easy holstering. It is made of horsehide with a natural finish. ($100-$120, amazon.com)
---
Safariland
Safariland took three popular holster models and added a Cordura nylon wrap finish over the SafariLaminate thermal-molded shell. They come in MultiCam, Ranger green, coyote and khaki. The models offered are the 6004USN and the 6354DO, two tactical holster rigs; and the 6378USN, an open-top concealment hip holster. ($144-$220, amazon.com)
This article appeared in Gun Digest the Magazine.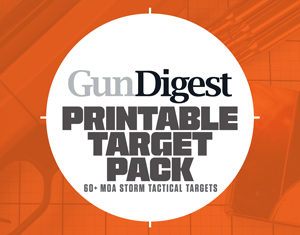 Next Step: Get your FREE Printable Target Pack
Enhance your shooting precision with our 62 MOA Targets, perfect for rifles and handguns. Crafted in collaboration with Storm Tactical for accuracy and versatility.
Subscribe to the Gun Digest email newsletter and get your downloadable target pack sent straight to your inbox. Stay updated with the latest firearms info in the industry.