My first experience with Bersa, the Argentinian gun manufacturer whose products are imported by Eagle Imports, came a few years back while filming a TV show in which we were reviewing one of their famed Thunder compact semi-auto pistols.
The Bersa Thunder I was shooting was chambered in .380, the most popular chambering of the line, which also features guns in .32 and .22 calibers, and was outfitted with a red laser sight designed specifically to contour with the bottom of the barrel.
To say I loved the feel and performance of that compact .380 would be an understatement. I had never given the caliber much consideration, but the light weight, compact feel, accuracy and performance changed my mind. After filming, I reluctantly gave it back to my producers, and promptly placed it near the top of my firearms wish list. If only it came in 9mm version.
So it was with the same excitement of shooting that first Thunder model that the offices of Gun Digest received Bersa's most recent offering, the BP9CC (CC as in concealed carry and 9 as in 9mm). But was it the answer to my earlier wish?
A Concealed Carry Gun For the Times
The first thing you notice about the BP9CC is its size—most notably it's slender width. This is a gun made to carry, allowing for an almost unnoticeable ride and simple concealment.
At a comfortable .94 inches wide, the gun is no thicker than a paperback book or cell phone with an OtterBox case and almost as light. It tips the scales at a mere 21.5 ounces unloaded, and is 6.35 inches long and 4.8 inches tall.
But it's not enough to simply build a small gun and chamber it in 9mm, .40 or .45. The smaller the gun, the harder it is to control and properly aim. Make it too big, and as nice as it may shoot, it will be a pain to carry or conceal.
That's why Bersa created the BP9CC in the same vein as the S&W Shield, the Glock 26 and the Springfield Armory XDs—because it's just right in size and delivery.
Bersa BP9CC Ergonomics Defined
As noted, the first thing a shooter notices about the striker-fired BP9 is it's slender design. Next, they will notice how good the gun feels in the hand.
The high-impact polymer frame is molded to allow for a firm, yet comfortable grip, and is still long enough in the grip to wrap most of your hand around. Lined grooves on the front and rear of the grip along with textured side panels improve the hold on the gun without chewing the shooter's hands during high-volume shooting.
Additional features include a white three-dot sighting system, a partial Picatinny rail beneath the barrel for a laser or light, an ambidextrous mag release, a loaded chamber indicator and an integral locking safety.
The trigger is wide, which may take getting used to for shooters accustomed to using just the tip of their finger to shoot, and required some pull before tightening up and breaking.
Shooting with a two-handed grip at targets seven yards away, the Bersa easily fired groups under two inches and gunsmith Kurt Derwort, an accomplished shooter, fired groups inside a half inch.
While my hands would have to settle for 2.5-inch groups, I was more than pleased with the 9mm's performance, and while I still have a .380 Thunder on my wish list, the BP9CC will be checked off as "purchased." This is definitely a semi-auto worth carrying.
This article appeared in the January 13, 2014 issue of Gun Digest the Magazine.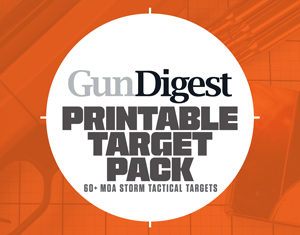 Next Step: Get your FREE Printable Target Pack
Enhance your shooting precision with our 62 MOA Targets, perfect for rifles and handguns. Crafted in collaboration with Storm Tactical for accuracy and versatility.
Subscribe to the Gun Digest email newsletter and get your downloadable target pack sent straight to your inbox. Stay updated with the latest firearms info in the industry.