Throughout its existence many shooters have revered the 1911, and fans of this great pistol have often turned to the 1911 Commander version for a more practical carry option. A new entry in the field of Commander 1911 pistols is the No Name Commander from Guncrafter Industries (GI).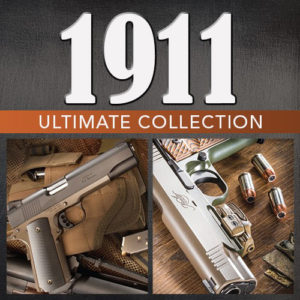 As with all GI pistols, the No Name Commander starts as a fully machined frame and slide cut from American forgings before being expertly fit and finished and receiving tool steel fire control components.
Like most custom 1911 makers, GI offers tons of different options and treatments for this Commander-style pistol, including frame treatment, rear grip frame shape, checkering and finish, among others. The most popular combinations incorporate GI's 15 LPI checkering with a bob-tail for concealed carry.
Some standard features include a 4.25-inch Match Grade barrel, a beveled magazine well, a slide stop fully machined from bar stock, a single side thumb safety and a high-sweep grip safety.
The pistol has an unloaded weight of 35 ounces and is available in 9mm, .38 Super, .45 ACP and .50 GI. With the exception of the .50 GI, all of these are also available with aluminum frames for more comfortable carry. (Price varies; GuncrafterIndustries.com)
---
NEXT STEP: Download Your Free Storm Tactical Printable Target Pack
62 Printable MOA Targets with DOT Drills - Rifle Range in YARDS
This impressive target pack from our friends at Storm Tactical contains
62 printable targets
for rifle and handgun range use. Target grids and bullseye sizes are in MOA. Ideal for long-range shooting!
Subscribe to the Gun Digest email newsletter and we'll send your print-at-home target pack right away.
Just enter your email address below.
---