From all across the web, we've searched high and low for some of the best deals we can find! From tactical gear to firearms, from ammo to footwear, we've dug down deep to deliver some delicious discounts!
Take a scroll and see the best Black Friday & Cyber Monday Gun Deals!
Check back often because we're updating this article LIVE throughout the week!
PSA AR-15 in 5.56 NATO with a 16″ barrel and Magpul MBUS sights, just $480!
Keep it simple, keep yourself safe. PSA middy rifle kit that just needs a lower and comes in black, FDE, or OD green.
PSA 16″ Midlength 5.56 NATO 1:7 Nitride MOE Black Rifle Kit Black — $359
PSA 16″ Midlength 5.56 NATO 1:7 Nitride MOE Black Rifle Kit OD Green — $359
PSA 16″ Midlength 5.56 NATO 1:7 Nitride MOE Black Rifle Kit FDE — $359
Blem 16″ mid-length gas system 5.56 NATO upper for just $220! No BCG or CH.
A blem for a killer deal! PSA Freedom AR-15 rifle kit. Just add a stripped lower and build it out! $320
No BCG or charging handle with this upper, but it does come with Magpul MBUS sights! 16″ M4 1:7 twist 5.56 NATO just $280
Something for the battle rifle boys, PSA gen 3 PA10 18″ .308 WIN upper WITH BCG and CH for only $480
Save more money and get a stainless steel barrel with this blem PA10 18″ .308 Win upper! Comes with a BCG and a charging handle for only $470
Another blem, 5.56 NATO, 16″ barrel, PSA PA-15 for $480. Throw a red dot on this and it is ready for anything!
Now that pistols are back on the menu, take a look at this PSA AR-15 Pistol Kit with a 10.5″ barrel, 12″ handguard, and SBA3 EPT brace for just $500
OTHER DEALS
PSA 7″ Nitride 1:7 Pistol Length 5.56 NATO Marauder AR-15 Upper Assembly, Black – No BCG/CH
PSA 16″ Mid-Length 5.56 NATO 1/7 Nitride 13.5″ Lightweight M-Lok MOE EPT Rifle w/MBUS Sight Set
PSA 11.5″ 5.56 10.5″ STS Railed Upper w/BCG&CH
BLEM PSA PA-15 5.56 AR-15 Rifle 16″ Nitride M4 CRBN 13.5″ M-LOK
PSA PA-15 11.5" Carbine-Length 5.56 NATO 1/7 Phosphate BTR Classic Pistol w/Carry Handle
BLEM PSA AR15 Complete MOE EPT Stealth Lower, Black
PSA 10.5″ 5.56 NATO 1/7 Nit 12″ Slant M-lok MOE EPT SBA3 PK
Palmetto State Armory Magpul MOE Lower Build Kit, Black
PSA MFT Minimalist Lower Build Kit, Black
PSA 16″ Mid-length 5.56 NATO 1:7 Nitride 13.5″ Lightweight M-Lok Upper With Nickel Boron BCG & CH
Upgrade your workbench with this Real Avid gun vice and AR-15 armorer's kit combo
Give your rifle some extra range and versatility with this Sig Sauer Tango 6x24mm LPVO scope
In need of a competent, no-frills red dot sight, the Vortex SPARC II is available for nearly half off
Mira Safety EvakPak Survival Kit
Can you put a price on peace of mind? Be ready for the worst with Mira Safety's EvakPak Survival Kit. It includes a gas mask, filters, a pouch and potassium iodine tablets for only $324.99!
Walker's Razor Slim Earmuffs
Magpul Patrol Glove 2.0 Lightweight Tactical Leather Gloves
Magpul DAKA GRID Gun Case Organizer Foam Insert for Pelican Vault Multi-Purpose Hard Case
10% off the best sellers plus free shipping and free stickers. Random orders will also win a free knife, free tactical pen, and more!
Podavach Speed Loaders
One of the most simple and easy-to-use AR/AK speed loaders on the market. We've loaded thousands of rounds with ours and love it. Up to 45% off for Black Friday!
Spartan Armor Systems
Up to 25% off sitewide! This means plates, carriers, backpacks, and loads more. Armor up!
Olight
Maybe not the right lighting solution for everyone, but at the Black Friday 50% off prices Olight has going right now, it's hard to say no. Take a look!
Primary Arms
Save sitewide with Pre-Black Friday codes and then shop the mega sales for Black Friday! Primary Arms optics, mounts, Holosun, Streamlight, TriggerTech, and a ton more are on sale.
Wheeler Tools
You'll need some tools to finish all the Black Friday builds you just bought! Up to 50% off on Wheeler tools like their F.A.T. wrench, Gunsmithing screwdriver set, roll pin punch set, and so m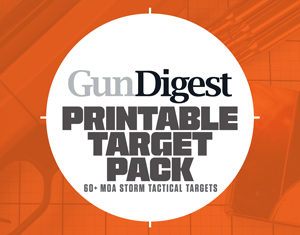 Next Step: Get your FREE Printable Target Pack
Enhance your shooting precision with our 62 MOA Targets, perfect for rifles and handguns. Crafted in collaboration with Storm Tactical for accuracy and versatility.

Subscribe to the Gun Digest email newsletter and get your downloadable target pack sent straight to your inbox. Stay updated with the latest firearms info in the industry.