[imagebrowser id=483]
CZ has a vast catalog of firearms, boasting rifles, pistols and shotguns for any occasion. Whether it be for shooting birds on the wing or self defense, the Czech manufacturer has shooters covered. And the company hasn't sat on its heels on filling every shooting niche out there in 2017; it has a slew of new firearms hitting the market. Here is a look at 10 of the new CZ guns that are certain to hit the bull's eye the coming year.
---
When the Iron Curtain fell a firearms icon arose
Reorganized after the fall of the Iron Curtain from a century-old, communist state-owned gun maker, CZ Firearms has taken the world by storm. Around the globe, the Czech manufacturer's name has become synonymous with well-crafted and dependable pistols, rifles and shotguns. Gun Digest Book of CZ Firearms pulls back the veil on the iconic company and its guns, arming you with the definitive resource for everything CZ. Get Your Copy Now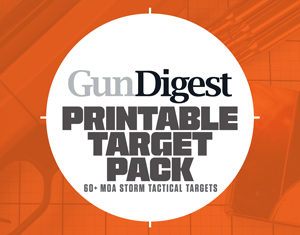 Next Step: Get your FREE Printable Target Pack
Enhance your shooting precision with our 62 MOA Targets, perfect for rifles and handguns. Crafted in collaboration with Storm Tactical for accuracy and versatility.
Subscribe to the Gun Digest email newsletter and get your downloadable target pack sent straight to your inbox. Stay updated with the latest firearms info in the industry.