Earlier this year, Colt unveiled its new-for-2016 Expanse M4 rifle, a moderately priced, entry-level AR. This rifle's price point made it an excellent starting point for shooters looking to get into ARs for the first time, or those looking to build a completely customized rifle from the ground up using a quality Colt rifle.
The only real knocks against the Expanse M4 were that it did not have a forward assist or a dust cover. While not strictly necessary for many typical shooting applications, a lot of shooters like having those two features on their rifles, and some voiced this preference to Colt.
In response, Colt has now introduced a new model of the Expanse M4 (Model CE2000) that includes a Colt dust cover and forward assist and uses the same excellent Colt forgings, bolt and other parts used on the rest of the M4 line.
"This was a natural move for us," said Justin Baldini, Product Director for Colt. "We simply listened to what our customers and our Colt Stocking Dealers were telling us, and the story was simple. Folks want the added features of a real Colt dust cover and forward assist, and they want it to come that way from the factory."
Like the previous M4 Expanse, this model with the forward assist and dust cover is competitively priced, making it an equally great option for new AR owners or a custom build, or for collectors who want an authentic Colt M4. MSRP on the new Colt M4 Expanse with forward assist and dust cover is currently listed at $749.
"We couldn't be happier to deliver to our customers exactly what they want," said Paul Spitale, Senior VP at Colt. "It's a proud moment to be able to build on the success we've had with the Expanse M4 in a way that provides an even better ownership experience to the discerning firearms enthusiast."
For more information, visit Colt's website.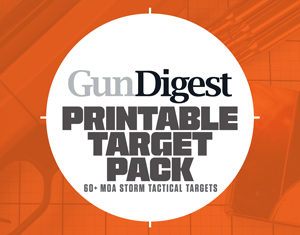 Next Step: Get your FREE Printable Target Pack
Enhance your shooting precision with our 62 MOA Targets, perfect for rifles and handguns. Crafted in collaboration with Storm Tactical for accuracy and versatility.
Subscribe to the Gun Digest email newsletter and get your downloadable target pack sent straight to your inbox. Stay updated with the latest firearms info in the industry.