If you're a .380 ACP fan, then 2014 was your year.
The market was flooded with handguns chambered for the John M. Browning-designed cartridge, fueled by the growing interest in concealed carry. And the field got a bit more crowded before the New Year, with a manufacturer familiar with the .380 introducing a new pistol in the caliber.
Bersa added another .380 to its roster, expanding its Concealed Carry line with the BP380. And while the company already produces a highly popular .380 pistol – the Thunder – its new offering definitely seems to fill a place in the Argentinean manufacturer's catalog.
The new BP380 offers shooters a polymer-framed option in the caliber that is also striker fired. Both have been among the most popular features in recent years for those hunting for a concealed carry pistol.
The new handgun is identical in size and shape of earlier models in the Concealed Carry line, which should be good news for anyone intrigued with the pistol. The pistols appear to have the dimensions to make them comfortable carry pieces.
Like the 9mm and 40 S&W models, the BP380 tips the scales at 21.5 ounces and has an overall length of 6.35 inches. But the tale of the tape that really catches the eye is the pistol's width – a mere .94 inches. In addition to reducing printing, the slenderness of the pistol has the potential to make it a popular option for those who carry inside the waistband.
The pistol boasts a 3.3-inch barrel, a factor in its concealability. But, the shorter barrel has the potential to increase the felt recoil and muzzle flip compared to larger pistols. These issues, as with many in shooting, can be addressed if a person is dedicated to learning how to handle the idiosyncrasies of the firearm.
Like the 9mm model, the BP380's single-stack magazine holds eight rounds and has a loaded-chamber indicator that is both visual and tactile. The pistol also have a number of safety features, including a trigger safety, integral locking system, magazine disconnect, trigger safety and an automatic firing-pin safety.
The BP380 is outfitted with three-dot sights. If the system isn't what a shooter wants, they are interchangeable with any aftermarket options compatible Sig Sauer #8 (front) and Glock (rear). Bersa also offers some cosmetic choices for its new pistol. The BP380 comes in a matte black finish or duotone.
The new pistol MSRP is in the neighborhood of many comparable handguns, presently listed at $430.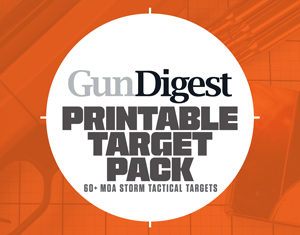 Next Step: Get your FREE Printable Target Pack
Enhance your shooting precision with our 62 MOA Targets, perfect for rifles and handguns. Crafted in collaboration with Storm Tactical for accuracy and versatility.
Subscribe to the Gun Digest email newsletter and get your downloadable target pack sent straight to your inbox. Stay updated with the latest firearms info in the industry.