Whether a survival gun, something to control varmints or a self-defense option, the truck gun is a vital tool for those on the go.
What Are Top Truck Gun Options:
I spend a lot of time in my truck. It goes where I go, and the reason I drive it is because it can do nearly anything I need it to do. One of the most important things I can and should do is make sure I'm properly armed and equipped in my truck for a variety of situations — including self-defense, the defense of others, survival and sporting opportunities.
The idea of a truck gun is as personal as selecting a concealed-carry gun. Different kinds of people want their truck guns to be able to do a variety of things. Some need their truck guns to pull coyote duty on their ranch out to 500 yards. Some need their guns to protect themselves and their families in close quarters, and some others need their truck gun to do just about everything because honestly, we never know what the hell is in store for us these days.
Here in rural Virginia, truck guns aren't novelties: They're practically listed as standard accessories when you buy your 4X4 from the dealership. I live near the Shenandoah Mountains, and our woods are full of deer, bears, coyotes and other critters. Less than an hour from my house, heavy and stressful Northern Virginia traffic can put my truck and me in urban situations where the need for a firearm isn't sporting at all, but quite possibly a life-or-death situation.
Ruger SR-556 Takedown
I drive a Toyota Tacoma, so there's not enough room for lots of truck guns. And regardless of what you drive, space is always a consideration — so being selective is a must. My truck gun needs to be easy to feed, easy to shoot, reliable, small — and absolutely convincing when it needs to bark. When I considered this concept, the first gun to jump into my head was an AR-15 in 5.56/223. I used them in the military, they shoot well, are fairly compact, are easy to feed and, for the most, part have plenty of bite. There's no shortage of good enough manufacturers these days, but if I had to pick one, I'd go with a Ruger SR-556 Takedown.
Why? My goodness … it might as well be called the "Ruger Truck Gun." The gun breaks down into several parts. The lower, the barrel, the upper, the bolt carrier group, etc., can all be separated without the need for special tools, so the gun's profile is, at its longest, only 18.5 inches. All of the gun parts come in a custom-fitted bag measuring a mere 22.5 inches long, 7 inches thick and 7.5 inches wide.
Wait, it gets better: If you feel that the 5.56 NATO isn't enough boom for you, Ruger makes a barrel kit chambered in .300 AAC Blackout. Ruger describes the kit as range-ready because the barrel's headspace is set at the factory, comes with sights and two .300 Blackout-specific magazines. Again, this all fits in its own bag. If not gun, it's the ultimate truck rifle.
Ruger 556
Remington Model 870 DM Magpul
The Remington Model 870 DM Magpul is the ultimate truck shotgun. It's a magazine-fed pump-action —and out-of-this-world reliable. There aren't many situations a pump-action 12-gauge shotgun can't handle. Technically it's a 12 Gauge, 3-inch pump-action shotgun. It's fed from either a three-shot or six-shot magazine. It's got a Magpul SGA stock and forend, XS ghost-ring sights, a tactical rail for mounting the optics of your choice, a tactical REM choke and a recoil pad so you can keep shooting to solve your problem. The whole gun is only 38.5 inches long, and if you really want to, you can easily break a shotgun down to its basic parts to make it fit in a very tight space like a lockable truck compartment, bag or under a seat in your vehicle.
Remington Model 870 DM Magpul
Marlin Model 1895 Trapper
Another solid Remington truck-gun choice is a lever-action from its Marlin division. Here, I'd push aside the gut reaction .30-30 Winchester and go big by choosing a Model 1895 Trapper in .45-70 Government. The gun has a 16.5-inch barrel, Skinner sights and a big-loop Western-style lever … that is not just for looks. The big loop makes it easy to work in a hurry with gloves on. A .45-70 Govt. is going to stop whatever is threatening you, whether it's a grizzly bear or a T-Rex. Ammo isn't that hard to find, the gun is small, doesn't kick all that much and it certainly has more than enough bite. Better yet, a lever-action rifle is arguably the most reliably fast gun one could want or need in a defensive situation. Maybe a .45-70 isn't your thing. Regardless, I think the lever-action rifle isn't confined to shooters who favor old Westerns and cowboy hats. It's an action that works, it comes in small and lightweight sizes, and it's available in cartridges that can go as big or as small as you want.
Marlin Model 1895
CZ Scorpion EVO 3 S1 Carbine
Yet another great choice in the truck-gun world is from the good folks at CZ-USA. The Scorpion EVO 3 S1 Carbine is a 9mm Luger-fed semiautomatic rifle that gives its users 20 rounds of ammunition per magazine. The stock folds, changing the gun's profile from an overall length of 34.75 inches to a mere 24.5 inches. Is a 9mm Luger the best cartridge for a truck gun? That's a debate all by itself, but if your handgun shoots 9mm Luger and your truck gun does too, well … that makes a lot of sense in my book. You can get smaller pistol versions of the Scorpion, but I like the solid size and shape of a rifle in my hands if I have space, and my truck has all the space I need for a Scorpion EVO 3 S1 Carbine.
CZ Scorpion EVO 3 S1 Carbine
Savage Scout Rifle
OK. Lever actions. Pumps. Semi-automatics. Can a bolt-action rifle be a truck gun? Yes, the battlefield-proven bolt-action rifle can and should be a great choice for a truck gun. If I had to choose one bolt-action rifle for a go-anywhere, do-anything job like that of a trusted truck gun, the Savage Scout Rifle in .308 Winchester would be my pick. Colonel Jeff Cooper long ago designed the scout rifle to be a jack-of-all-trades, master-of-none kind of rifle, and putting a scout rifle in your truck just seems to make far too much sense. There are quite a few high-quality scout rifles out there these days, but for my hard-earned dollar, I find it hard to beat the Savage Arms 110 Scout. Plus, the rifle is fed via a detachable box magazine, which means you can have multiple loaded mags at the ready stored in your truck. You can pick your flavor, too, if the .308 Winchester doesn't do it for you: It comes in .338 Federal, .450 Bushmaster and .223 Remington as well. A good selecting, covering about everything you'd expect a truck rifle to handle.
Savage Scout Rifle
---
Be Prepared!:
---
CZ 75/85
Every truck needs a handgun, and now more than ever Americans have plenty of handgun choices to fit our needs. You have three basic choices: striker-fired pistols, 1911-style pistols and revolvers. Your everyday-carry gun instantly becomes your truck gun when you're in your truck, but having a truck-dedicated pistol isn't a bad idea. Me? I'm a sucker for the CZ 75/85 series and use my CZ 85B as my EDC/truck gun. The military-issue 9mm Luger combat handgun was built to handle war. I shoot it well and it isn't an expensive handgun to own. CZ doesn't make the 85B anymore, but if you can get your hands on one, you're going to have a hard time putting it down.
CZ 75
Kimber Micro 9 Covert
I've also grown fond of a Kimber Micro 9 Covert as a new EDC/truck gun. The pistol fits my hand well, shoots well and is super easy to store in small places. Plus, the Micro 9 Covert comes standard with Crimson Trace laser grips, which are an exceptional asset to have on a dedicated truck gun — or in any situation.
Kimber Micro
Wilson Combat ARP Tactical Pistol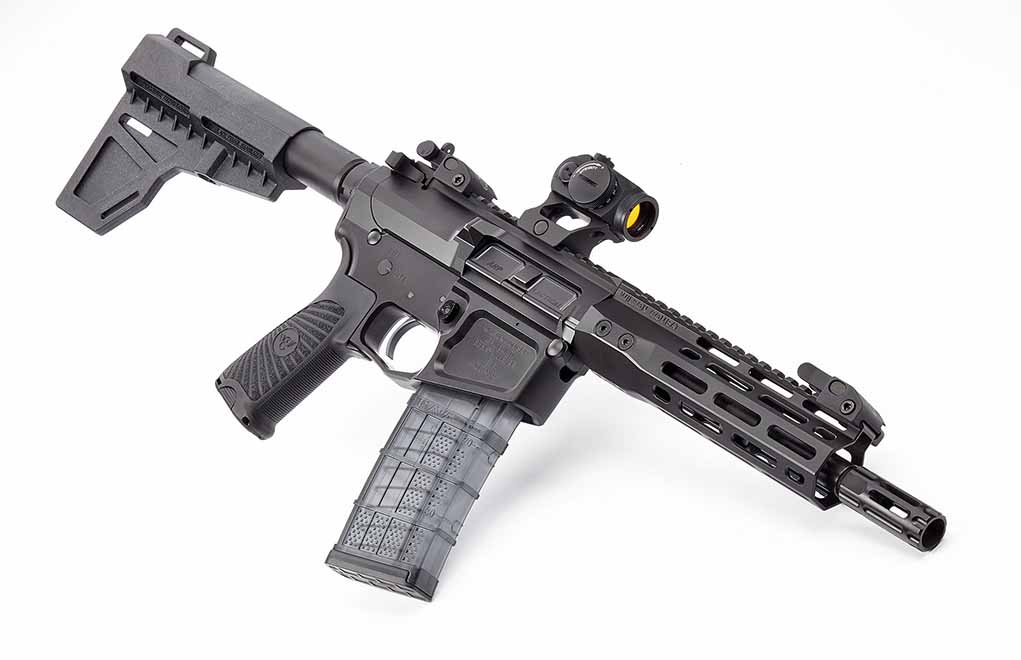 Another fine choice is the Wilson Combat ARP Tactical Pistol. Need punch? This thing throws lead like Mike Tyson threw punches — fast and furious. It hits as hard as you want because you can get it in a variety of cartridges, including 5.56 NATO/.223 Rem., .300 Blackout, 6.8 SPC and 7.62×40 WT. It holds plenty of ammunition in its detachable magazines, and its small at only 27 inches overall. It weighs 6.3 pounds and comes with a pistol forearm support, so it's got the mass and grip to hold you steady when you engage it. You can mount any optic you want, but it comes with iron sights as well. $2,250 // WilsonCombat.com
In-Vehicle Lock-Up Options
Aside from the actual firearms, truck guns ought to have truck gun tools to keep the guns safe yet accessible and ready for your needs. Quite a few manufacturers make a variety of truck accessories for gun owners, but I'm a big fan of what the folks at Hornady and Tuffy Security offer regarding lockable storage solutions for my truck.
Hornady
Did you say Hornady? As in the ammunition company? Yes. They make terrific lockable storage solutions for a variety of situations. One key point about lock boxes is that they can easily transfer from your vehicle to your hotel room, home, campsite … you name it. Lock boxes come in a variety of sizes and shapes, locking methods and storability — choose from those featuring RFID or biometric technology, or one that operates with a good ol' key from the key ring you've already got hanging from your ignition. Hornady.com/security
Tuffy Security
I know Tuffy Security specifically makes a lockable storage cover for a compartment behind the back seat of my Toyota Tacoma, which is an ideal place for a truck gun, some ammo and other bug-out gear. They also make a clever under-hood security lockbox, and a lockable center console box that fits perfectly for my truck — and likely yours as well. TuffyProducts.com
If you have a truck — heck, the same goes for a car — you ought to make sure it's equipped to handle whatever situations it and you may find yourself in these days. Having a capable weapons platform — or two — that's easily accessible, safe from sticky fingers and unintended consequences is paramount to operating safely in our day-to-day lives. Regardless, remember that your truck can be a significant self-defense and survival tool if you take the time and money required to outfit it properly.
Be safe out there.
---
NEXT STEP: Download Your Free Storm Tactical Printable Target Pack
62 Printable MOA Targets with DOT Drills - Rifle Range in YARDS
This impressive target pack from our friends at Storm Tactical contains
62 printable targets
for rifle and handgun range use. Target grids and bullseye sizes are in MOA. Ideal for long-range shooting!
Get Free Targets
---