[imagebrowser id=41]
A photo gallery of Kimber 1911 tactical pistols. These handguns are ideal for concealed carry, law enforcement and personal defense.
Kimber Tactical handguns have all the performance-enhancing features demanded by law enforcement professionals and cover every application, from concealed carry to tactical response. Frames wear KimPro II, a premium finish that is self-lubricating and extremely resistant to moisture. All are chamber in .45 ACP. The Tactical Pro II is also available in 9mm.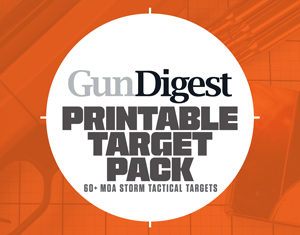 🎯 Exclusive Offer: Get Your FREE Printable Target Pack!
Dive into precision shooting with our 62 Exclusive MOA Targets featuring DOT Drills. Perfect for both rifle and handgun enthusiasts, these targets are designed for accuracy, especially for long-range shots.
Why You'll Love This Pack:
🎯 Expertly Crafted: Brought to you in partnership with the renowned Storm Tactical.
🎯 Versatile Use: Suitable for both rifle and handgun range sessions.
🎯 Precision Design: Target grids and bullseyes meticulously measured in MOA for the best shooting experience.
Bonus: By grabbing this offer, you'll also be subscribing to the Gun Digest email newsletter, keeping you updated with the latest in the world of firearms.
Don't miss out!
Simply enter your email below, and we'll send your downloadable target pack straight to your inbox.