[imagebrowser id=493]
Flashlights and laser sights are excellent additions to any home defense firearm and strategy. Check out these great lasers and lights for home defense.
Bad things happen to good people. According to the Department of Justice, an average of 3.7 million household burglaries take place each year. More than a quarter of a million involve some sort of violent confrontation with the homeowner. Are you prepared?
Owning a capable home defense firearm and knowing how to use it is a good start. You can't protect your family if you don't have the necessary tools. However, even the most competent gun owner can't hit his target if he can't see it. A high-quality light and a reliable, accurate laser sight can put the odds in your favor.
Editor's Note: This article is an excerpt from the March 2016 issue of Gun Digest the Magazine.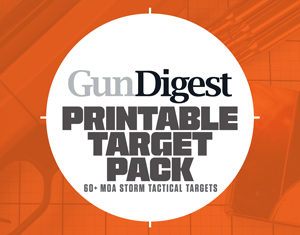 Next Step: Get your FREE Printable Target Pack
Enhance your shooting precision with our 62 MOA Targets, perfect for rifles and handguns. Crafted in collaboration with Storm Tactical for accuracy and versatility.
Subscribe to the Gun Digest email newsletter and get your downloadable target pack sent straight to your inbox. Stay updated with the latest firearms info in the industry.