Ruger has just expanded its 5.7x28mm firearm lineup with the addition of the Ruger LC Carbine.
5.7x28mm is a contentious cartridge. While some swear by it, others denigrate it as glorified .22 Magnum. Enough shooters fall into the former camp however that Ruger recently decided to add one more firearm chambered for the cartridge to the catalog. Based on the Ruger-5.7 Pistol (the company's first foray into 5.7x28mm), the new Ruger LC Carbine features the same controls and magazines but is now in a carbine configuration.
The Ruger LC Carbine is legally classified as a rifle due to its 16.25-inch barrel, allowing the guns to ship with proper, adjustable folding stocks. In theory, the extra barrel length will also increase the velocity and usable range of 5.7x28mm. The rear of the carbine is compatible with both AR-style and Picatinny rail-mounted stock designs and features a reversible folding mechanism. This allows the stock to be folded to either the left or right side of the receiver, making this lightweight carbine even more ideal for activities like backpacking. To further save weight, the barrel has been fluted as well, bringing the total weight of the package to only 5.9 pounds.
Ruger President and CEO Chris Killoy said this about the new 5.7 carbine:
 I can't describe how ergonomic the LC Carbine feels in your hands. You have to experience it on the range to really appreciate how it balances and moves. The controls are intuitive and conveniently located, and the lack of felt recoil makes it hard to put down.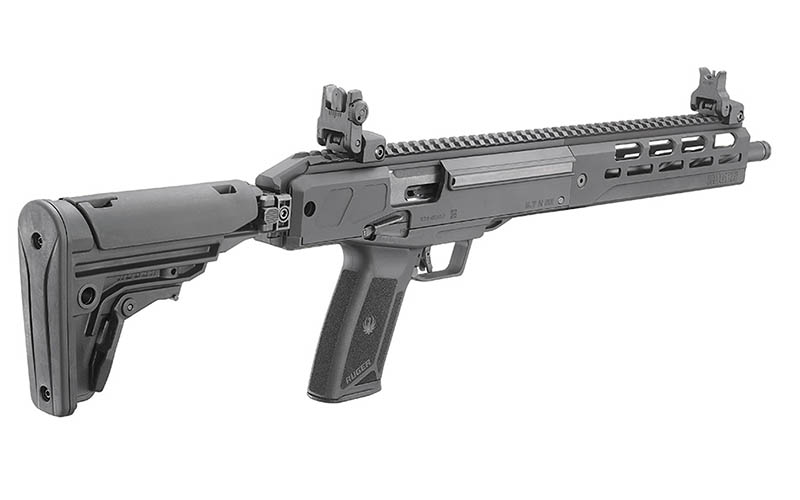 Other features of the LC Carbine include an ambidextrous 1911-style manual safety, a reversible charging handle, several QD sling sockets and a 1/2×28 threaded barrel. It also sports an aluminum handguard with M-LOK accessory slots and a full-length Picatinny rail for mounting optics (a set of Ruger Rapid Deploy folding iron sights are included as well). The LC Carbine has an MSRP of $979, includes one 20-round magazine and is available now.
For more information, please visit ruger.com.
---
More 5.7 Stuff:
---
NEXT STEP: Download Your Free Storm Tactical Printable Target Pack
62 Printable MOA Targets with DOT Drills - Rifle Range in YARDS
This impressive target pack from our friends at Storm Tactical contains
62 printable targets
for rifle and handgun range use. Target grids and bullseye sizes are in MOA. Ideal for long-range shooting!
Subscribe to the Gun Digest email newsletter and we'll send your print-at-home target pack right away.
Just enter your email address below.
---