Lithgow Arms is a known commodity in the land down under. But now the Australian gunmaker is giving Americans a shot at its well-thought-out rifles.
Lithgow Arms is one of those historic gunmakers that few American shooters have caught wind of. That is, unless they've kicked up the red dust of Australia's outback.
The New South Whales manufacturer has been turning out arms for Australian shooters and military for more than a century now. And it has armed Aussie soldiers in nearly every conflict its country has been involved with in the past 100 years. From Gallipoli to Afghanistan, Lithgow Arms has proudly waltzed into battle.
American shooters got a taste of the company's tactical arms a year ago with the release of the gunmaker's bullpup EF88/F90. And now it is following up on its Steyr AUG variant with the state-side introduction of its two sporting rifle models.
Legacy Sports International is now importing Lithgow Arms' LA101 and LA102 CrossOver bolt-action rifles, giving shooters access to the meat of the company's rimfire and centerfire catalog.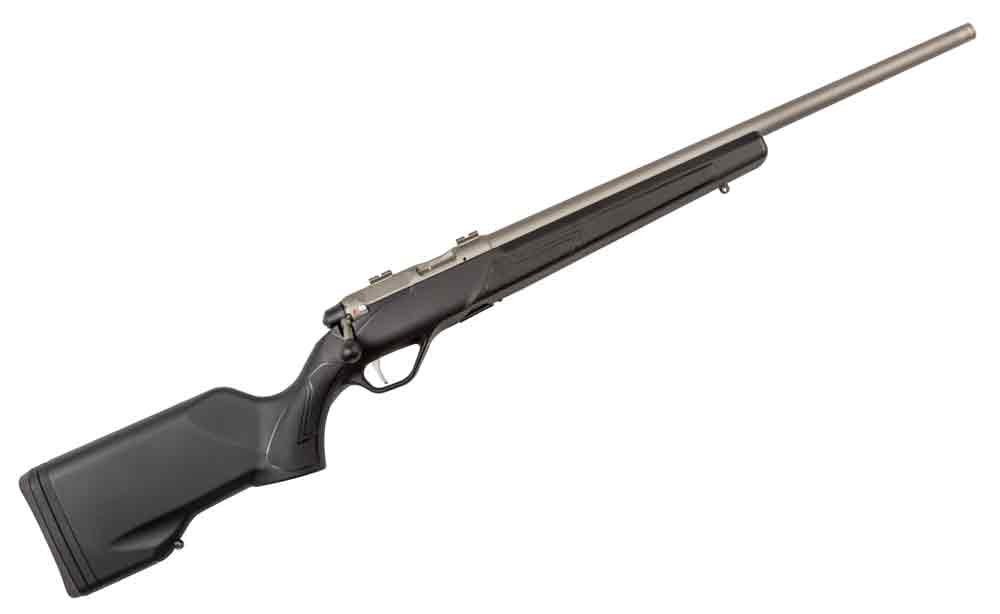 LA101 CrossOver
When it appeared in 2014, the LA101 CrossOver won plenty of accolades as the first commercial rimfire to be produced in Austrialia since the early 1980s – and for good reason. Not only was it exclusive, but it was a well-thought-out design, offering shooters features typically found on high-end rimfires.
In addition to a military-grade steel free-floating barrel, the rifle also boasts one of the most rock-solid actions available. The heart of the action is its rear-locking design, featuring three hardened lugs, an ingenious setup that makes for a smooth-feeding rifle, a shorter bolt throw and a safer firearm with less material for a faulty cartridge to act on. On top of that, the .22 LR, .22 WMR and .17 HMR's lugs create an extremely solid lockup, thus, providing a much more rigid and accurate shooting platform (especially compared to rimfires that rely on the bolt handle to lock the action).
American shooters get the choice of dressing their LA101 in either an injection-molded nylon or laminated wood stock. The wood option makes for a bit of a heftier firearm at 7.2 pounds, compared to the synthetic option, which tips the scales at 6.6 pounds. In both cases, the stocks are cut with a butt hook, giving shooters extra material to improve accuracy when shooting off the bench or in the prone position.
The nylon stock option is a bit more versatile, allowing shooters nearly an inch of play in length of pull, facilitated by removable spacers. This feature gives the version an overall length of 39.25 to 39.65 inches. The laminate option is a set 39.25 inches in length.
The rifle comes with a flush-fitting five-round magazine, integral scope base, four-point bedding in the stock, textured rubber recoil pad and Cerakote treatment on all metal parts.
The .22 LR and .22 WMR are both cold-hammer forged with 1:16 twist rates. The .17HMR is button broached with a 1:9 twist rate. Each barrel is 20 inches and cut with a target crown to protect the muzzle.
LA102 Crossover
Built off the success of the LA101, the LA102 CrossOver was introduced in 2016 and Lithgow appears to have turned a similar eye to producing a solid rifle.
In particular, the centerfire rifle has three forward locking lugs, and the action has an enclosed receiver. Again, Lithgow has put a lot of effort in creating a rigid and stable platform to launch a bullet, thus increasing its accuracy potential.
The .223 Rem., .243 Win. and .308 Win. rifles, however, have a few extra bells and whistles compared to the rimfire model. Perhaps the most notable is the single-stage trigger's three-lever style module adjustment. Shooters have extreme control on how they break a shot with simple pull weight, sear engagement and overtravel adjustment. Each can be tuned without having to disassemble the rifle.
The LA102 comes with the option of an injection-molded nylon or walnut stock. Similar to the LA101, the synthetic stock has an adjustable length of pull, modifying from 13.27 to 14 inches. Overall length of the synthetic version is 42 to 42.8 inches, and it tips the scales at 7.7 pounds. The walnut model is 42.4 inches and comes in at 8.2 pounds.
The LA102 boasts a 22.047-inch cold-hammer forged barrel, Cerakoted and designed with a target crown. The rifle feeds off a flush-fit box magazine which holds four rounds for the .243 and .308 and five for the .223. The centerfire CrossOver also has an integral Picatinny rail scope mount.
Presently, the MSRP on the LA101 CrossOver synthetic model is $1,079, while the laminate is $1,215. The LA102 CrossOver synthetic MSRP is $1,255, and the walnut stock is $1,390. It will be an interesting experiment to see if the American shooting crowd sees these new players as wonders from down under.
Specifications:
LA101 CrossOver
Weight: 6.6 lbs. (Poylmer), 7.2 lbs. (Laminate)
Overall Length: 39.25-39.65 in. (Polymer), 39.25 in. (Laminate)
Barrel: Cold hammer forged (.22LR and .22WMR); Button Broached (.17HMR); 20.9 in.; threaded tenon; 11° target crown; semi-match chamber tighter tolerances than SAAMI spec; 1:16 6 groove (.22LR and .22MWR); 1:9 6 groove (.17HMR).
Receiver: Rear locking; high tensile steel with hardened locking lugs; sized for magnum rimfire; compact length; recoil lug; two-piece bases.
Bolt: Three locking lugs; 60° bolt lift; hardened handle; one-piece firing pin; de-cocking feature; perpendicular sear engagement; Nylon bolt shroud and knob.
Trigger/Safety: two-position safety (bolt can be opened on safe); 3.3-lb. pull
Magazine: Flush-fitting Nylon five-round LA magazine (CZ 452/455 compatible (.22LR), CZ455 compatible (.17HMR / .22WMR). 10-round LA magazine available soon.
Coating: Cerakote H series on barrel, receiver, sight bases and bolt handle.
MSRP: $1,079 (Polymer), $1,215 (Laminate).
LA102 CrossOver
Weight: 7.7 lbs. (Polymer), 8.2 lbs. (Timber)
Overall Length: 42-42.8 in. (Polymer adjustable), 42.4 in. (Timber)
Barrel: Proprietary, military grade steel, cold hammer forged. Medium varmint weight, target crowned. Coated in Cerakote
Barrel Length: 22 in.
Muzzle Thread: M14 x 1 Right Hand
Receiver: High tensile steel with plate recoil lug. Picatinny rail. Coated in Cerakote
Stock: Floated design with three sling studs, available in polymer, walnut and laminate
Length of Pull: 13.27-14 in. (Polymer Adjustable), 13.66 in. (Timber)
Trigger: Single stage, three way adjustable for weight, sear engagement and draw length. Factory set at 1.5 kg release
Adjustment Range: Approximately 1.7-4.2 lbs.
Safety: Three-position, bolt shroud mounted, rotating safety catch with indicator. Safety catch over cocks and blocks the firing pin and disconnects the trigger
Magazine: Removable, single-stack box magazine, polymer construction
MSRP: $1,255 (Polymer), $1,390 (Timber)
---
NEXT STEP: Download Your Free Storm Tactical Printable Target Pack
62 Printable MOA Targets with DOT Drills - Rifle Range in YARDS
This impressive target pack from our friends at Storm Tactical contains
62 printable targets
for rifle and handgun range use. Target grids and bullseye sizes are in MOA. Ideal for long-range shooting!
Subscribe to the Gun Digest email newsletter and we'll send your print-at-home target pack right away.
Just enter your email address below.
---