Savage's first bolt-action in .224 Valkyrie hits the scene just in time for hunting season.
What The 110 Prairie Hunter Has To Offer:
AccuTrigger adjustable trigger
AccuStock internal chassis stock
AccuFit adjustments for length of pull and comb rise
22-inch carbon-steel barrel with target crown and threaded muzzle
20 MOA rail mounted on a drilled and tapped receiver
Over the past couple years, a lot has been made about the .224 Valkyrie. Understandable, given shooters' interest in long-range marksmanship, and the cartridge's ability to deliver way out in a very manageable fashion. Though, when it comes to production rifles, the Valkyrie has primarily been an AR-15 affair. Until now.
The 110 Prairie Hunter is Savage Arms' first foray into a bolt-action for the cartridge, and it appears a fairly tidy package. As could be gleaned from its name, it's built around the company time-tested 110 action and has some nice extras. Most noteworthy, it's outfitted with Savage's full assortment of "Accu" features: adjustable pull weight AccuTrigger, adjustable length of pull and comb height AccuFit stock, and internal chassis AccuStock. A few of the other areas on the 110 Prairie Hunter worth mentioning is its 22-inch carbon-steel barrel with a threaded muzzle, 3-round detachable box magazine, one-piece 20 MOA rail and target crown on the muzzle.
Savage appears to have turned out a handy predator or varmint rifle with the 110 Prairie Hunter, one that could open a hunter up for a longer shot. The MSRP on the rifle is $759.
WESTFIELD, Massachusetts –– Savage is excited to launch its new 110 Prairie Hunter, a precision bolt-action 110 platform rifle built for the cartridge that rewrote the rules of ballistics. Shipments of these firearms have been delivered to dealers.

"This new configuration, built on our time-tested 110 bolt action, is our first 224 Valkyrie rifle and its features are specifically designed for long-distance shooting," said Savage Senior Brand Manager Jessica Treglia. "The wide variety of bullet options available in the 224 Valkyrie cartridge makes Savage's 110 Prairie Hunter ideal for long-distance target shooters, hunters targeting medium-sized game such as pronghorn, varmint hunters or backyard plinkers."

The 110 Prairie Hunter unleashes the full power and accuracy of 224 Valkyrie. Its AccuFit system makes it easy to customize comb height and length-of-pull to any hunter. Combined with its user-adjustable AccuTrigger, 22-inch button-rifled barrel and target crown, the rifle delivers the most consistent accuracy at extreme ranges. The 110 Prairie Hunter features a threaded muzzle, synthetic stock with a beavertail fore-end, three QD studs and a detachable box magazine.

Features
·Bolt-action 224 Valkyrie
·Cartridge offers the least wind drift and drop in its class and less than half the recoil of cartridges with similar ballistics
·AccuFit system: Ergonomic synthetic stock with adjustable length-of-pull and comb height
·22-inch carbon steel threaded barrel (1/2-28) with cap
·Drilled and tapped with one-piece 20 MOA rail
·Detachable box magazine
·User-adjustable AccuTrigger
·Gray synthetic stock with beavertail fore-end and three QD studs
·Target crown
Part No. / Description / MSRP
57409 / Model 110 Prairie Hunter, 22-inch barrel / $759
---
More Rifle Articles:
---
For more information on the 110 Prairie Hunter, please visit www.savagearms.com.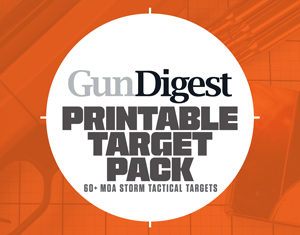 Next Step: Get your FREE Printable Target Pack
Enhance your shooting precision with our 62 MOA Targets, perfect for rifles and handguns. Crafted in collaboration with Storm Tactical for accuracy and versatility.
Subscribe to the Gun Digest email newsletter and get your downloadable target pack sent straight to your inbox. Stay updated with the latest firearms info in the industry.