Sponsored Content
Savage's simple and robust AccuFit stock gives you a custom-gun fit with a production-rifle price tag.
How The AccuFit System Increases A Rifle's Accuracy Potential:
Offers 1-inch of LOP and comb rise adjustment.
Each can be fine-tuned, LOP in 1/4-inch increments and comb in 1/8-inch.
The entire system is modifiable with little more than a Phillips screwdriver.
Available on a good selection of Savage's legendary Model 110 rifles and new straight-pull Impulse rifles.
Have you ever attempted to go off the tee with a driver that doesn't fit? You don't exactly cover yourself in glory. Too long or too short, your swing feels wonky and you sure as heck don't send the ball flying. Funny as it might sound, a wrong-sized wood has a lot in common with a wrong-sized rifle stock.
Synthetic or wood, if the platform doesn't fit, your consistency behind the trigger goes out the window. Historically, there's been no cheap and easy cure to the age-old conundrum—basically an aftermarket custom stock or fully-adjustable production model. Neither is cheap and the aftermarket option costs time.
It's a frustrating dichotomy, but one, to a certain extent, Savage Arms has eliminated. Now a little over a year since its release, Savage Arms' AccuFit system has essentially rethought the adjustable stock. And more importantly, it's put it within reach of nearly every shooter. That's powerful.
What Is The Savage AccuFit?
Simply put, Savage's AccuFit is a customizable stock, giving you the ability to modify its two most important dimensions—length of pull (LOP) and comb height. At the same tick, the system is extremely affordable, doing little to ratchet up the price of the select Savage Model 110 rifles it's found on.
Savage accomplished this by keeping the AccuFit basic… barebones basic. Instead of turning to slip nuts and screw controls, the gunmaker utilizes spacers and risers to get the stock set to your frame. And while it doesn't offer the luxury of toolless adjustment (it requires a Phillips screwdriver), it nevertheless has enough wiggle room to fit anybody behind its business end.
In all, an AccuFit stock comes with five comb risers and four LOP inserts. This allows for ½- to 1-inch of elevation adjustment at the comb in 1/8-inch increments, and a full inch of play in LOP, adjustable in ¼-inch increments. For all but extreme cases, this is enough to tailor a rifle to most men and women. Certainly more than the average 13.5-inch LOP and variable comb height of most off-the-shelf choices.
Importance of LOP And Comb Height
Some might ask, exactly why are these facets of a stock so important? Perhaps a brief mind experiment will shed some light.
Imagine squeezing down behind a rifle too small for your frame. What happens? Besides being a pain, it takes a share of wiggling and scrunching around the butt to get the thing into your shoulder pocket. Worse yet, you jiggle your head around before you find a clear sight. That's bad. But now consider you'll do this dance after every shot, at the same tick expect accurate results. There's one word for that—impossible.
Correctly calibrated length of pull and comb rise take this guesswork out of mounting a rifle. More importantly, it introduces repeatability to the equation. If you haven't heard, after shooting fundamentals—breath control, trigger discipline, etc.—consistency is the key element of accuracy.
Yet, a correctly fitted stock's benefits don't stop with downrange results. It also makes shooting more enjoyable. Tailored to your frame, a stock mitigates recoil, enhances target acquisition and adds more overall control of the gun.
Essentially, it will make your rifle faster and more accurate. Who doesn't want that?
Getting The Most Out Of The Savage AccuFit
As is the case with any adjustable stock, the AccuFit requires you get intimate with yourself… at least your upper body.
If you've never done it, getting professionally measured for a rifle is a worthwhile exercise. At the very least, you'll have dead-nuts dimensions to work with. But if you haven't the time or money, you can gather the tale of the tape yourself.
---
Learn More About Savage's Guns:
---
The quick and dirty method to determine LOP is to hold your rifle (UNLOADED) in your dominant hand, with your arm bent up at 90 degrees. From this position, you can add or subtract AccuFit spacers until the middle of your trigger finger pad is even with the trigger, with the buttstock resting in the crook of your elbow. However, don't go by this alone.
Take the time to shoulder the rifle and experiment with the AccuFit spacer system until you find the most comfortable combination. The rifle should feel natural to your shoulder, your trigger finger should intuitively find its place and you shouldn't have to crane your neck to look down the barrel.
Comb height is a bit more subjective. You'll have to play around with your AccuFit's riser until you find the right elevation. But there are some simple guidelines to look for to know you're dialing it in.
First, your cheekbone should contact the riser, at the same time you should have a clear sight down the scope. A good double-check to see if you have it right is shouldering your rifle and initiating a cheek weld with your eyes closed. If you open them and you can see down your scope unimpeded, you've got it right. Dark crescent somewhere in your field of view, it's most likely too high or low.
Parting Shot
For more than 50-years, the Savage has put accuracy within every shooter's reach. And the gunmaker doesn't show any signs of letting up. AccuTrigger adjustable trigger, AccuStock internal chassis and now the AccuFit. The gunmaker has given shooters the tools to hit the mark. All they have to do is get on target.
For more information on Savage's AccuFit system, please visit www.savagearms.com.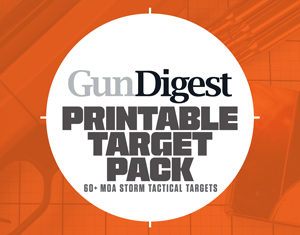 Next Step: Get your FREE Printable Target Pack
Enhance your shooting precision with our 62 MOA Targets, perfect for rifles and handguns. Crafted in collaboration with Storm Tactical for accuracy and versatility.
Subscribe to the Gun Digest email newsletter and get your downloadable target pack sent straight to your inbox. Stay updated with the latest firearms info in the industry.