Chambered in potent .375 Ruger and .338 Win. Mag., Savage Arms' Brush Hunter takes aim at the world's biggest game.
What the Brush Hunter brings to the table:
The Brush Hunter has a fast-handling 20-inch medium contour barrel.
Its oversized bolt handle helps operation of the Model 110 action.
The rifle is light, at just over 7 pounds.
And at $784, the Brush Hunter is highly affordable.
Savage Arms in its present form has come to mean bolt-actions.
Few other American gunmakers have been more dedicated to the age-old and highly accurate style of rifle than the Massachusetts manufacturer. Even fewer gun companies win the kudos Savage does for balancing price and performance in nearly everything it rolls off the factory floor. While it has recently expanded into producing more contemporary semi-automatic rifles, its bolt-actions still, by and large, take center stage. And Savage continues expanding and evolving to fill every niche in the turn-bolt world.
Recently, Savage addressed one of the gaping holes in the modern iteration of its catalog with the introduction of the Model 110 Brush Hunter. With one of the chambering options .375 Ruger (the other is .338 Win. Mag.), the company now offers a legitimate dangerous game rifle and in a package well suited to excel in the heat of the most testing hunts.
The barrel, all 20-inches of it, is perhaps the most eye-catching aspect of Savage's stainless steel beauty. In addition to making for an overall lighter rifle, a hair over 7 pounds, the medium contour barrel also endows the Brush Hunter with another highly desirable quality — fast handling. With more weight situated around its time-tested 110 action, the rifle has the ability to transition targets quickly and stop on a dime. For good measure, Savage has also included an oversized bolt handle, ensuring hunters can run the action even when drunk on adrenaline. These attributes are desirable for any hunter potentially facing down critters armed with deadly teeth, claws or horns.
The Brush Hunter comes outfitted with adjustable iron sights, commonplace in safari rifles and aiding in the rifle's fast handling. Savage's heavyweight also boasts the company's vaunted AccuTrigger, which can be tuned between 1.5 and 6 pounds, and a synthetic stock with 1 inch of play in length of pull.
The Brush Hunter utilizes a detachable box magazine with a 3-round capacity in .375 Ruger and 4 rounds in .338 Win. Mag. Additionally, it has a threaded muzzle for the easy addition of a muzzle device for hunters further looking to tame the rifle's recoil. But of all the features the Brush Hunter touts, it's its price tag that may be the most appealing. At $784 for both calibers, Savage makes available to nearly every shooter a rifle that literally can tackle any game on the face of the planet.
For more information on the Brush Hunter please check out: www.savagearms.com
Brush Hunter Specs:
Caliber: .338 Win. Mag & .375 Ruger
Handed: Right
Rate of Twist: 10 (.338 Win. Mag), 12 (.375 Ruger)
Weight: 7.38 lbs
Overall Length: 40-41″
Barrel Length: 20″
Ammo Capacity: 4 (.338 Win. Mag), 3 (.375 Ruger)
MSRP: $784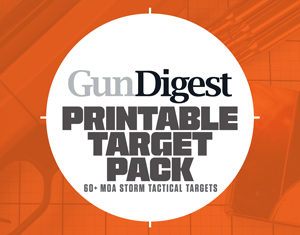 Next Step: Get your FREE Printable Target Pack
Enhance your shooting precision with our 62 MOA Targets, perfect for rifles and handguns. Crafted in collaboration with Storm Tactical for accuracy and versatility.
Subscribe to the Gun Digest email newsletter and get your downloadable target pack sent straight to your inbox. Stay updated with the latest firearms info in the industry.