The Seneca Dragon Claw .50-caliber air rifle is a far cry from your grandpa's Red Ryder.
How The Dragon Claw Blows Its Competition Away:
Capable of firing a 210-grain 'pellet' 679 fps.
Also shoots air bolts and shotshells.
Generally takes three shots before velocity degrades to the point the PCP needs refilling.
At close range, able to take most medium to small game.
When I mentioned I was hunting wild hogs in Texas with an air rifle, a lot of people looked at me as if I were crazy. The usual questions were, "You're going to shoot a mean-tempered wild boar with a BB gun?" or, "What are you taking as backup when he charges?"
"No, no, no!" I exclaimed.
Air rifles have changed since we were kids. And, it's no BB gun; it's the 50-caliber Air Venturi Dragon Claw, firing stout chunks of lead—210-grain pellets, if you can call a 210-grain lead projectile a "pellet"—at serious velocities. Test results with a 225-grain projectile hit 679 fps and 230 ft-lbs of energy at the muzzle.
Here's the kicker: The Dragon Claw also shoots an Air Bolt, a 23-inch arrow designed to be fired out of an air rifle. And, not to overload you, but it will also shoot shotshells and shot-filled projectiles … but that's another story.
Long, Deep Roots
Big-bore air rifles have been a thing for centuries. You have to go back to at least 1580, the date of the oldest-known preserved air gun, which is located in a Swedish museum. But air guns were really coming into their own around 1780, when Tyrolean gunsmith Bartolomeo Girandoni (1729–1799) developed a .46-caliber air rifle with a removable iron flask that served as the stock. The air-tight flask could be hand pumped (1,500 strokes for a full charge) with air pressure to fire lead balls. These could be loaded 22 at a time into a tube paralleling the barrel. The lead balls were gravity fed to a push-button loading mechanism that placed the ball in battery.
Closer to home, and more importantly, to U.S. history, Meriwether Lewis purchased a Girandoni rifle that had made its way across the ocean. He took it on his and William Clark's Corps of Discovery across the Louisiana Purchase and back. According to journals, Native Americans were greatly impressed with this weapon, which produced results without the smoke and fire of blackpowder.
---
Reap The Air Rifle Whirlwind:
---
These demonstrations are generally credited as perpetuating an elaborate bluff that impressed and intimidated the tribes, preventing them from amassing a force to overpower the expedition (which never numbered more than 38 explorers). So great was its historical significance as a key component in Lewis and Clark's returning to promote Western expansion that Lewis's Girandoni is on special display at the Pentagon.
Fast-forward the history of air guns to the late 1970s or early 1980s. Air guns gained popularity, especially in Europe, as laws on firearms ownership began to tighten and firearms design and technology began to focus on getting more power out of other sources "that don't depend on fire and gunpowder to generate energy," said Air Venturi President Val Gamerman. "And that's when some of the modern-day PCPs were born."
The Rise Of The PCP
PCPs are "pre-charged pneumatic" rifles that carry a pressurized air source that provides propulsion. Other popular types of air guns include variable-pump rifles; these, as the name implies, can be pumped to various pressure levels. Spring-piston rifles, which are cocked between shots, compress a heavy spring that, upon firing, pushes a piston to compress air (these are cocked between shots); CO2 air guns that are powered by vaporizing CO2 stored in small cylinders; and gas ram or nitrogen pistons, in which the cocking action compresses nitrogen to build propulsion power.
However, we're talking about PCPs, which utilize a reservoir of pre-charged air to propel pellets (or Air Bolts) shot after shot until the pressure diminishes. And that brings us back to big-bore air guns, which have seen a surge in popularity since consumer demand and popularity in Europe, along with accompanying improved design and technology. All of this transferred to the United States in the form of accurate and affordable air guns.
Air Venturi has been selling the Dragon Claw for about 10 years, and more companies have been getting on board the wave of big-bore air gun popularity.
States, too, are recognizing air rifle capability, and more are allowing air rifles for hunting—even for medium- to large-sized game. An interactive air gun map on the Air Venturi website (AirVenturi.com) or the Airgun Sporting Association's website (AirgunSporting.org) lets you check air-gun regulations state by state, species by species.
The Dragon Claw
Air Venturi calls the Dragon Claw a PCP rifle—the workhorse of its Seneca line. It features a classic hunting firearm look with laser-etched, checkered Monte Carlo hardwood stock, forend and the engraved receiver.
Air power is stored in two under-barrel tubes—there's also a single-tube version—that will hold enough compressed air for eight or more effective shots per tank filling (or about four shots with the single-tube version). The Dragon Claw does not regulate the pulses of air (some designs meter the pulse of air so each shot goes out under consistent pressure), so velocity drops from shot to shot—but almost imperceptibly for the first handful.
Air Venturi tests (with a 225-grain projectile and filled to 3,000 psi) show the first shot travelling 679 fps; the second at 668; third at 624; fourth at 552, fifth at 457; and sixth at 363.
Shooters can count on those first three shots to be consistently on target. Then, a refill is called for. And you don't fill a PCP air rifle with a standard shop air compressor. Handy, take-along compressors and carbon-fiber tanks are available.
A magnetic dust cover protects the male quick-connect fitting on the muzzle end of the air tube; the female fitting of the tank or compressor fits into that. And a quick tip: Do not rush the filling process. Doing so could cause heat to build up and skew pressure readings.
Sighting in the Dragon Claw, which was topped with a 3-9x-40mm Mantis scope, was done at 30 yards. I have to admit that the report was a bit more than I expected. I was expecting a puff of air, but there was a sharp report … though not as sharp or loud as the crack of a centerfire rifle.
It was a simple matter to dial in the scope for the 210-grain pellets on paper and then switch to an archery target for the 23-inch Air Bolts, which had similar points of impact and similar-sounding reports.
Venturi Air introduced Air Bolts in 2016 after two years of perfecting the design. Made of carbon fiber, they weigh 430 grains with a 100-grain tip. They come with field points for practice but accept broadheads for hunting. Instead of a nock, they have a flat end with an O-ring that seals inside the barrel so pressure propels it. Plus, it's soft enough to squeeze into the rifling, creating spin to increase accuracy.
It's true that air rifle technology has come a long way, so much so that calling one as such is almost a misnomer.
BB guns they are not. Big game hunters they are.
The article originally appeared in the June 2019 issue of Gun Digest the Magazine.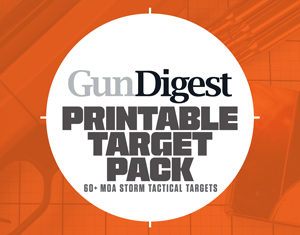 Next Step: Get your FREE Printable Target Pack
Enhance your shooting precision with our 62 MOA Targets, perfect for rifles and handguns. Crafted in collaboration with Storm Tactical for accuracy and versatility.
Subscribe to the Gun Digest email newsletter and get your downloadable target pack sent straight to your inbox. Stay updated with the latest firearms info in the industry.