Modeled after Bergara's popular centerfire line, the B-14R delivers the same supreme accuracy except in .22 LR.
What Features Makes The B-14R An Accurate Shooter:
18-inch heavy barrel
HMR stock featuring mini chassis
Fully adjustable LOP and cheek rise
Over a relatively short period, Bergara has taken the centerfire rifle world by storm. Now the Spanish/American gunmaker is shooting to do the same when it comes to rimfires. And boy, does the company's second .22 unveiled this year look like a doozy.
As its name suggests, the B-14R .22 LR is based on Bergara's popular line of centerfires. With that comes all the bells and whistles to help the precision plinker shoot a country mile: bull barrel, fully-adjustable stock, oversized tactical bolt handle and threaded muzzle. The stock deserves a bit more comment. In addition to its customizable length of pull and cheek rise, the HMR (Hunter-Match Rifle) system also features an integral mini-chassis, which provides superior rigidity—especially for a rimfire.
Uniquely, the B-14R also feeds AICS mags … kind of. Certainly, the magazine is built to AICS specs and is a dead ringer for them, but in actuality is a modified 10-round single-stack system. Still, for an economical trainer, the full-sized feel of the mags are certain to add authenticity to the experience. The on catch point for many on the rifle, the B-14R leans to the expensive side with an MSRP of $1,150.
Lawrenceville, Georgia – BPI Outdoors / Bergara Rifles is pleased to announce the release of the Bergara B-14 R .22 LR Rifle at the NASGW Expo in Orlando, FL Oct. 22-25, 2019.

The Bergara B-14 R .22 LR is the latest offering in their ever-popular B-14 series of rifles. Ben Fleming VP of Sales for Bergara states. "Our team has been working on a very accurate full size .22 precision trainer for several years now with a goal to help set the bar with the .22 shooters. With this gun we are confident that it will help long range .22 shooting grow for years to come." Dakota Russell, National Sales Manager for Bergara added, "Our customers have been requesting a gun like this for some time, and with the growing NRL22 and PRS .22 competition matches the timing was right to introduce a rifle of this nature."

This rifle is designed as a true rimfire "trainer" being that it works within the dimensions of a REM700 platform, allowing shooters to have a similar size and feel to their centerfire rifle, or even set up as a clone to their centerfire to train with. It therefore fits REM700 compatible stocks, bases, and triggers.

This being the case, it gives a perfect platform to allow any shooter the ability to customize their rifle with all kinds of compatible accessories already on the market. The magazine is a single stack .22LR mag that is built within the same dimensions as a standard short action AICS mag.

With the growing popularity of long range shooting this gun allows shooters to practice their disciplines at a more affordable price and in areas where longer ranges may not be available.

Bergara is known for its extremely accurate barrels and rifles. With this new model the .22LR shooter is sure to be pleased with Bergara's latest offering.

Bergara B-14 R Specs:
Caliber: 22 Long rifle
Action: B-14
Barrel: 4140 Bergara barrel
Twist: 1:16
Barrel length: 18"
Threaded muzzle: 1/2-28
Weight: 9.25 lbs.
Length: 38" with spacers
HMR stock
10 round magazine
Scope mounts: 6-48 screws, Rem 700 compatible

B-14 R MSRP – $1150
For more information on the B-14R, please visit www.bergara.online/us.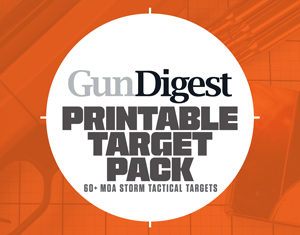 Next Step: Get your FREE Printable Target Pack
Enhance your shooting precision with our 62 MOA Targets, perfect for rifles and handguns. Crafted in collaboration with Storm Tactical for accuracy and versatility.
Subscribe to the Gun Digest email newsletter and get your downloadable target pack sent straight to your inbox. Stay updated with the latest firearms info in the industry.