Following the earlier release of the SCO15 lower, one can now assemble complete SilencerCo AR-15 builds using the new SCO15 upper.
If you couldn't figure it out from the company's name, SilencerCo specializes in making silencers. Armed with ample manufacturing capabilities, however, they didn't stop there. Starting with the release of the SCO15 lower receiver earlier this year, SilencerCo marked its entry into the AR-15 receiver market. Featuring a few upgrades but otherwise remaining mostly standard, the lower also had some unique SilencerCo flair. Now with the release of the new SCO15 upper, complete AR-15 receivers can be assembled using exclusively SilencerCo parts.
Precision machined from billet 7075 aluminum, just like the lower, the SCO15 upper has all the standard features shooters have come to expect with an AR-15 upper. It comes standard with Picatinny rail on the receiver's flat top, and internally it has M4 feed ramps for compatibility with all modern barrels. It is also compatible with standard AR dust covers, forward assists and charging handles.
Besides the novelty of having an upper and lower receiver from the same company, the new SCO15 upper promises to aesthetically match the SCO15 lower better than anything else on the market. While both components have mostly standard features, SilencerCo did redesign them some. Manufactured with more angular, futuristic-looking lines than what is seen on mil-spec ARs, the SilencerCo receivers stand out without appearing too flashy. They would make handsome additions to any high-tech AR build, especially one with a SilencerCo can installed as well.
The new SCO15 upper is undoubtedly well-made, but with a higher-than-average MSRP of $219, it may not have enough extra features to make a big splash. If you've already invested in a SilencerCo lower, however, it might be worth getting a SCO15 upper too just to make it a matching set.
For more on SilencerCo, please visit silencerco.com.
---
More From SilencerCo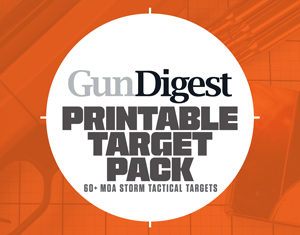 🎯 Exclusive Offer: Get Your FREE Printable Target Pack!
Dive into precision shooting with our 62 Exclusive MOA Targets featuring DOT Drills. Perfect for both rifle and handgun enthusiasts, these targets are designed for accuracy, especially for long-range shots.
Why You'll Love This Pack:
🎯 Expertly Crafted: Brought to you in partnership with the renowned Storm Tactical.
🎯 Versatile Use: Suitable for both rifle and handgun range sessions.
🎯 Precision Design: Target grids and bullseyes meticulously measured in MOA for the best shooting experience.
Bonus: By grabbing this offer, you'll also be subscribing to the Gun Digest email newsletter, keeping you updated with the latest in the world of firearms.
Don't miss out!
Simply enter your email below, and we'll send your downloadable target pack straight to your inbox.