Lighter and smaller, Springfield Armory gives AR-15 fans something to consider with the additions of the SAINT Edge and SAINT Pistol to its lineup.
Material around the Edge's mag well has been removed — it's the lightest SAINT model.
The carbine boasts a match-grade single-stage trigger.
The SAINT pistol is outfitted with an SB Tactical forearm brace.
It also comes with a proprietary blast diverter.
Both new models have heavy "H" tungsten buffers to help with felt recoil.
Saturated with every conceivable breed of AR-15, Springfield Armory set out to do the impossible a year ago — launch a new black rifle. But at this point, the gamble on well priced and built SAINT AR-15 appears to have paid off.
A little more than 365 days into its history, the carbine has won its share of accolades not to mention a solid place in the overall market. Nowadays, when it comes to black guns, neither is simple to do, if for any other reason than the rifle is seemingly more common than highway mile markers in America (no small feat).
And now Springfield Armory is shooting to parlay the SAINT's strong start with a pair of releases this past month that take the line in some new and appealing directions.
Saint Edge

As a rule, a carbine should be light. After all, it's meant for fast handling, excelling when quarters are close and proving less burdensome when humped in and out of an operating area.
The SAINT Edge seems nearly the dictionary definition of this. At 6 pounds, 3 ounces, the carbine should provide the handling attributes that will make it lightning quick on target transitions and easy to carry, no matter the situation.
Springfield trimmed back the Edge's weight through a unique lower-receiver design, removing material around the mag well to make it feather light. And given the company has retained the mid-length gas-system, and heavier "H" tungsten buffer system, the carbine's recoil is noticeably tamed, despite its lack of heft. An added bit of insurance against kick, the .223 Rem./5.56 NATO comes standard with Springfield's proprietary SA Lite muzzle brake, which dampens recoil to next to nothing.
Aside from shootability, the new SAINT has another ace in the hole with an upgraded fire control. While Springfield won points by including an upgraded GI-style trigger in the original iteration — nickel-boron coated — it has left nothing to chance with the Edge. The company's single-stage modular match trigger is Melonite treated, ensuring it has a crisp and clean brake each and every squeeze. And it should prove fast shot to shot, with a noticeably short reset.
Like the original, the 7075 T6 aluminum upper and lower receivers mate with the Accu-Tite tension system, a nylon-tipped tension set screw that tightens the fit to remove any play. Being outfitted with a 16-inch lightweight profile barrel — Melonite finished — with a 1:8 twist allows the carbine to digest a wide spectrum of ammunition. And it comes with Bravo Company furniture, including the Mod 0 SOPMOD adjustable buttstock, with QD swivel mounting points.
The SAINT Edge has the same proprietary full-length aluminum handguard as the SAINT Free Floating model. This is a nice carry-over, giving ample M-LOK slots at seven points around the handguard. The carbine is a flattop, with full-length Picatinny rail, but comes with Springfield's low-profile flip-up sights.
The SAINT Edge is, presently, the top end AR of the line and has the price to prove it, with an MSRP of $1,299.
Saint Pistol

Often times, it seems gun companies don't invest a ton of thought when they move their AR lines into pistols. Shorten the barrel and gas system, jettison the buttstock of an existing AR and, voilà, pistol.
This is not the case with Springfield. The execution of the SAINT Pistol shows a bit more forethought, as it is well configured to offer more than just a scaled-down carbine. And it appears ready to excel at any small job thrown at it.
The .223 Rem./5.56 NATO variant comes in at a scant 26.5 inches in overall length and light at 5 pounds, 8 ounces. These are expected in a gun boasting a 7.5-inch barrel. But where the design succeeds is in the accessories it's outfitted with — particularly at the butt and muzzle.
Giving the pistol greater overall control, the small SAINT comes equipped with a SB Tactical SBX-K forearm brace. The shorter version of the original SBX offers a lower profile, ensuring a clear line of sight. But, while trim, it still provides the same amount of support as the older brace, giving the platform greater controllability.
At the other end of the gun, the blast diverter should make the pistol a heck of a lot more pleasant to shoot, as well as increase its accuracy potential. Routed forward and away from the shooters, once again enhancing the line of sight, the muzzle blast is less distracting and the pistol is easier to keep on target shot to shot.
Additionally, the diverter just peeks out from the handguard, giving it a fairly sleek look. Yet, it adds enough length to the barrel that it should nearly be impossible for a thumb to inadvertently slip over the muzzle, always a concern on AR pistols. Aiding in the overall safety, Springfield has made a hand stop standard on the pistol, once again protecting shooters from over extending their grip into dangerous territory.
The handguard itself is a modified variation of the company's free floated model, featuring SA locking tabs and M-LOK slots. Intelligently, Springfield has done away with the greater part of the handguard's upper Picatinny rail, typically unused on AR pistols and obtrusive on the grip. It has, however, left enough for the installation of a front post or flip-up sight — just in case.
Like the rest of the SAINTs, the pistol's barrel is Melonite finished, as is the carrier group. It features the Accu-Tite Tension System, which takes away the play between the upper and lower receivers. And it comes outfitted with Springfield's nickel-boron-coated GI-style trigger that breaks cleaner than most stock AR triggers. Importantly, the company has also retained the line's heavy "H" tungsten buffer, a nice point that should do plenty to tame the pistol's recoil.
The SAINT Pistol is competitive with much of the AR pistol market, with an MSRP of $989.
Specifications:
SAINT Edge

Caliber: 5.56x45mm NATO (.223REM)
Length: 35.75 in. Fully Extended / 32.5 in. Collapsed
Weight: 6 lbs., 3 oz.
Upper Receiver: Forged Type III Hard Coat Anodized Aircraft Grade 7075 T6 Aluminum Flat Top w/ Forward Assist & M4 Feed Ramps
Lower Receiver: SA Proprietary Machined Aircraft Grade 7075 T6 Billet w/ Accu-Tite™ Tension System & QD Swivel Mounting Points
Barrel: 16 in., 1:8 Twist, LT WT Profile, CMV Melonite® Finish Internally & Externally – Unique SA Multiport Muzzle Brake
Gas System: Mid-Length, Low-Profile Multi/Mode Adjustable Gas Block
Trigger: Springfield Armory® Proprietary, Modular Match Short Reset Single Stage
Sights: Springfield Armory® Low Profile Flip-Up Rear, Dual Aperture Sights, 1/2 MOA Windage Adj. & Flip-Up Front, 1/2 MOA Elevation Adj.
Trigger Guard: Integral to Receiver
Pistol Grip: Bravo Company Mod 3
Handguard: Unique SA Proprietary Patent-Pending, Full Length Aluminum Free Floating w/ SA Locking Tabs, M-Lok
Butt Stock: Bravo Company Mod 0 SOPMOD
Buffer Assembly: Carbine "H" Heavy Tungsten Buffer
Receiver Extension: Mil-Spec Dimension Carbine Receiver Extension Manufactured from 7075 T6 Type III Hard Anodized Aluminum
Charging Handle: SA Proprietary Mid SIze
Bolt Carrier Group: Enhanced M16 Melonite® Finish, MPT, 9310 Steel Bolt
MAGAZINE: 1 – 30-round Magpul PMag Gen M3
MSRP: $1,299
Specifications:
SAINT AR-15 Pistol

Caliber: 5.56x45mm NATO (.223REM)
Length: 26.5 in.
Weight: 5 lb., 8 oz.
Upper Receiver: Forged Type III Hard Coat Anodized, 7075 T6 Aluminum
Lower Receiver: Forged Type III Hard Coat Anodized, 7075 T6 Aluminum w/ Accutite™ Tension System
Barrel: 7.5 in., 416R Stainless Steel, 1:7 Twist, Melonite®
Gas System: Direct Impingement Pistol-Length Gas Port w/ Low Profile Pinned Gas Block
Trigger: Springfield Armory® Proprietary, Nickel Boron Coated GI
Sights: Not Included
Trigger Guard: Bravo Company
Pistol Grip: Bravo Company Mod 3
Handguard: M-LOK Aluminum SA Patent Pending Free Float w/ SA Locking Tabs & Forward Hand Stop
Butt Stock: SB Tactical – SBX-K Forearm Brace
Buffer Assembly: Carbine "H" Heavy Tungsten Buffer
Receiver Extension: SA w/ QD Swivel Mount
Charging Handle: GI Style
Bolt Carrier Group: Enhanced M16, Magnetic Particle Tested, Melonite®
Magazine: 1 – 30-round Magpul PMag Gen 3
Case: Soft AR-15 Pistol Case
MSRP: $989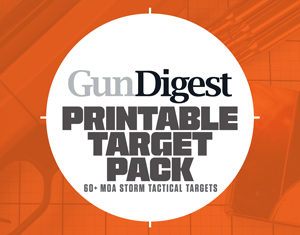 Next Step: Get your FREE Printable Target Pack
Enhance your shooting precision with our 62 MOA Targets, perfect for rifles and handguns. Crafted in collaboration with Storm Tactical for accuracy and versatility.
Subscribe to the Gun Digest email newsletter and get your downloadable target pack sent straight to your inbox. Stay updated with the latest firearms info in the industry.