Spend any time shooting trap and skeet and it quickly becomes apparent coming up with a proper and effective sight picture can be difficult.
The eye has a natural tenancy to be drawn straight down the barrel, which can cause problems – especially in skeet. With clays traveling side to side, a sight picture straight down the barrel means the shot ends up trailing the clay. Instead, shooters need to become accustom to tracking the clay with their eyes while positioning the shotgun at a proper lead.
In some respects, it's the same theory behind catching baseball, softball or football – your eyes are focused on one thing, while your hands are doing something else. Gil and Vicki Ash of OPS Shooting School have a quick and easy way to build good habits in acquiring a proper sight picture and lead in the video above.
The best part of the Ash's method is it can be done nearly anywhere – from backyard to living room (with an unloaded gun, of course). And it's one of those whacky shooting drills that almost seem too simple to work. But if given a chance, it is almost certain to pay dividends the next time you hit the range.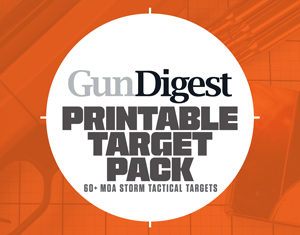 🎯 Exclusive Offer: Get Your FREE Printable Target Pack!
Dive into precision shooting with our 62 Exclusive MOA Targets featuring DOT Drills. Perfect for both rifle and handgun enthusiasts, these targets are designed for accuracy, especially for long-range shots.
Why You'll Love This Pack:
🎯 Expertly Crafted: Brought to you in partnership with the renowned Storm Tactical.
🎯 Versatile Use: Suitable for both rifle and handgun range sessions.
🎯 Precision Design: Target grids and bullseyes meticulously measured in MOA for the best shooting experience.
Bonus: By grabbing this offer, you'll also be subscribing to the Gun Digest email newsletter, keeping you updated with the latest in the world of firearms.
Don't miss out!
Simply enter your email below, and we'll send your downloadable target pack straight to your inbox.