Just Another Gun Oil, or True Super Lubricant?

M-Pro7 has introduced its newest cleaner-lubricant-protectant, M-Pro7 Gun Oil LPX. More than just a gun oil, M-Pro7 Gun Oil LPX provides the benefits of current lubricants while mitigating typical drawbacks such as evaporation, separation, gumming and toxic odor.
To achieve this, M-Pro7 blended synthetic oils, liquid molybdenum and polymers. The new LPX additive contains a component with the lowest known friction coefficient, which means it's as slick as is physically possible.
M-Pro7 Gun Oil LPX also contains a non-solvent based cleaning agent. This new technology repels dust and dirt and can be used as a "cleaner" to remove surface carbon in the field.
M-Pro7 Gun Oil LPX is the only commercial product to pass the initial testing for the recently updated military weapons specification, including the 900-hour humidity cabinet corrosion and 100-hour salt spray corrosion testing.
Civilian consumers buying M-Pro7 Gun Oil LPX get the same formula sold to the military. M-Pro7 Gun Oil LPX provides outstanding protection against wear, humidity, moisture, (including salt water) and leaves a long-lasting film that repels dust and dirt. This film will not evaporate, making it excellent for long-term storage.
For more information: www.mpro7.com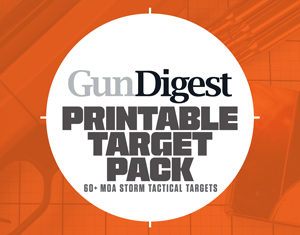 Next Step: Get your FREE Printable Target Pack
Enhance your shooting precision with our 62 MOA Targets, perfect for rifles and handguns. Crafted in collaboration with Storm Tactical for accuracy and versatility.
Subscribe to the Gun Digest email newsletter and get your downloadable target pack sent straight to your inbox. Stay updated with the latest firearms info in the industry.