An inside look at the history and manufacturing process of barrel making at McGowen Barrel.
Back in the post World War II years there was a boom in barrel making. Prior to the war, there were very few barrel makers outside of the big manufacturers like Winchester. However, after the war, names like P.O. Ackley, Atkinson & Marquart, Bliss Titus, Bill Sukalle, and Harry McGowen all became known for high-quality barrels.
Most of these names have since passed into history and young shooters would not recognize them. With a possible exception, Harry McGowen was about thirty years old when he started out in the barrel-making business in 1959. He continued making barrels all those years and earned a good reputation for accuracy. In 2007, Harry decided that he would prefer to scale back, so he sold the business. Harry continues his gunsmithing activities in Illinois.
McGowen Precision Barrels, LLC was formed in 2007. Retaining the storied name was essential in communicating to the shooting public respect for the traditions of customer service and accuracy that kept McGowen in business for nearly half a century. With that spirit in mind, the new management set about the task of improving on the tooling and machines purchased from Harry.
Upon arrival in Kalispell, MT, the Pratt & Whitney gundrills and reamers were cleaned and repaired to deliver premium accuracy. A computer numerically controlled (CNC) lathe was added to improve quality and delivery time in contouring barrels. Then a Haas VF-4 machining center was added, allowing the company to offer fluted, octagon (8 sided), and dodecagon (12 sided) configurations. The quality of finish that the CNC mill delivers is far superior to that of a manual machine and greatly reduces the time needed to hand finish a barrel.
Barrels from McGowen are currently all button rifled, but starting in 2011 cut rifled barrels will become a standard offering as well. Calibers and twists already cover an impressive range from .17 to .50 caliber in a wide variety of twist rates, all displayed on the company website. "Imagine the possibilities when we add cut rifling to our offerings," the company said. "Few companies offer both button and cut rifled barrels."
Like most barrel makers, McGowen also offers barrel fitting services in-house. "It's surprising how many shooters request the installation of barrels," said Dan Wynne, head of sales. "The most common reason clients give is that there is no competent gunsmith in their hometown. So we fit, chamber and finish barrels (including bluing) for most actions."
Most businesses have to deal with a tough economy these days; McGowen is not immune to this problem. Fred Zeglin is the Operations Manager for McGowen and, when asked about how the economy has affected the company he said, "Business is steady for us, but we have looked close at what we can do to remain competitive in hard times. One major issue with clients is always delivery time. We have taken steps to shorten the delivery times for our barrels and we have been rewarded with more orders as a result. Obviously, we will continue to look for ways to improve our product and our services."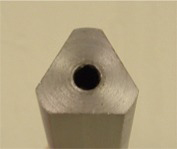 Some of the newest additions to the product line at McGowen are Ruger 10-22 drop-in barrels. They make them all in .920-inch diameter; plane, fluted, stainless, blue, and a new contour with a triangular shape that no other company is offering at this time. For some time now Savage pre-fit barrels have been in the line-up at McGowen, too. What makes them special is the variety of contours and calibers you can order. It's like an all-you-can-eat buffet designed just for Savage lovers. How about a .224 Texas Trophy Hunter, a 6.5 x 47 Lapua or .338 Edge?
McGowen Precision Barrels, LLC is combining the best of the old with the best of the new to offer a premium quality barrel to the shooting public. All McGowen barrels are stress relieved, hand lapped and checked for dimensional accuracy.
You can learn more at www.mcgowenbarrel.com
---
NEXT STEP: Download Your Free Storm Tactical Printable Target Pack
62 Printable MOA Targets with DOT Drills - Rifle Range in YARDS
This impressive target pack from our friends at Storm Tactical contains
62 printable targets
for rifle and handgun range use. Target grids and bullseye sizes are in MOA. Ideal for long-range shooting!
Subscribe to the Gun Digest email newsletter and we'll send your print-at-home target pack right away.
Just enter your email address below.
---