From sixguns to bolt-guns, you can't go wrong by starting a Ruger collection. Here are some tips for getting started.
I have enjoyed collecting guns and specifically Rugers for many years. During that time I have learned several good lessons. Some of those have been quite costly, but those are the ones that really stick in your mind never to repeat again. I think of it as paying for my education.
I have listed some general pointers for the beginning collector to consider that I think will help in building a good quality collection. They are certainly not all inclusive but hopefully will be of some help.
There is nothing wrong with accumulating guns—all types of guns. We have all been there. Myself, I love guns, period! If that is what you enjoy, that is fine, but if you want to become a true collector of a certain gun or guns, I believe it requires focus. In Ruger collecting, it does not matter what you decide to collect or how you approach it, but I suggest you have a plan.
The Initial Plan
An example of a plan would be that you decide you want to collect one example of each major type of the Ruger early autos and old model revolvers. Your plan would lay out and list what that would include: Standard Autos and Target models, Red Eagle and Black Eagle grips, different barrel lengths. Next: the Single-six Revolvers, flat loading gates and round loading gates, black rubber and walnut grips, different barrel lengths. Then the Blackhawk .357 Revolvers, etc. If you have limited funds, figure that into your plan. You do not want to mortgage the farm, or at least not all of it! Then you go about your search. Try not to sway too much. Instill discipline in yourself, and try to stay on your plan. This is usually very hard for us gun lovers.
Plan Two
Once you have fulfilled the above or are nearly there, you need to decide what is next. How do you expand? For example, you may decide that you really like a particular series of gun, let's say the Single-Sixes. You want to expand that particular part of your collection and really get into the different variations of these guns. You should then focus on that area. First, find out all you can about the Single-Sixes—read, read, read! Ask fellow collectors, look at gun displays at gun shows, if available, etc. Then list all the guns that would make up a complete collection of the different variations of those guns. An example is that there are four major variations of the flat loading gate or "flatgate" guns. Then begin the hunt. Again, you may have limited funds, so figure that into your plan.
Books, Magazine Articles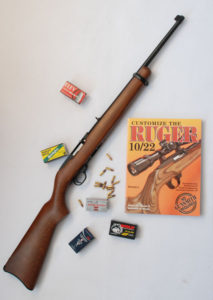 You just cannot read too much about the guns you decide to collect! Most of the authors are true collectors themselves and are sharing their many hours of hands-on research, knowledge, and experience. Use this to your advantage. There are several good books on Ruger collecting. While some are out of print, they can still be found, and their cost will pay for themselves many times over.
Listen and Learn
Try to get to know fellow collectors who are interested in Rugers and especially the same type of Rugers that you are. You will find most of them willing and even eager to share their knowledge and experience. Be humble, ask questions, do not be embarrassed, everyone has to learn. At the same time do not be a "pest." Remember, you cannot learn everything from them overnight, so use good judgment and taste when having discussions with them. Recall also that much of your knowledge needs to be hands-on experience. I have many collector friends who have taught me so much, and they are still teaching me today.
Join a Collector's Association
This is a good way to meet people with the same common interests. You learn contacts and often find some good guns for your collection. The Ruger Collectors' Association and Red Eagle News Exchange are two good Ruger information sources.
The Ruger Collectors' Association is the oldest organization for the Ruger collector or enthusiast. Membership includes the Association's sporadically produced newsletter and invitation to members-only events. For more information (or to apply for a $30.00 annual membership), write to: Ruger Collectors' Association, Inc., P.O. Box 240, Greens Farms, CT 06436, or go online to www.rugercollectorsassociation.com.
The Red Eagle News Exchange is a quarterly publication filled with new information, updates, and articles about collecting Ruger firearms and memorabilia. This is an excellent resource for the Ruger collector or enthusiast, and the wealth of information sent to new subscribers as a free gift with a $25.00 paid annual subscription is alone well worth the money. Highly recommended. For more information or to subscribe, write Red Eagle News Exchange (Chad Hiddleson – Editor), 1945 Clover Avenue, Perry, IA 50220, or call (515) 465-2057. Or go to the Ruger Forum online: www.rugerforum.com.
Display Your Guns
The Ruger Collectors Association has two major annual theme shows. Many gun show promoters all over the country have "display tables" available at reduced table rates. I suggest you show your guns off. You do not have to wait until you have the perfect collection. You may meet someone from the general public that sees your display and happens to have a real good gun for your collection. You do not always get them, but it has happened more than once for me.
Sources
I have found some of the best sources for good collectible guns to be gun shows, local newspaper, gun publications, estate sales and actions. The Internet adds another broad dimension. Fellow collections are a valuable source to obtain leads for those special guns.
Now for some additional pointers about the guns themselves.
Condition
I really believe that you are better in the long run to spend more money up front to obtain top-condition guns for your collection than the less expensive junker stuff. In future trading or selling this will pay off immensely. Of course, that is not to say that in order to fill a particular rare open slot in an almost complete collection that I would not buy a lesser condition, very hard to find gun and then try to upgrade.
Originality
I am a purist when it comes to the guns for my collection. Factory original is a must—I have found that non-original guns normally do not enhance your collection. This is where your study and reading really pays off. You will know what is original and what is not.
Guns, Guns, Guns
Nothing helps you determine the originality and spot rare variations like looking at and handling actual guns. The more the better. The more you examine, the more familiar you become with what a "right" gun is and what it should look like.
Examination
Take your time when examining a gun that will go into your collection. Look at it very closely, study every feature. Sometimes this is one of the hardest things to do—excitement over finding that rare gun takes over and blinds you to true condition and problems you should have noticed before you get it home. Everyone will experience this no matter how hard you try. Do not dismay; you are paying for your education. Learn from these mistakes.
Checklist
One way that I try to ensure I give the gun a thorough examination before purchase is to have my mental check list ready. Examples are:
Has the gun been refinished? Look for signs of blue in previous rust pits, sharp edges buffed away, lettering not sharp, waves from excess buffing, etc. Look at the color of the bluing. Scratches, scuffs, dings—notice them !
Screw heads buggered—has the gun been messed with?
Are the grips right? Are the medallions right for the period of the gun? Is the grip finish correct?
Is the Barrel length correct? Is the barrel address correct for the period of manufacture of the gun, front sight correct, rear sight correct? Is the ejector rod button correct, ejector rod housing aluminum or steel – which is correct?
Safety kit installed in old model guns? If so, are the original parts with the gun? Old model guns without the original parts lose a considerable part of their collector appeal and value.
Boxes. The original box and paper work add desirability and value to any gun, especially a collectible gun. Always ask if the box is with the gun. Sometimes the box may be "under the table" or not visible with the gun. Unless you ask, it may not be furnished with the gun. Older Ruger boxes often bring a good price—some of the rare ones a hefty price—so it is added gravy for the seller if you overlook the box; he will sell it to another collector.
Box Configuration. Again, this is where your study and observation will pay off. Is the box right for the gun? Is the instruction manual included, and is it correct? Warranty card right? Ruger boxes and shipping cartons, if applicable, are numbered to the original gun. Lead pencils and grease pencils were used to number the older boxes on the ends and sides of the boxes before computerized end labels on the later "new models."
Buyer Beware. On the rare and especially more expensive guns always inquire about the existence of a validating "factory letter." There are unscrupulous dealers and individuals who will tell you anything to make a sale. Again, this is where your study and education can really pay off. You can spot what is not right about a particular gun. Be wary but not so cautious that you never take that chance to get a rare gun. Sometimes you have to listen to your gut and just jump in or you will miss a good gun.
Unscrupulous Dealers and Individuals. Again, where there is money to be made, there are cheats and crooks—just a way of life! Look for dealers and individuals with good reputations. Keep your ears open regarding others who got "burned or ripped off." There are many good deals to be found, but as my wise old grandma used to say, "Sonny boy, if it looks too good to be true, it usually ain't true"!
This article first appeared on the website www.gunblast.com and is reprinted with permission.
---
NEXT STEP: Download Your Free Storm Tactical Printable Target Pack
62 Printable MOA Targets with DOT Drills - Rifle Range in YARDS
This impressive target pack from our friends at Storm Tactical contains
62 printable targets
for rifle and handgun range use. Target grids and bullseye sizes are in MOA. Ideal for long-range shooting!
Subscribe to the Gun Digest email newsletter and we'll send your print-at-home target pack right away.
Just enter your email address below.
---