Robert House — Classic Firearms/Echoes Of Glory Auctions, Virginia Beach, Va.
An auction house that specializes in military firearms and memorabilia, Classic Firearms/Echoes Of Glory Auctions has seen a steep increase in prices paid over the last year for three rifle types in particular: SKS rifles, from pretty much any country and manufacturer; British Enfields; and, the venerable M1 carbine.
"A year ago, SKS rifles were going for $225 to $250 apiece," owner of Classic Firearms Robert House said. "Now, we're seeing them at shows and auctions bringing $350 to $400. British Enfield rifles are the same—a year ago, they averaged $200-$225, and now they are $300 to $350. Japanese Arisaka and Italian Carcanos are going up, too."
Meanwhile, prices for M1 Carbines have jumped 25 percent recently.
Any captured Communist Bloc weapons from the Korean and Vietnam Wars are fetching good prices, especially those with authentic "Capture Papers," official military documents that gave soldiers permission to take home captured enemy firearms.
"[A] recent import Soviet M44 Nagant might sell from $225 to $275. But with the capture paperwork? They'll bring $400-450," House said.
As for U.S. weapons from the Vietnam Era, early Colt AR-15 rifles that closely mimic the Vietnam era M16 (such as the Colt SP-1 semi-automatic) bring a premium.
"Guys are looking to pick up a Vietnam War legal M16 style rifle, which is quite different from later ARs, notably the stocks, the sights, the flashiders and the lack of a forward assist. I've seen them routinely sell for $1,300-$1,400 or more, versus a used later AR-15 that'll go for half that."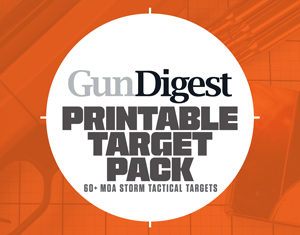 Next Step: Get your FREE Printable Target Pack
Enhance your shooting precision with our 62 MOA Targets, perfect for rifles and handguns. Crafted in collaboration with Storm Tactical for accuracy and versatility.
Subscribe to the Gun Digest email newsletter and get your downloadable target pack sent straight to your inbox. Stay updated with the latest firearms info in the industry.