For safety sake, it's always wise to keep your head up in the backcountry. But doing so could also expand your gun collection.
Or at least that's the implication of what can only be described as an amazing story coming out of Nevada's Great Basin National Park. The sharp eyes of a park employee recently turned up an incredible piece of firearms history – a Winchester Model 1873 rifle.
Cultural resource program manager Eva Jensen discovered the iconic lever-action rifle when she was working with the park's archaeology team. And while a heck of find, the artifact actually required little work to uncover.
Jensen spotted the rifle propped up beneath a juniper tree, most likely in the same position it was left when it was abandoned. It is not known when the rifle was left in the park, but by all accounts it had to have been some time:
The 132 year-old rifle, exposed to sun, wind, snow, and rain was found leaning against a tree in the park. The cracked wood stock, weathered to grey, and the brown rusted barrel blended into the colors of the old juniper tree in a remote rocky outcrop, keeping the rifle hidden for many years.
While the length of time the the rifle has been in the park is foggy, its make, model and vintage were never in question:
"Model 1873" distinctively engraved on the mechanism identify the rifle as the Winchester Model 1873 repeating rifle. The serial number on the lower tang corresponds in Winchester records held at the Buffalo Bill Center of the West Museum in Cody, Wyoming, with a manufacture and shipping date of 1882. Currently, the detailed history of this rifle is unknown. Winchester records do not indicate who purchased the rifle from the warehouse or where it was shipped. The rifle was not loaded when it was found, but would have held .44-40 caliber ammunition when in use.
The rifle is being sent to a conservator and is set to be returned to the Great Basin to be displayed for the park's 30th birthday.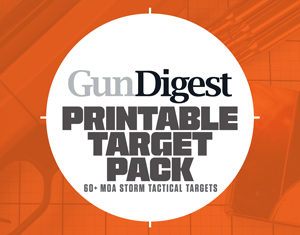 Next Step: Get your FREE Printable Target Pack
Enhance your shooting precision with our 62 MOA Targets, perfect for rifles and handguns. Crafted in collaboration with Storm Tactical for accuracy and versatility.
Subscribe to the Gun Digest email newsletter and get your downloadable target pack sent straight to your inbox. Stay updated with the latest firearms info in the industry.