Collecting Winchesters is fun, profitable and easier than you may think.
If you're going to collect the early lever actions, competition exists everywhere. If you're going to collect some of the later models, little or moderate competition is what you will find.
In addition, Winchester prices have a great deal to do with condition and factory originality, not always rarity. For example, a Winchester model 255 is quite rare, but no one seems to care. On the other hand, a standard early Winchester model 1886 is much more common than the model 255, but everyone seems to care about 1886s.
An extremely nice 1886, with just a few value-adding features, can cost as much as a brand new sports car. A mint condition model 255 Winchester usually costs less than a one-night stay at a fancy hotel.
Over the years, I have come to view some of the dichotomies in Winchester collecting – e.g., the difference in prices between Winchester Model 1886s and Winchester Model 71s -– to be very interesting.
The Winchester model 71 was created in the early 1930s using model 1886 Winchester receiver designs, with improvements, so that the rifle could handle an improved cartridge, the .348. With a little looking around, a deluxe Winchester model 71 in very nice condition can be purchased for the very modest price of under $2500. A deluxe Winchester Model 1886, depending on value-adding features to be found on the weapon, can cost 25 to 50 times more. These are the types of interesting paradoxes one finds in the world of the Winchester collector.
Even though there are some very real differences between these two rifles, I see many more deluxe Winchester model 1886s for sale than I see deluxe Winchester model 71s for sale.
Mechanically speaking, and except for a couple of the 1886s calibers, it's much easier to find ammunition for the Model 71 than for the 1886, and in terms of hunting, the Model 71 has it hands down over the model 1886. However, this is what makes collecting Winchesters so fascinating, and so compelling.
Every serious Winchester collector dreams of that moment when the phone rings, and on the line is a neighbor, or someone at work, telling him that a relative has passed away and that they found a Winchester Model 1886 in the closet. They then ask him if he would like to buy the weapon for $1000, because that's what a neighbor told him it was worth. The Winchester collector's heart rate will increase by a minimum of 20 beats a minute then and there. If, upon inspection, the rifle's receiver shows bright case color, the telltale band of a take-down rifle is there, the wood on the rifle is checkered, and the caliber is one of the more rare ones, the collector just might be in danger of having a heart attack.
Such is the collector's dream – except for the heart attack part – and it happens in real life with more regularity than most people might suspect.
In the mid-1980s, I purchased seven mint model 1876 rifles, of which all are different, and all were deluxe models, one being a 1 of 100 model and one being a 1 of a 1000 model. I paid a total of $5000 for the seven rifles. When I think back to those glorious moments, even today, I get excited.
I still have these rifles, and they give me great pleasure and satisfaction, and I realize how lucky I was then, and how fortunate I am now.
Winchester, or U.S. Repeating Arms, closed its doors in New Haven, Connecticut effective March 31, 2006. Collectors and dealers alike, have already started to accumulate recently manufactured examples of that Model 94 rifles and carbines.
Many of these later weapons have been selling for as much as 50% over retail value. This may represent an opportunity for investment, or for collecting weapons that exist in the marketplace in rather large numbers, but, for the most part, are still very affordable.
Beware, production of these rifles may, at some point in time, recur – and if it does, it's likely that prices will recede to approximate recent levels.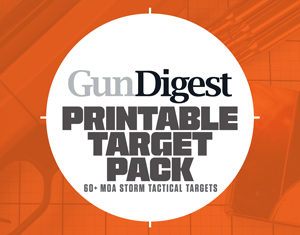 Next Step: Get your FREE Printable Target Pack
Enhance your shooting precision with our 62 MOA Targets, perfect for rifles and handguns. Crafted in collaboration with Storm Tactical for accuracy and versatility.
Subscribe to the Gun Digest email newsletter and get your downloadable target pack sent straight to your inbox. Stay updated with the latest firearms info in the industry.