If you are a collector looking for that unique piece or a shooter seeking a deal on a gun that has not been made in 50 years, the Internet auction is replacing the gun show as the place to satisfy your desire.
As a dealer, I sell most of my collectible and used firearms via Internet auction. I use both GunBroker and AuctionArms. Both are fine sites that advertise here in the Gun Digest.
I did not list eBay here because they do not allow complete firearms of any kind. Some gun parts are allowed but I don't recommend using eBay for any firearm related stuff because they do not want our firearm business. Why put money in the pockets of an anti-gun business?
I have found after a decade of selling firearms on Internet auctions that I can usually sell them quicker and for a better price than locally or at a gun show. There are some risks involved that I will try to address in this column.
Is Internet buying for you? The answer can depend on what you are looking for and how much risk are you willing to accept in pursuit or your goal. A bit of money helps, too.
Why buy on the 'net when I have a great gun shop locally? The answer to this depends on the item you are interested in purchasing.
If it is a current production firearm then a local, well-stocked shop is probably your best bet. However, retail shops do not stock every product. Some are even reluctant to order an unfamiliar product instead of selling you something they carry in stock.
If you are a collector or just want a specific item, few retail shops will have a large selection of used guns. They just get what comes in the door. So if you want a used .30-06 hunting rifle but live in a shotgun only state, few rifles will get traded in. Some shops might not even want to take used firearms in trade at all.
They don't want to stand behind an item they cannot get serviced or replaced easily. Many retailers of new merchandise are afraid to take in collectible guns like an old Winchester or Colt Single Action because they are not well informed of the collectible market, and they fear getting stuck with an expensive gun that is hard to sell locally. I can't fault them for their caution in buying high priced collectibles.
I have bought collectible guns thinking I was getting a good deal only to find out that it had the wrong barrel length, non original rear sight, replaced stock, was reblued, or any of a dozen other problems that reduced its value and collectibility. It pays to know what you are buying.
How do I find an item I want? First, you should log on to one of the auction sites and select the search option. Enter the make, model and caliber of an item you are looking for. Such as: "winchester 1873 .45", "1898 mauser 7mm", or "colt 1903 .32" No need to use caps or punctuation, as the search does not use them. This will show you current listings matching your selection. Hopefully, there are several listings to view. It will also be helpful to do another search of closed auctions to see prices that were actually realized on your item.
Do a closed auction search going back as far as the site will allow. This can be up to 90 days. If you are looking for a collectible firearm then you also need to do your own research first, to be sure if the item you are viewing is correct. This can be done on any of the hundreds of sites devoted to specific manufacturers, models or countries of origin. Don't hesitate to email a seller questions about his stuff. If he is a regular seller of collectibles, he should know the important details and address them in his auction description. Some sellers, like pawn shops or small retailers, don't know what they are selling so you might need to ask detailed questions. Sellers who fail to respond to questions or are vague with answers should be avoided.
I want to hold and feel an item I'm about to spend hundreds or thousands of dollars on. This point is hard to talk someone out of. The fact is that your local dealer or gun show may never have the item you want. Would you rather never have it or take the chance and buy one only viewed in digital pictures?
A good seller will invest in a quality digital camera and learn how to take detailed pictures with it. I show close ups of markings and other important details. I always show rust spotting, small cracks or dents in the wood or other blemishes on the firearm. I have seen sellers whose listings show lousy pictures that are dark or fuzzy and lack up close views of important markings.
Here is where the feedback on an Internet seller will be helpful. Most Internet auction sites have a system where buyers can publicly post their satisfaction with the seller and the merchandise they bought from them. A well established seller can have thousands of feedback reports.
Positive feedback will usually mention that the seller uses accurate descriptions, gives excellent service and ships quickly. Negative feedback can come from poor descriptions or pictures of an item, refusal to accept returns, or outright fraud. If a seller gets too many negatives, the site will kick them off completely. If a few negatives appear on an otherwise impressive total, read them with the understanding that it is impossible to make everyone happy. Some buyers are hesitant to buy from new sellers or those with few feedbacks. That would have to be your judgment call. Some of the best deals will be from new, inexperienced sellers.
OK, I found my dream gun, is it time to bid? Not yet. Before you get ready to bid, you should line up an FFL dealer to receive the firearm for you. A non-licensed individual cannot receive a firearm in interstate shipment. However, if the gun you want is in your home state, you can arrange to see it in person or buy it directly from the seller. You will need to be prepared to go to the seller's place of business if they are a retail dealer. Or, if they are not an FFL dealer you can buy the gun directly, if person-to-person transfers are legal in you your state.
GunBroker and Auction Arms both have lists of FFL holders who will handle out of state transfers. Just enter your zip code and they provide a list of nearby dealers. Some large shops refuse to handle transfers because they believe it cuts into their business. As though they think you might be ready to buy their new Glock when you are looking for a WWII issue Luger that they don't have and would never buy. Too bad, as this alienates potential customers that might return to buy something out of their stock.
How much will the transfer cost? This varies a lot by region. $10 – $25 in most areas will get you a transfer. But in places like California and New Jersey you might pay $50 – $100. There just are not many FFLs left in these anti-gun utopias. You also need to ask if they collect sales tax on a transfer. Some states expect the FFL to collect the tax as though he sold the item, even if he is acting only as a receiving agent and you paid the seller directly.
You also will want to ask if they will receive a firearm from a non-FFL seller. It is not illegal under federal law or in most states for a non-FFL individual to ship a firearm to another state as long as it is shipped to an FFL. A photocopy of the seller's ID is usually enough to establish identity. Some transfer dealers do not want to receive a gun from a non-licensed individual. You might need to ask the seller if he is a dealer before you bid on his item. It is also wise to ask about the seller's return policy if this is not stated in the auction.
Once you have a transfer FFL lined up, it is time to join the game. It can be frustrating, just like a live auction. There are many strategies involved in when to bid. Some will wait until the last minutes of an auction so as to not draw attention to the item they want. I say just decide what you are willing to pay and place your bid. If someone is going to bid more it really does not matter when it happens. There are deals to be had. It just takes time and patience.
What are reserve auctions and what is proxy bidding? A reserve auction is when the seller sets a hidden price for the item that must be met before the item will sell. This is different from the starting price of the auction. The starting price is shown on the auction listing. It can be $1 and up. If a reserve auction receives bids it will not be a sale until the reserve is met. I have never listed or placed a bid on a reserve auction. It seems that the reserve price is seldom reached. I think a lot of sellers that use reserves are fishing for how much buyers are willing to pay for an item without having to sell the item.
A smart seller will just list his minimum selling price as the starting bid and not waste a buyer's time with reserves.
Proxy bidding is the way that the auction sites raise the bids between competing bidders without requiring a bidder to pay his full bid if he is not bidding against another. For example, Bidder 1 bids $500 for a Colt revolver with a minimum opening bid of $400. There is no reserve, so the seller is willing to sell his gun for $400. If no one else places a bid before the auction closes Bidder 1 will win the Colt for $400. If Bidder 2 jumps in and places a bid of $450 then the proxy bidding program will up Bidder 1's bid to $460 or enough to outbid Bidder 2's bid.
The bids are raised in increments based on the starting price of the item. Usually five dollars or so. If Bidder 2 decides he really wants that Colt then he can go back and raise his bid to $600. Now Bidder 1 receives an email informing him that he has been out bid. He has the choice of raising his bid but it must be for more than $600 to win the Colt.
I won an auction. Now what? The winning bidder in an auction will receive an email from the auction site informing them that they have won. The seller will also send an email with the total and the address to send payment. The shipping charge should have been listed in the seller's description or included in the selling price. Beware of a seller that fails to mention shipping in the auction then tries to add $50 to the price. Ask before you bid. Most long guns can be shipped for around $20 – $25 via UPS ground or U.S. mail depending on the insurance coverage. Anyone can ship a long gun via either method.
Handguns can be sent US Mail only if the seller is an FFL holder. That will run $10 – $20. UPS requires handguns be sent next day air and that will cost $35 – $50 so if you are buying a pistol from a non-FFL keep that in mind. The details of how and where to ship firearms were discussed in a previous column.
The best form of payment is a U.S. Postal Service money order. They can be bought at any post office. The USPS money order is better than a private bank money order in case of a problem with non-delivery of merchandise. The USPS will go after fraud cases involving mail-order sales.
Many retail sellers will be able to take a credit card. I do not like online payment services such as Paypal because they have problems of their own with recovering payments when there is a problem with a transaction. You now will mail your payment and FFL copy to the seller. Some transfer FFLs will want to mail their FFL copy directly to the seller. Either way is fine. As long as both get there safely.
When your new treasure arrives at the FFL dealer you go in and fill out the paperwork the same way as in any firearm transaction. Be sure to inspect the gun to be sure it matches the seller's description. It would be easier to make a return before you do the paperwork and take the gun home.
Good luck and happy bidding!
This article appeared in the September 12, 2011 issue of Gun Digest the Magazine.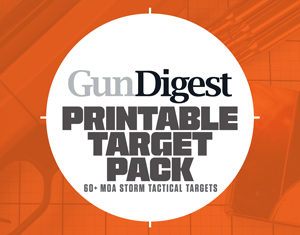 Next Step: Get your FREE Printable Target Pack
Enhance your shooting precision with our 62 MOA Targets, perfect for rifles and handguns. Crafted in collaboration with Storm Tactical for accuracy and versatility.
Subscribe to the Gun Digest email newsletter and get your downloadable target pack sent straight to your inbox. Stay updated with the latest firearms info in the industry.