The Republic Forge Defiant Lightweight 1911 is an elegant gun that's big on power and small on size.
I am a huge fan of 1911-style pistols, and I use them for hunting (especially 10mm Auto models), home defense (night stand .45) and just punching paper at the range. But I've shied away from using a 1911 as a concealed carry handgun. Oh, I've tried it. And while others might have a different experience, I've found that full-sized 1911s are just too large and heavy for me to carry comfortably under a shirt or jacket.
The last couple years, though, have seen gun makers turning out smaller versions of their 1911s in .45 ACP, specifically with concealed carry in mind. Among the latest entrants into this market—and among the best I've used—is Republic Forge's new Defiant Lightweight 1911.
At 30 ounces unloaded, the Defiant Lightweight is by no means a pocket pistol. But it is still nifty and fairly compact, a pistol that points naturally, is accurate and looks great. It's a half-dozen or more ounces lighter than other full-sized Republic Forge 1911s. That weight savings is achieved via a frame made from 7075 T-6 Aluminum (also known as "Aircraft Aluminum") and a 3.6-inch barrel.
All that and, with one in the chamber, the Defiant Lightweight still packs seven rounds of .45 ACP stopping power.
My time with the Defiant Lightweight included a day at the range, as well as a day's concealed carry of the pistol. Range time came first.
For my testing, I used four brands of .45 ACP ammunition, three of them for accuracy testing: Aguila, 230-grain FMJ; American Eagle, 230-grain FMJ; and Remington UMC, 230-grain FMJ.
Accuracy testing was done at 25 yards from a rest. Next, and to better simulate a concealed carry situation, I shot at 10 yards offhand. In both cases, I was impressed with the Lightweight's accuracy.
At 25 yards from a sandbag rest, the best five-shot group came with the American Eagle load, and measured 1.46 inches. The largest group was 2.43 inches with the Aguila ammunition. Given the Lightweight's 3.6-inch long barrel, I'm not sure you could really expect much more from a pistol.
At 10 yards offhand, Remington's UMC took the top spot with a group right at one inch. The American Eagle held a group of 1.17 inches, while the Aguila hit 1.21 inches. If I took my time? The groups were less than 1.5 inches, no matter which ammo was used.
The only functional problem came after 100 rounds or so had been run through the pistol. With a new magazine inserted, the first round of the American Eagle ammo would not feed into the chamber, the tip of the bullet pressed right against the bottom of the feed ramp.
A quick inspection revealed that the feed ramp was quite dirty. I was without oil or a cleaning spray (I'd left my accessories range bag at home!), so I wet a piece of paper towel with my saliva and wiped the ramp clean. Once that was done, the American Eagle rounds fed easily enough into the Lightweight.
(Of note, the other two types of ammunition I used didn't have this feeding problem even with a blackened feed ramp. I'm not sure why, but for some reason the end of the bullet on the American Eagle rounds seemed to stick to the feed ramp, while the others slid over the grime and into the chamber.)
Shooting the Defiant Lightweight was a pleasure. The pistol's weight naturally dropped down and back into the rear of my palm, snug and comfortable.
The ambidextrous wing safety snapped up/on easily with my right thumb and minimal effort, while it snapped down/off just as nicely. The grip safety required firm pressure, but not the undue squeezing needed for some 1911s I have used.
The magazine release is on the left side of the pistol (though it can be moved to either side), and the magazines popped out with one thumb's worth of pressure.
The Lightweight's slide works fairly easy; it isn't 9mm pistol easy, but easier than most 1911s I've used. The cocking serrations at the rear of the slide are located at just the right place to assist in pushing back the slide.
The Defiant's trigger broke at a very crisp 3.5 pounds with no take up. You squeeze the trigger, and the pistol goes off. It resets very quickly, too.
The metal of the front strap is nicely checkered, at 25 lines per inch, providing a superior grip for your bottom three fingers—a great aid to getting back on target after the first shot.
The VZ Grips on the Defiant are amazing. The front halves of the grips, facing the barrel end, are dimpled. The rear halves are crafted from a series of cuts that slant down at about a 45-degree angle.
The dimples grip your shooting hand fingers and the top of the palm of that hand very firmly. Meanwhile, the angled cuts perfectly grip and hold the rear palm of the non-shooting hand, stabilizing the pistol.
Modified Trijicon Night Sights sit atop the pistol, and they line up fast and naturally.
According to Jeff Meister, Republic Forge's Master Gunsmith, the Defiant Lightweight—like all of the gun maker's pistols—features Republic Forge's proprietary, patented recoil system featuring a flat wire recoil spring.
"The recoil spring will last for at least 15,000 rounds," said Meister.
As far as various options like Cerakoting, colors, different grips and sights, etc., Meister noted that the Republic Forge website has a "Build Your Own 1911" feature that lets you select from the company's full range of accessories and options. The site will also show you what these options look like on the pistol of your choice and provide you with a price per option/accessory, as well as a final total price.
Speaking of price, the Defiant Lightweight comes in at a hefty $2,995. No small change. At the same time, Meister added, each pistol is handmade, one at a time, at the company's facility in Perryton, Texas. All parts are American made.
The Defiant, like every Republic Forge pistol, also comes with a Full Lifetime Warranty (minus misuse and abuse of course). Yes, it costs a lot of money. But you get a great deal of gun for that cash. You also get a handgun that, I suspect, will be passed down within your family, for generations to come.
Specifications:
Republic Forge Defiant Lightweight
Caliber: .45 ACP
Action: Single, semi-automatic
Weight: 30 oz. (unloaded)
Frame: Full-sized Commander, made from 7075 T-6 Aluminum
Slide: 4340 Carbon Steel, heat-treated to 38-41 Rockwell
Barrel: 416 Stainless Steel
Barrel Length: 3.6 inches
Trigger: Lightweight, skeletonized
Trigger Pull: 3.5 pounds
Sights: Republic Forge Night Sights with straight-eight Tritium configuration
Price: $2,995
Manufacturer: Republic Forge; RepublicForge.com
Editor's Note: This article is from the March 2017 issue of Gun Digest the Magazine.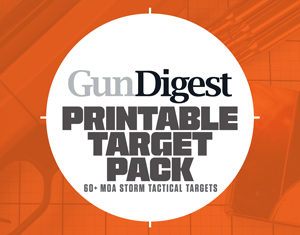 Next Step: Get your FREE Printable Target Pack
Enhance your shooting precision with our 62 MOA Targets, perfect for rifles and handguns. Crafted in collaboration with Storm Tactical for accuracy and versatility.
Subscribe to the Gun Digest email newsletter and get your downloadable target pack sent straight to your inbox. Stay updated with the latest firearms info in the industry.