Adding Crimson Trace's Laserguard Pro and other accessories to a Springfield XD-S makes a good gun great.
Times change, as do consumer preferences. Many, many years ago, the most popular handguns for self-defense were single-action revolvers. They gave way to double-action revolvers with swing-out cylinders that made reloading faster. Then semi-automatic pistols came to be the handgun of choice for many, including some law enforcement agencies. Most fed from a single-stack magazine, while some were single action and others were double action.
In the last half of the 20th century, double-stack 9mm handguns began to be seen everywhere with improvements being made to make them more reliable and user friendly. As concealed carry became lawful in more and more states, consumers tended to want smaller semi-automatic handguns, often chambered in .380 ACP.
Then single-stack, compact and sub-compact 9mm handguns became popular, especially with non-sworn civilians who could legally carry a gun discreetly for self-defense. Many manufacturers introduced their own versions, often based on a larger double-stack design.
One of those was Springfield Armory, which had been producing the successful double-stack XD line for quite a few years. So while no gun is the perfect choice for every shooter, the single-stack XD-S gained a strong following, resulting in the introduction of different calibers as well as a 4-inch barrel version.
Features
Although the XD-S is not fully ambidextrous, it does have a checkered magazine release that can be activated from either side. The slide catch is protected by a fence to prevent accidental engagement yet is large enough to activate easily. There is no thumb safety, but the gun is equipped with Springfield Armory's Ultra Safety Assurance (USA) Action Trigger System that prevents the trigger from moving fully to the rear unless it is first pressed.
The lightweight polymer frame has an accessory rail beneath the barrel on the dust cover, and the backstrap as well as the front and sides of the grip have large vertical and horizontal grooves for positive purchase. Additionally, the backstrap can be removed and replaced with either a large or small version to best fit the shooter's hand.
The 3.3-inch barrel version is available in 9mm, .40 S&W and .45 ACP, while the 4-inch gun is available in 9mm and .45 ACP. Nine-millimeter stainless steel single-stack magazines can be had in flush-fitting, seven-round capacity or extended eight- or nine-round versions with grip extensions. Magazines for .45 ACP are available in five-, six- and seven-round capacities while six- and seven-round magazines are made for the .40 S&W gun.
The hammer-forged barrel and steel slide have a very hard and corrosion-resistant black Melonite finish, but the slide is also available in stainless steel. The recoil spring assembly cannot be disassembled and consists of a full-length guide rod with dual recoil springs.
The slide has deep cocking serrations at the rear on both sides. Atop, a square notch rear sight with two white dots works with a front sight fitted with a fiber optic to funnel existing light toward the shooter, drawing the eye. Springfield Armory supplies a green and a red fiber optic that can be easily changed by the owner.
An important feature of the XD series of guns is the grip safety. Unintentional discharges happen. And they generally happen when the trigger is moved to the rear.
Sometimes that happens during the act of holstering the gun when an untucked shirt, a strap or even the edge of the holster itself works its way inside the trigger guard and engages the trigger. Then, as the shooter inserts the gun into the holster, the trigger is pushed to the rear, discharging the gun.
However, if the grip safety is not depressed and is working properly, the trigger will not move all the way to the rear, preventing the gun from discharging. A holstering technique taught at some of the best shooting schools has the shooter move the thumb of the gripping hand to the back of the slide when holstering to release the grip safety, blocking rearward movement of the trigger.
Accessories and Improvements
No gun is perfect and some gun owners — despite loving the gun — wish that some features could be improved or made a little different. And aftermarket manufacturers are ready to supply the XD-S owner with options.
Crimson Trace, famous for its line of laser sighting systems, recently released the XD-S Laserguard Pro, a combination 150-lumen tactical flashlight and laser. It's a compact unit that is activated by a pressure switch on the front strap that is instinctively pressed when the gun is held. Modes of operation include light and laser off, light only, laser only, both light and laser on, or laser with strobe light.
Lights and lasers are not gimmicks, and can be very useful in a life-or-death situation. The Laserguard Pro is available with a red or more easily seen green laser like that used in testing.
Lasers do not take the place of iron sights; even Crimson Trace personnel will tell you that. And while XD-S sights are serviceable, night sights like those from Trijicon that can be seen in low light where most self-defense encounters take place are a valuable enhancement. They are fitted with tiny vials of tritium gas that glow in the dark for many years.
Truglo also makes a set of replacement night sights. The Tritium Fiber Optic Xtreme Handgun Sight is a three-dot setup like the ones from Trijicon, but in addition to tritium filled vials, the sights are fitted with green fiber optics. Not only do these sights glow in the dark, they also pick up ambient light, attracting the shooter's eye even in bright sunlight.
The XD-S is not known for a great trigger. Both the 3.3-inch and 4-inch test guns had trigger pulls with considerable take-up, followed by spongy resistance, some gritty stacking, and finally a break of between 7.25 and almost 8 pounds.
Fortunately, both Galloway Precision and Powder River Precision make trigger kits. Installation is not simple, so some owners may want to use a gunsmith. Both kits reduced the break weight to a little over 5.5 pounds, making trigger control much, much easier.
Incidentally, Powder River Precision also makes an extended grip safety with a palm bump to assure activation, and a magazine release that protrudes a bit further to the left.
But there are shooters who don't want to deal with buying and adding accessories to the gun, and instead are willing to pay for someone else to do the work. Fortunately, ROBAR Companies has them covered.
The XD-S package includes, among other treatments, an extended beavertail, grip texturing, trigger job, night sights and refinishing with NP3. ROBAR will also take special orders for customizing a gun to the user's taste.
Whenever a light or other rail-mounted accessory is added to a handgun, finding holsters can be a problem. Crossbreed Holsters is ready though with a variety designed to fit the XD-S equipped with the Laserguard Pro.
Blade-Tech also reportedly has holsters ready. And for those who do not want to use the Laserguard Pro, a variety of makers, including Galco and Alien Gear Holsters have XD-S holsters.
Regardless of the holster, a sturdy belt is a must. A new design by Nexbelt has a unique ratcheting system allowing the belt to be adjusted in ¼-inch increments for more comfort. It not only looks good, it has an internal liner giving it the strength needed to securely support a holstered gun.
When selecting a gun for self-defense, do the research necessary, choose wisely and consider aftermarket accessories to make a good choice even better.
Editor's Note: This article originally appeared in the March 2017 issue of Gun Digest the Magazine.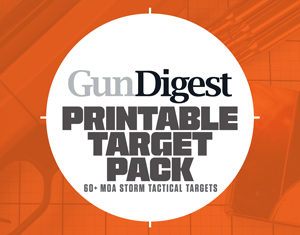 Next Step: Get your FREE Printable Target Pack
Enhance your shooting precision with our 62 MOA Targets, perfect for rifles and handguns. Crafted in collaboration with Storm Tactical for accuracy and versatility.
Subscribe to the Gun Digest email newsletter and get your downloadable target pack sent straight to your inbox. Stay updated with the latest firearms info in the industry.