It's a hot topic, rife with debatable points valid and invalid, legal and ethical.
Depending on the laws of your particular state, defending one's life may pose a legal problem, but that's not what I'm here to discuss. What I do want to discuss is the loading of ammunition that you must bet your life on.
I'd like to preface this piece with the following piece of information: I wish to live out my days having never pointed a firearm at any human being with the intent to do harm; however I firmly believe that every single one of us has the God-given right to defend ourselves when life and limb are threatened. Ok, politics over.
If you ever have to reach for a pistol or rifle that must be called upon to protect you and your family from threat, be that threat two or four legged, logic dictates that you would want that firearm loaded with best ammunition available. If you believe that factory ammunition is the way to go, so be it; but I feel better knowing that every stage of that ammunition has been hand assembled and inspected by me.
When we go hiking in the mountains of Upstate New York, the presence of bears is always a reality. Most of the time the bruins will flee upon seeing or smelling humans, but if you have the misfortune of getting in between a mother with her cubs, things can get ugly in a hurry.
I've even had coyotes in my yard while out walking our tiny little Shih-Tzu. At a whopping eight pounds, it wouldn't be hard for her to be taken. In these types of situations, I prefer a heavy for caliber hollowpoint pistol bullet. Hornady's XTP is a tough bullet that can end an argument with irate mammals quickly.
When it comes to defending your life against human attack, there is an entire market devoted to suitable projectiles. I'm no self-defense instructor, and I've never served in the military, but I have a few choices that I feel safe carrying.
Cutting Edge Bullets Raptor bullets make a solid choice. They are lathe turned, highly frangible (to prevent over penetration in an urban situation) and should impart a whole bunch of impact energy should the need arise. I like the way they shoot, and being lighter, due to the all copper construction, they can be driven to a higher velocity in your chosen handgun.
The aforementioned Hornady XTP and Sierra's hollowpoint jacketed pistol bullets are very reliable, as well. Whichever projectile you choose, be sure you spend ample time at the range to know exactly how they shoot. Practice turns into instinct in the midst of a stressful situation.
The loading of this ammunition is where our good techniques will come into play.
I would advise that you abandon the progressive press for this project. When I load the ammunition that I carry in my handguns for defense, I use a single stage press. Every case and projectile is rigorously inspected, the flash holes are reamed and primer pockets well cleaned to ensure ignition. Primer seating is inspected and I hand weigh each and every powder charge. I don't want any room for error. Bullets are seated to the proper depth, and verified on a micrometer.
In a situation where your life is on the line, a misfire could equal death. Speed of production is irrelevant when it comes to ammunition that you desperately need in a pinch.
Many good volumes have been published on choosing the best projectiles for defense, and I recommend you pick up a couple and educate yourself well, then take those projectiles to the range so you can feel confident in your choice. You'll sleep much better!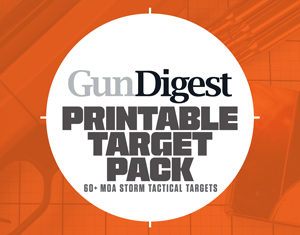 Next Step: Get your FREE Printable Target Pack
Enhance your shooting precision with our 62 MOA Targets, perfect for rifles and handguns. Crafted in collaboration with Storm Tactical for accuracy and versatility.
Subscribe to the Gun Digest email newsletter and get your downloadable target pack sent straight to your inbox. Stay updated with the latest firearms info in the industry.