The new Springfield Armory XD-E is the manufacturer's first hammer-fired pistol in its popular XD line and offers shooters several different carry options to suit their preferences.
Springfield's new XD-E brings a hammer-fired option to its popular XD line.
The hammer-fired design adds an additional level of safety to the gun and offers shooters more choices when it comes to carry conditions.
The Springfield XD-E is quite accurate for a carry gun and comes with many of the same features that make the rest of the XD series pistols so popular.
At an MSRP of $519, the XD-E is plenty affordable as a carry gun.
The "Wiktionary" defines the term "belt and suspenders" as: "Redundant systems, affording mutual backup in the event of one failing. Example: He believes in a belt and suspenders, booking flights from two different airports on different airlines for important trips."
When I first saw the Springfield Armory XD-E at the NRA Show this year, my first thought was of Pa Kettle, in one of the old Ma and Pa Kettle movies, being asked why he wore a belt and suspenders. His response was, "A man can never be too careful."
It seems the evolution of firearms has grown faster than ever in the past few years. We now have more choices, in every description of guns, than I could ever have imagined just 20 or so years ago. This has been a wonderful thing, and that diversity is exemplified in the new Springfield Armory XD-E. While the pistols of several companies have morphed from hammer-fired to striker-fired guns, as far as I know, the XD-E is the first that's morphed from a striker-fired pistol to a hammer-fired pistol.
What's With The Hammer?
Some might question the logic of this decision, but I certainly can see the value. A few years ago, there was a news report about a young mother in a store whose 2-year-old child accessed her concealed carry pistol in a concealed carry purse and fatally shot her with it. I was unable to find the details on the type of pistol, but I'm almost certain it was a striker-fired gun.
Setting aside her choice of concealed carry purses and how she controlled that purse, it occurred to me that although the standard striker-fired pistol is safe and reliable to a point, it's not the safest system. The striker-fired pistol's simplicity can cause problems, and the system is not without shortcomings. Passive safety systems are just that and require no conscious action to disable them. Striker-fired pistols have fairly light trigger pulls, and hinges and blades won't defeat an intentional pull or a piece of tangled fabric as the gun is holstered.
I've always advocated that the enclosed hammer double-action revolver is the safest possible gun to carry. The long, relatively heavy stroke of the trigger almost totally precludes the opportunity for an accidental or negligent discharge. For undertrained civilians, there's no manual safety to find and disengage under the extreme pressure of a deadly force event. As an instructor, I can assure you the majority of concealed carry citizens are undertrained and therefore more prone to mistakes than those with more training.
With a double-action gun, the defender has only to point the gun at the threat and pull the trigger. Deactivating a manual safety adds an additional step to a person already overloaded with actions and decisions that are not part of their normal experience. Under great pressure, simple is better.
The problem with double-action guns is that most people don't really learn how to accurately shoot a double action. Further, the downside of double-action semi-autos is that the second trigger pull is different from the first and that, after a shot, the gun must be rendered safe manually.
Safety Through Strength
I admit I was a bit surprised when I saw an XD-E with an exposed hammer in the Springfield booth, but I instantly recognized the potential market. Other than a double-action-only revolver, this system is the safest pistol operating system available.
Like a revolver, it can be carried without worry of inadvertently activating the trigger because it can be carried with the hammer down. Further, unlike a revolver, there's a manual safety that precludes the unlikely event of the trigger being accidentally fully stroked. The XD-E is the perfect gun for those who like options and are concerned about safety for daily carry.
From the slide rails up, the XD-E is a standard XD-S. There's a hammer-forged 3.3-inch barrel and a double-captured recoil spring guide rod system. The sights are the standard dovetailed two-dot rear and fiber-optic front, and there's a tactile loaded chamber indicator on top of the slide.
The rear of the slide has finger groves that work well in allowing slide operation without slippage, even with wet fingers. A difference I instantly noticed was the slide is considerably easier to cycle. Springfield says it's 27 percent easier to manipulate than the standard striker-fired system.
While much of what's below the slide is different, quite a bit remains consistent. Takedown is similar, but there's no need to pull the trigger to remove the slide. The magazine release is the same, and the now familiar Grip Zone stippling of the Mod. 2 series graces the grip area. Also, there's still a bottom rail on the frame for lights and/or lasers, and the magazine is interchangeable with other 9mm XD-S models.
Besides the presence of a hammer, there are several other differences. The grip safety I really like on the XD series is missing. I suppose the designers thought there were so many other safety features it was superfluous.
There's no bladed trigger, but rather a smooth, stamped trigger that cocks the hammer via a steel bar that runs on the right inside the frame. Also, there's a bi-directional lever safety on the frame that locks the trigger when pushed up and de-cocks when pushed down. As far as I know, it's the first manual safety on the entire XD series.
---
Why Double Action?
The XD-E can be carried in four different modes:
1. Israeli Carry: With the chamber empty.
2. Condition one: With the hammer cocked and safety locked.
3. Double action: With the hammer down and ready for a
double-action pull and no additional action.
4. Double action, locked: With the hammer down and the manual safety activated.
As an instructor who almost exclusively trains civilians, I would not advise carry in the first two choices. While Israeli carry can work for highly trained individuals, few civilians will put in the effort to acquire enough speed for option No. 1 to be viable. Even if they did, I see it as a bad idea. Option No. 2 simply isn't safe enough for inexperienced shooters, especially in the practice of daily concealed carry. It's too easy to accidently de-activate a manual safety, especially an ambidextrous one.
Since we've already discussed the potential problems with manually operated safeties and under-trained civilians, option No. 3 is clearly the best choice, which is exactly the same as carrying a revolver with a shrouded hammer.
---
Time With The Trigger
Of course, the proof is in the shooting. The double-action trigger is smooth, with pull weight similar to an average revolver and a longer-than-average stroke. The single-action trigger pull feels very much like a striker-fired gun. There's quite a bit of the first stage, followed by a second stage that's better than many striker-fired carry guns. There's some creep and some backlash, but it's a reasonable defensive carry trigger.
Accuracy was excellent with the WinClean 124-grain loads I used for most of the testing. At 10 yards in deliberate fire, I managed an impressive 10-shot group on a B34G qualification target that measured 1.08 inches, which is exceptional for a carry pistol. The B34G target is a half-scale target, and the score was a 100-9X. Had it been ¼ inch lower, it would have been a 10X clean.
Of course, deliberate shooting was done single action. I would recommend the XD-E be carried with a chambered round, the hammer down and the safety off (see the sidebar). In this state, the first shot would be double action with subsequent shots fired in single action.
I've only a little experience with double/single triggers because I've never carried one. I decided the best test would be to fire two fast shots from low ready to determine the difficulty of changing trigger styles while shooting fast.
I found my first shot to be centered, with my very fast follow-up second shots slightly to the left and just outside the 10-ring. Repetition would likely result in a better transition, but both shots would have been "A" hits on a USPSA target. My judgment is that anyone who can manage a double-action trigger will have little trouble dealing with the XD-E. There's a bit more muzzle rise with the XD-E than the standard XD-S models because the double-action system requires a higher bore axis than a striker-fired pistol.
There seems to be a lot of price competition in the concealed carry market these days, and the XD-E is competitive in price with an MSRP of $519 and a current online offer for four extra magazines, a holster and magazine pouch for free. Street price will be even better. It's currently available in 9mm only; if the nine sells, there'll likely be a .45 ACP to follow.
So, in summary, I think the XD-E is a viable addition to an already successful line, and I expect it to gain a following among those who just feel safer with a more secure trigger system. True, the trigger system isn't safer than a double-action revolver, but the XD-E offers a capacity of eight plus one with the added benefit of a much faster reload than any revolver could provide.
Specifications:
Springfield Armory XD-E
Action: Short recoil operated
Trigger: Double/single action
Caliber: 9mm Luger
Capacity: 8+1 and 9+1
Magazines: Steel with round count holes
Barrel: 3.3 in., hammer-forged steel, Melonite finish, 1:10 twist
Sights: Fiber-optic front,
white dot low-profile combat rear
Frame: Black polymer
Slide: Forged steel, Melonite finish
Length: 6.75 in.
Height: 5 in.
Weight: 25 oz.
Accessories: Lockable carry case, two steel magazines, cable lock, manual and extra sight inserts.
MSRP: $519
Manufacturer: Springfield Armory

Editor's Note: This article is an excerpt from the 2017 Concealed Carry special issue of Gun Digest the Magazine.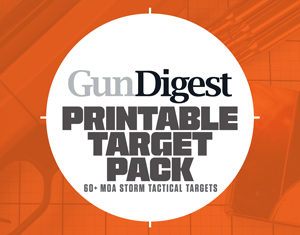 Next Step: Get your FREE Printable Target Pack
Enhance your shooting precision with our 62 MOA Targets, perfect for rifles and handguns. Crafted in collaboration with Storm Tactical for accuracy and versatility.
Subscribe to the Gun Digest email newsletter and get your downloadable target pack sent straight to your inbox. Stay updated with the latest firearms info in the industry.