Manufacturers of concealed carry guns and gear are continuing to outdo themselves each and every year, and this year's new products are clear evidence of that drive to innovate.
It's never a good time to be a bad guy, but with so many innovative products designed for personal protection, it's really the worst possible time to be a bad guy. Reliable, effective guns; hard-hitting, threat-stopping ammo; and a wealth of accessories give you all the confidence you want when you need it the most.
Check out the gallery below to see some of the hottest new concealed carry guns and gear available in 2017.
SIG Sauer FMJ Ammo
Practice makes perfect, but practicing with your carry ammo? Whew! That can get expensive. SIG's new 9mm FMJ ammo allows you to shoot the same bullet weight, but in a much less expensive option. Available in weights that match the manufacturer's popular and effective 9mm V-Crown personal protection ammo, the FMJ ammo will shoot and group the same. Options include 115 grain, 124 grain and 147 grain and prices are half the cost of the carry ammo. ($19 for 50 rounds; SIGSauer.com)
Clinger IWB Holster
What good is a concealed weapon if everyone knows you are carrying? With Clinger's IWB Holster, you'll never have to worry about that. It's packed with features and is fully tuckable. The Kydex Sweat Shield keeps your holster dry. It's available in hundreds of manufacturer, model and caliber combinations and is even offered in left-handed versions. You'll never buy another holster again, thanks to Clinger's unlimited lifetime warranty. ($73.99; ClingerHolsters.com) See Clinger IWB Holster availability on Amazon
DeSantis Raptor Holster
Built for inside- or outside-the-waistband carry, the Raptor is made with a Kydex holster and is pre-formed with a curved back. It comes with 1 ½- and 1 ¾-inch belt loops for a perfect fit and soft polymer straps for IWB carry. The Raptor also features a Chek-Lok trigger guard lock and a rear sweat guard. Available for six Glock models. ($79.99; DeSantisHolster.com) Check DeSantis Raptor Holster on Amazon
Federal Premium HST .38 Special +P
Federal adds to its growing line of ammo made specifically for micro-carry guns with the addition of a .38 Special +P load. It is the perfect ingredient for your micro revolver. It has a deep-seated 130-grain bullet for consistent powder burn and reliability. The HST bullet design is built for maximum expansion and weight retention for the ultimate threat-stopping performance. It doesn't over-penetrate, making it a safe round for any situation. Also available in .380 Auto and 9mm. ($30.95; FederalPremium.com)
Galco Kingtuk IWB Holster
Now you see it, now you don't. Galco's King Tuk IWB holster keeps your favorite carry gun out of view while allowing fast, easy access. It combines a Kydex holster with a steer hide-lined backing plate and a smooth leather front. It comes with removable metal belt clips that fit belts up to 1 ¾-inch and can be moved up or down to customize the carry height and angle. It's available in dozens of different manufacturers and models. ($79.95; GalcoGunleather.com) See Galco Kingtuk IWB Holsters on Amazon
Kimber K6s Revolver
There's no telling how they did it, but Kimber managed to build a six-round .357 with the smallest cylinder on the market. It's also got a compact, yet comfortable frame and a 2-inch barrel, making it the ideal carry gun for those who prefer revolvers. The match-grade trigger gives you a smooth, confident squeeze, and the ergonomic grip gives you the confidence you need when you need it most. Available in a number of new models this year. Weight is 23 ounces. ($899 and up; KimberAmerica.com)
LaserLyte Quick Tyme Trainer
Carrying a firearm is pointless if you aren't fast enough to use it or accurate enough to hit your target. There's no better way to get fast and good than by practicing. LaserLyte's Quick Tyme Trainer kit allows you to practice your draw and shoot anywhere, any time. The kit includes a target that times your draw and shot and a full-size practice pistol with a built-in laser. It can also be used without the stopwatch.
($307; LaserLyte.com) Find this and other LaserLyte products on Amazon
Ruger American Pistol Compact 9mm
Ruger's American line of firearms just got a little bigger with the addition of the Compact 9mm pistol. It's packed with features, including a recoil-reducing barrel cam, a low center of gravity, a modular, wrap-around, interchangeable grip system and an ambidextrous slide stop and magazine release. The two, nickel Teflon-plated magazines hold 10 rounds. The American Compact also comes with Novak LoMount Carry three-dot sights. Weight is 29.2 ounces. ($579; Ruger.com)
Springfield 1911 EMP4 Concealed Carry Contour
Compact and discreet, yet reliable and effective. Of course, you'd expect that with the Springfield name, right? The new EMP CC Contour weighs 30.5 ounces and has a 4-inch, stainless steel match-grade bull barrel. The overall length is just 7.5 inches, and the height is 5.5 inches. It comes with three, nine-round magazines, a dual spring recoil system and a snag-free contour for a fast, easy draw. ($1,220; Springfield-Armory.com)
Taurus Spectrum
A sleek, rounded profile means you'll never have to worry about a smooth, fast and sure draw, and the textured, ergonomic grip means you'll never have to be concerned about a steady hold. The hard-hitting .380 holds six rounds in the extended magazine, which has a reversible release for left and right-handed shooters. The true double-action-only trigger offers the highest level of safety, plus a striker block for extra safety. The Spectrum is available in standard colors and a variety of custom finishes and colors. ($289; TaurusUSA.com)
Colt Cobra Revolver
Simple, easy, fast. That's what you expect from a revolver, and that's exactly what you get from Colt's new Cobra .38 Special +P. Well, that, and quality and reliability. The six-round, double-action revolver is built with a stainless steel frame. A 2-inch barrel is topped with a red fiber-optic sight, and the Hogue grip provides a sure, comfortable hold even in the most intense situations. It weighs 25 ounces. ($699; Colt.com)
Crimson Trace Laserguard Pro for M&P45 Shield
Looking for the perfect laser and light combo for your Smith & Wesson M&P45 Shield? Crimson Trace has you covered. The manufacturer's new Laserguard Pro series comes with either a red or a green laser and a 150-lumen LED light. Elevation and windage are fully adjustable, and the laser engagement system is located conveniently under the trigger guard. It also comes with a master on/off switch and runs in four modes: laser, light, laser and light and laser with light strobe. Even better, it comes with Crimson Trace's free batteries for life program. ($279 for red and $379 for green; CrimsonTrace.com)
Crossbreed Crossover Belt
Whether you carry inside your waistband or out, you need a high-quality belt to keep your gun where it belongs. Crossbreed's new Crossover belt is 1.5 inches wide and is built with the highest-quality materials. It uses a slide, eliminating the need for holes and giving you the highest range of comfort. It's not just a carry belt. Each one is hand-beveled, burnished, edge dyed and stitched. The Crossover belt is a stylish accessory you can wear even when you aren't trying to hide anything. ($89.95; CrossbreedHolsters.com)
Blackhawk 1700 Shirt
It's not just a stylish and comfortable shirt, it's made for concealed carry. The textured seersucker fabric reduces holster and firearm printing, allowing you the freedom to carry anywhere you want. It has a breakaway snap placket for quick access to your holstered firearm. A vented back gives you the ultimate in comfort in the hottest situations. Even better, it's coated with Teflon Shield+ to help repel water and stains. It also has UPF 50+ protection from the sun's harmful rays. ($59.99; Blackhawk.com) Find the Blackhawk 1700 on Amazon
Editor's Note: This article is an excerpt from the Shooter's Guide 2017 issue of Gun Digest the Magazine.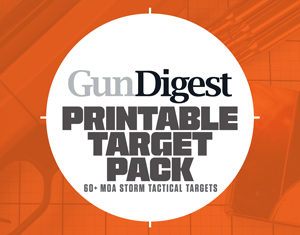 Next Step: Get your FREE Printable Target Pack
Enhance your shooting precision with our 62 MOA Targets, perfect for rifles and handguns. Crafted in collaboration with Storm Tactical for accuracy and versatility.
Subscribe to the Gun Digest email newsletter and get your downloadable target pack sent straight to your inbox. Stay updated with the latest firearms info in the industry.