Beretta's new APX A1 Carry pistol is optics-ready, modular and available in four different colors.


Beretta has decided to expand their APX line of striker-fired pistols with the new APX A1 Carry. Revealed at the 2021 USCCA Concealed Carry & Home Defense Expo, the APX A1 Carry has several upgrades and features not seen when the original model launched two years ago. This tiny, single-stack CCW gun now comes optics-ready, has an improved trigger and is available with four different frame colors.
Size And Capacity

As a single-stack, striker-fired, polymer-framed 9mm, the Beretta APX A1 Carry is most comparable to a Glock 43. They share similar dimensions, utilize the same action, and when the APX is equipped with its flush-fitting magazine, they have the same 6-round capacity. Unlike the G43, however, the new APX also includes an 8-round magazine in the box that provides both increased capacity and a better grip.
Optics-Ready

Following the release of the M9A4 and 92X RDO, it appears that Beretta has fully embraced the red dot-sighted pistol advantage. The APX A1 Carry now comes with an optics-ready slide that's capable of mounting a variety of popular pistol red dots, including Burris, C-more, Shield RMS-C and the Holosun K Series. The mounting plates can be purchased separately from Beretta but like with their other new optic-ready handguns, APX A1 Carry owners may receive one for free upon completing Beretta's online warranty registration.
Upgrades

Besides the addition of an optics-ready slide, the APX A1 Carry also features an improved trigger that has been made to be shorter and lighter. The frame also now has more aggressive texturing to ensure a better grip while firing, and the general consensus is that the A1's front and back slide serrations are more aesthetically pleasing than the original model's as well.
Beretta is also now serializing the gun's internal chassis instead of the polymer frame, meaning that the same APX A1 Carry can be used with any of the four available frame colors without buying a whole new gun.
It will be interesting to see how the APX A1 Carry fares against more established CCW pistols in its class. This new gun hasn't had the time to garner the reputation that Glock has yet, but upon release, it appears to be a less expensive option that comes with more features out of the box than a G43. It is available with a black, green, gray or FDE frame and all models have an MSRP of $449.
For more, please visit beretta.com.
---
More Optics Ready Pistols: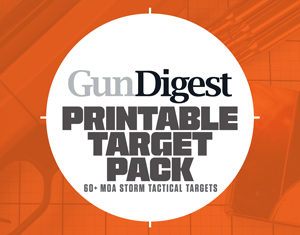 🎯 Exclusive Offer: Get Your FREE Printable Target Pack!
Dive into precision shooting with our 62 Exclusive MOA Targets featuring DOT Drills. Perfect for both rifle and handgun enthusiasts, these targets are designed for accuracy, especially for long-range shots.
Why You'll Love This Pack:
🎯 Expertly Crafted: Brought to you in partnership with the renowned Storm Tactical.
🎯 Versatile Use: Suitable for both rifle and handgun range sessions.
🎯 Precision Design: Target grids and bullseyes meticulously measured in MOA for the best shooting experience.
Bonus: By grabbing this offer, you'll also be subscribing to the Gun Digest email newsletter, keeping you updated with the latest in the world of firearms.
Don't miss out!
Simply enter your email below, and we'll send your downloadable target pack straight to your inbox.