When it comes down to it, choosing a holster for concealed carry is almost completely about comfort and personal preference. A shooter will choose the holster that fits most comfortably for the chosen firearm, and that fits his or her carry position preference, whether that be inside-the-waistband (IWB) in the appendix area, tucked behind the hip, belt-mounted on the strong side, or any other position. Often, shooters must purchase a different holster depending on their method of carry, and that cost adds up.
Luckily, the folks at Blackhawk have just released a new concealed carry holster with incredible versatility that adapts to most popular carry configurations. The new Leather Tuckable Pancake Holster blends premium leather and injection-molded plastic for a comfortable, yet ruggedly durable product; and best of all, this new design allows civilian and law enforcement users to choose from IWB, tuckable or belt-mounted wear.
A truly adaptable option, the Blackhawk Leather Tuckable Pancake Holster utilizes a three-slot design, meaning shooters can carry in the strong-side, behind-the-hip, appendix and cross-draw positions on belts up to 1.75 inches in width. Belt clips are also included for traditional inside-the-pants wear or use as a tuckable holster.
This new Blackhawk holster is also adjustable for cant and ride and features a built-in shirt shield to keep moisture from the firearm. The level of retention is tension-adjustable, and the holster features a trigger guard for safety and security.
"We know that our customers rely on their equipment to keep them safe, and we are excited to offer such a multifaceted holster," said Jarrett Beck, BLACKHAWK! Product Director. "This new holster offers personal adjustability, safety, convenience and value in an all-in-one package."
The Blackhawk Leather Tuckable Pancake Holster currently fits the Smith & Wesson M&P and M&P Shield, the Ruger SP101 and Taurus 85 revolvers, and the Kahr 9/40, with other fits becoming available. The MSRP on this new 3-in-1 holster is listed at $86.95.
For more information on the new Leather Tuckable Pancake Holster or other Blackhawk products, visit Blackhawk.com.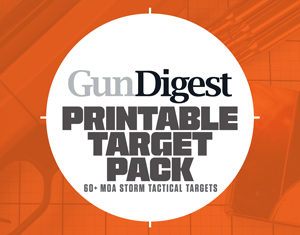 🎯 Exclusive Offer: Get Your FREE Printable Target Pack!
Dive into precision shooting with our 62 Exclusive MOA Targets featuring DOT Drills. Perfect for both rifle and handgun enthusiasts, these targets are designed for accuracy, especially for long-range shots.
Why You'll Love This Pack:
🎯 Expertly Crafted: Brought to you in partnership with the renowned Storm Tactical.
🎯 Versatile Use: Suitable for both rifle and handgun range sessions.
🎯 Precision Design: Target grids and bullseyes meticulously measured in MOA for the best shooting experience.
Bonus: By grabbing this offer, you'll also be subscribing to the Gun Digest email newsletter, keeping you updated with the latest in the world of firearms.
Don't miss out!
Simply enter your email below, and we'll send your downloadable target pack straight to your inbox.