As armed citizens, we spend innumerable hours sharpening our marksmanship skills, understanding the laws and mentally preparing to protect our lives and the ones we love. But when the rubber meets the road, will we make the right decisions in a life-or-death situation? Double Eagle Tactical Training aims to make certain we do, providing some of the most rigorous situational training available today. Armed citizens won't confront anything more true to life outside of an actual self-defense scenario.
Modern Shooter travels to the heart of New York's Catskill Mountains to get a first-hand look at the Double Eagle system. And as the above clip shows, the trainers absolutely put their students through the wringer — both mentally and physically. The simulated backyard disturbance Gun Digest author and custom ammunition manufacturer Phil Massaro confronts is filled with ambiguity and danger, forcing him to make split-second decisions that are a matter of life, death and potential legal tumult.
When it's all over and he and the trainers break down his judgment, it's easy to see how taxing these scant few seconds were, even on a shooter as seasoned as Massaro. The guns and ammo might have been fake, but the adrenaline was real.
Catch the rest of the action of this heart-pounding episode of Modern Shooter 10:30 p.m. EST Friday on the Pursuit Channel. The episode rebroadcasts Monday at 12 p.m. EST and Tuesday at 11:30 a.m. EST.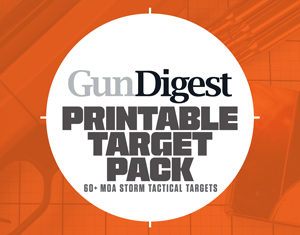 Next Step: Get your FREE Printable Target Pack
Enhance your shooting precision with our 62 MOA Targets, perfect for rifles and handguns. Crafted in collaboration with Storm Tactical for accuracy and versatility.
Subscribe to the Gun Digest email newsletter and get your downloadable target pack sent straight to your inbox. Stay updated with the latest firearms info in the industry.