TruGlo lives up to its name with the new Tru-Brite 30 Hunter.
Many years ago I began hunting with a TruGlo bow sight, which was my first introduction to the company. Like many people, I'd come to know TruGlo as a manufacturer of tremendously bright fiber optic bow sights that would perform even in the toughest light conditions, especially when a trophy animal was on the line. And, as many others have discovered, a luminescent sight, whether on a handgun or a bow sight, aids tremendously in rapid target acquisition and accuracy.
The company still makes fiber optic bow sights, of course, but it's come a long way since its inception over two decades ago. Not only has it added quivers and releases to its archery repertoire, TruGlo has also carved out a niche in the firearms community. On the one hand, it makes amazingly bright Tritium and fiber optic night sights for handguns—not to mention other handgun accessories like laser/light combos and red dot sights—and on the other hand, the company has entered the optics market, including the newest addition, the Tru-Brite 30 Hunter.
The 1-4x24mm Tru-Brite 30 Hunter is designed with versatility in mind, so you can just as easily throw it on an AR and go lay the wood to some prairie dogs or other varmints, or employ it in the chase for turkeys, hogs or deer. The scope features a 30mm tube for increased light transmission and brightness, and is ruggedly constructed for abuse in the field. Speaking of durability, the scope is shock resistant up to 1000G, so it's no lightweight in the field, either. The 30 Hunter is also waterproof, fogproof and nitrogen-gas-filled to help it stand up in the toughest conditions. After all, how many times do we go hunting in the ideal light and weather conditions? Almost never.
The scope also features a 3.75-inch eye relief and is crystal clear to look through, even in difficult low-light situations in which any optic is most fundamentally put to the test. The other advantage with a TruGlo optic is the company's coating formula, which provides optimal brightness, clarity and contrast. In other words, you get the magnification without sacrificing color quality or light transmission.
When it's time to make adjustments, the Tru-Brite 30 Hunter features leaf spring click adjustments for both windage and elevation. These adjustments are ½ MOA and, as we found, are easily made with consistent results. The scope comes with Weaver-style mounts, but of course you can customize your mounting system however you like. As I said earlier, the Weaver-style mounts make it optimal for an AR or any rifle featuring a Picatinny rail, so the mounting process is a snap.
In terms of the magnification and likely applications afield, the 1-4x24mm setup offers fast target acquisition with enough magnification to get the job done in moderately close shooting scenarios. This is what makes the scope great for hogs, turkeys and in many deer stands. Especially when you get into the hog hunting arena, a scope that aids in snap shooting with both eyes open is ideal because it allows you to successfully address possible moving targets.
The other advantage with the Tru-Brite 30 Hunter is that you're getting a tremendously bright, crisp optic with an MSRP of $135, so it's not going to cost you a mortgage payment to improve your hunting platform. It works well for 3-Gun-style range work, which then simulates and advances your skills on predators, varmints and other game animals. I found it also makes a great addition to my coyote truck gun, a Ruger American chambered in .22-250. So often shots on dogs are all about quick shooting and fast target acquisition, both of which the 30 Hunter handles well.
Editor's Note: This article is an excerpt from the August 2016 issue of Gun Digest the Magazine.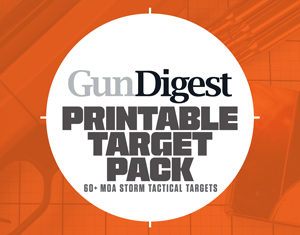 Next Step: Get your FREE Printable Target Pack
Enhance your shooting precision with our 62 MOA Targets, perfect for rifles and handguns. Crafted in collaboration with Storm Tactical for accuracy and versatility.
Subscribe to the Gun Digest email newsletter and get your downloadable target pack sent straight to your inbox. Stay updated with the latest firearms info in the industry.