Gobblers beware. Stevens has added a new 12-gauge Turkey shotgun to its classic Model 320 line just in time for the season.
The Stevens Model 320 pump-action shotgun has always been known as a solid performer, and its palatable price has made it very affordable to a wide variety of shooters. Now, coinciding with the start of many states' spring turkey seasons, Stevens is releasing a new model specifically tailored for getting gobblers.
With shipments of the new model to dealers currently underway, the new Stevens Model 320 12-gauge Turkey Pump-Action Shotgun should be an excellent option for hunters.
The new turkey-specific model includes all the same great features that have made other Model 320 shotguns so popular, such as dual slide bars, a rotary bolt, a rugged synthetic stock and a five-round capacity. In addition to these standard features, the new gun also incorporates elements designed to give the turkey hunter an added edge, including Mossy Oak Obsession Camouflage; an extended full choke on a 22-inch, vent-rib barrel; a long, green fiber optic front sight; and a drilled and tapped receiver for mounting optics.
MSRP on the new Stevens Model 320 12-gauge Turkey Shotgun is currently listed at $280. For more information and technical specifications, visit SavageArms.com.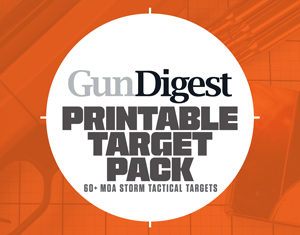 Next Step: Get your FREE Printable Target Pack
Enhance your shooting precision with our 62 MOA Targets, perfect for rifles and handguns. Crafted in collaboration with Storm Tactical for accuracy and versatility.
Subscribe to the Gun Digest email newsletter and get your downloadable target pack sent straight to your inbox. Stay updated with the latest firearms info in the industry.