For the most part, an actual PEQ can be a difficult item to procure. Certainly, the mil-spec laser sights can be found floating around here and there on the Internet, but their cost is prohibitive.
As far as replicas are concerned, typically they're all sizzle and little steak. Sure they look like their military counterparts, but for the most part they add little more than a superficial quality to a rifle.
These drawbacks are, in part, why one of Sightmark's newest products is a relief. One glimpse at the LoPro Combo is enough to discern it was inspired by what is fixed on our military's M4s. But upon closer inspection, the multi-functional accessory is more than just a good-looking bobble. It is practical tactical.
The LoPro Combo delivers two popular AR accessories in one compact package, allowing shooters to add a laser sight and flashlight in one fell swoop. And the best part is Sightmark has not scrimped on either device.
The sight is Class IIIA green laser, powerful enough to handle almost any situation that might be thrown at a shooter. It has its place in the daytime with a range of around 50 yards when the sun is out, but it really shines at night reaching out to 600 yards.
The sight is also fully hand adjustable for windage and elevations with 1-inch MOA click adjustments turrets. And the unit is designed to keep its zero not matter how roughly it's treated.
The LoPro is constructed of high performance thermoplastic that yields a weather resistance rating of IPX6 – that's equivalent to high-seas conditions. The unit is also built for tactical durability, resistant to 1000G's of maximum recoil.
The laser isn't the only souped-up aspect of the LoPro with the flashlight boasting plenty of power. The LED flashlight is 220 lumens, more than enough to light up a room or to quickly spot a target. To some, the flashlight is among the most important accessories that can be added to a defensive AR.
The multi-functional laser and flashlight device can be mounted on a Picatinny or Weaver rail and is intended to work on any AR, no matter its setup. It is designed to function either in front of a riflescope, without interference with the field of view, or on the side or bottom of a quad rail.
It has pressure-pad controls, to reduce the chance of fumbling for the on-off switch when it counts. The unit is powered off a 3V Lithium battery, giving the laser 12 hours of life, the flashlight 17 and both devices run in conjunction 4.5.
Given the versatility of the LoPro, the unit checks in at a moderate price. Sightmark sells it for $179.96 on its website and it is also available at a number of other shooting retailers.


The drawback of the LoPro is it might not float minimalists' boats. The unit is larger than just a flashlight or lower-powered laser sights. Like all accessories, it will have its fans and those who will turn their noses up.
Certainly, the unit won't appeal to everyone. But for those looking for a practical PEQ-style device to top off their rifle, the LoPro is one that has the potential to steal the spotlight.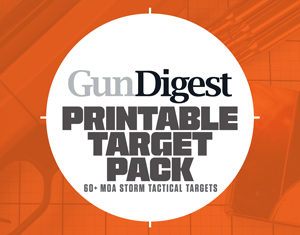 Next Step: Get your FREE Printable Target Pack
Enhance your shooting precision with our 62 MOA Targets, perfect for rifles and handguns. Crafted in collaboration with Storm Tactical for accuracy and versatility.
Subscribe to the Gun Digest email newsletter and get your downloadable target pack sent straight to your inbox. Stay updated with the latest firearms info in the industry.