Turkey Guns for 2014: Beretta A400 Xtreme
In the American auto-loading shotgun market, Beretta has invested its money and marketing pretty heavily into the waterfowl side of the business, but its new A400 Extreme is just as capable of tagging a tom as it is a big honker.
That's especially the case if you stuff the tube full of 3½-inch magnum strut stoppers, which the Extreme version of the A400 is capable of handling with aplomb. If the thought of shooting off such a shoulder-bruising load makes you wince, consider that the Beretta is fitted with a third-generation Kick-Off dampening system that uses hydraulics built into the stock to reduce felt recoil by what the Italians claim is 60 percent.
Still not convinced? That's okay, because the A400's Unico designation signifies it's designed to function without a hitch using a wide variety of loads, from those thumping 3½-inchers to a standard, low-brass field load.
You'll really appreciate that on the patterning board when you're dialing in your sights before season. The Blink gas-operated action is also fast and reliable, thanks to a cylinder and piston design that vents excess gases and scrubs itself clean with each pull of the trigger.
By very definition the spring turkey woods can be dripping wet. However, the A400 shrugs off moisture and its harmful effects with what Beretta calls Aqua Technology, which includes stainless steel or plated components to resist corrosion. Of the two camo versions available, I'd opt for the Optifade version with a 26-inch barrel. ($1895; berettausa.com)
Browning Maxus All-Purpose
While owning a separate shotgun for every outdoor pursuit is great for gun manufacturers, it can be hard on the average hunter's gear budget. Better instead is a one-gun mentality that handily takes a hunter throughout the season, like something along the lines of Browning's aptly named Maxus All-Purpose.
When the original Maxus was introduced a few years back, Browning loyalists raved about the Power Drive gas system's ability to swallow anything they fed it, and the All-Purpose should be just as reliable. Expect it to cycle light field loads and heavy, high-brass magnums, including those 3½-inch loads serious turkey hunters have grown so fond of.
The Power Drive system, along with a Vector Pro forcing cone, should also reduce recoil to tolerable levels under those heavy loads, and the extended cone reduces the likelihood of lead shot deformation and the resulting scattered patterns that so often result in a miss.
Because Browning expects hunters to carry the Maxus All-Purpose from spring to fall, it packages the autoloader with four Invector-Plus chokes, including an extra-full tube for the turkey (and coyote) hunter.
Slings that are so handy in the turkey woods are often shunned by waterfowl and upland hunters, but thanks to a unique Speed Lock system, straps can be quickly removed, as can the composite forearm for easier cleaning. Both the forend and stock are finished in Mossy Oak Infinity and featured a textured surface for a sure grip. ($1,679; browning.com)
Mossberg FLEX 20-Gauge
While there are a lot of turkey hunters clamoring for bigger, faster, harder-hitting ways to reach out and touch stubborn toms at previously unheard of distances, there's a just-as-passionate part of the market that likes calling turkeys in as close as possible.
It's open to interpretation as to who of the two is the masochist, but one thing the latter group doesn't have to worry about is a separated shoulder, as they often reach for smaller-gauge guns when they head into the woods.
Once such option is the Mossberg FLEX, now available in a 20-gauge version that the company just released to the public earlier this year. Like the 12-gauge FLEX, the 20 is built on a venerable and reliable Mossberg 500 receiver with all the same adaptive capabilities the LEGO-like system is known for.
Don't take the toy reference to mean this Mossberg isn't up to the tough task of turkey hunting. Instead it's in reference to the system's ability to build your gun just about any way you like using all the available FLEX accessories, including sliding and standard, fixed stocks, pistol grips and Picatinny-fitted pump forends—all without the use of tools. Just snap and go. No other manufacturer offers such a customizable option.
The FLEX 20-gauge is currently offered in tactical and hunter versions, both of which would truthfully be perfect for turkey hunting, depending on the user's preference.
Me? I'd carry the FLEX Hunter, which features a standard, straight stock covered in Mossy Oak Infinity and OD-green receiver and barrel, which happens to come in a short, 24-inch barrel with an X-Factor ported choke tube screwed in. ($484 & up depending on model; mossberg.com)
Remington Versamax Sportsman Turkey
I've written about Remington's reliable Versamax in this space before and it continues to be the gun I turn to the most when I head into the field. My favorite feature is its soft-on-the-shoulder attributes, even when firing heavy magnum loads, thanks to the unique gas system and a proprietary SuperCell recoil pad.
The Versamax remains what I consider the softest recoiling autoloader on the market, although Benelli's new Ethos does give it a run for its money.
Much has already been said about the gas operating system's shot-after-shot performance with every shell on the market, so I'll leave the specifics of that to the rest of gun scribes still playing catch-up. Instead, let's talk about what the turkey-specific model offers hunters heading into the woods this spring.
Compact from the barrel back, the Versamax Sportsman Turkey is fitted with a short, 22-inch vent rib barrel that swings easy in the thick, tight brush of late spring.
It also eases the weight to a manageable 7.4 pounds, something runners and gunners will appreciate. Up top, Remington's rifle sights put the payload on target, although it's worth noting the receiver is drilled and tapped should a hunter want to mount optics for even more precise aiming.
The extended choke tube is of the extra-full variety. The entire package is camouflaged in Mossy Oak Obsession. ($1,025; remington.com)
Winchester Super-X Turkey Hunter
Woodsmen wanting a dedicated turkey gun without shelling out a grand for an autoloader would do well considering Winchester's pump gun—the Super-X Turkey Hunter.
Everything about this slide-action is designed with taming spring thunder, including a 22-inch barrel that's been back-bored at .742 inches to combine with the Invector-Plus Extra Full Turkey choke for patterns that stay tight, even at extended ranges.
Of course, the receiver is capable of handling 3½-inch magnum loads, proving that pump-gun hunters don't need any wussy auto-loading actions to tame that kind of recoil.
That said, Winchester did consider shooter's shoulders by adding an Inflex Technology recoil pad to soften those blows somewhat. The innovative design pushes recoil slightly down and away from the shooter's face to ease the sharp kick.
For faster follow-up shots, the inertia-assisted slide action gets a boost from the recoiling shotgun and slams back into battery solidly and securely thanks to four-lug rotary bolt.
Built to withstand the rigors of a fickle spring, as well as a lifetime of wear and tear, the Super-X features a chromed chamber and bore that resists the corrosive effects of burnt powder and moisture.
The composite stock features a textured grip for a secure grip even when wet or muddy. Rifle-like sights are fully adjustable to dial in just the right windage and elevation to put an early end to any tom's spring fling. And it features Mossy Oak Break-Up Infinity camo. ( $520; winchesterguns.com)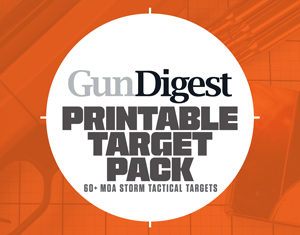 Next Step: Get your FREE Printable Target Pack
Enhance your shooting precision with our 62 MOA Targets, perfect for rifles and handguns. Crafted in collaboration with Storm Tactical for accuracy and versatility.
Subscribe to the Gun Digest email newsletter and get your downloadable target pack sent straight to your inbox. Stay updated with the latest firearms info in the industry.