Winchester's new Super X4 takes the manufacturer's already great SX3 and improves upon it, offering a do-all shotgun fit for a number of shooting endeavors.
How Winchester has advanced its Super X line:
The SX4 is the next generation of Winchester's popular Super X shotgun line.
The line of semi-automatic shotguns was first introduced in 1974.
The reliable Active Valve Gas System remains the same on the SX4.
The stock was redesigned, making it lighter and thinner.
The balance point was moved forward.
The trigger guard was made bigger as was the bolt-release button.
The gun comes with Invector-Plus in-barrel choke tubes — full, modified and improved cylinder.
Depending on the model, the SX4 costs from $799 to $1,069.
I'll say this up front: Although I've shot the Winchester Super X3 several times, I don't own one — and have never owned one — so it's difficult to do a side-by-side comparison with the new Super X4 or to even recall it well enough to note differences in handling and performance.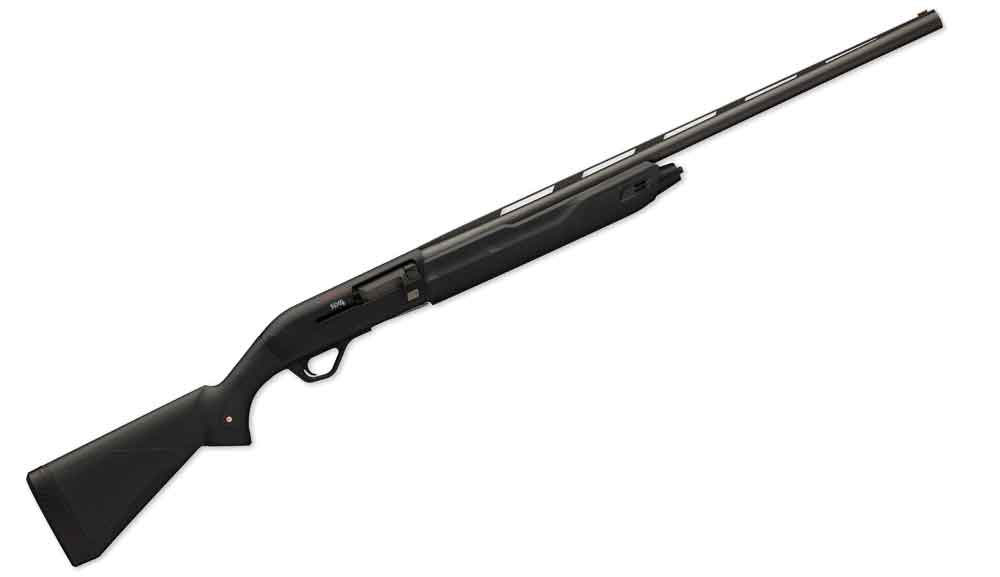 Of course, there are the notable improvements Winchester points out it has made between the SX3 and SX4, and I have not, with rare exceptions, found improved models of shotguns to not actually be improved to some degree in performance or design, if not both performance and design.
Let me say the same thing with different words: Usually the new-and-improved firearms brought out by manufacturers to keep up with improvements in technology (not to mention the competition) are, in fact, both new and improved. Attempts to foist little more than cosmetic changes on the more and more knowledgeable — and more and more vocal (via blogs, customer comments, social media) — shooters are usually quickly brought to light.
Field Ready Function
That said, let's get on with it. My first experience with the Super X4 was on a duck hunt, a teal hunt near Matagorda, Texas, to be exact, and in the rush and excitement of incoming ducks and a line of hunters all rising in unison to pick out the fleeting targets it's difficult to remain conscious of a shotgun's performance.
However, with moderate concentration before, during and after a volley, you can develop an overall judgment of basic shotgun qualities. Namely, does it operate and handle easily and instinctively? Does it naturally and smoothly point, swing, track and follow through? Does it quickly cycle shot after shot? Does the recoil hammer you down into the mud? And, most importantly, does it cause the ducks at which it is pointed to splash into the water?
Yes on the first. The SX4 handled smoothly and was easy to operate, and it did well cycling shot after shot of Blind Side 3-inch No. 5s without fail (the real test would come later with lighter target loads, which it cycled with equal ease), and it did not pile drive me into the mud fringing the Ducks Unlimited projects we hunted.
As is often the case, recoil goes unnoticed in the heat of shooting, but I've had shotguns that made their presence known, particularly after firing that third shot after a rapidly climbing, retreating bird. And most importantly, on our second day's hunt, we took a heavy toll on blue-winged teal, wrapping up our shoot in 45 minutes.
Sitting on a stick-in-the-mud seat behind a wispy cedar bush, meager cover on the edge of the wetlands, I examined the shotgun and did a few dry-run shoulder mounts to compare how it comes up when I'm not rushing to catch up with feathered rockets. It had a solid, comfortable feel, but I couldn't quite put my finger on what the improvements could be from the SX3, so I asked Rafe Nielsen, communications manager for Winchester and Browning firearms, who had been just down the shooting line from me on both days.
Turns out, I had been putting my finger on the improvements.
Making Good, Great
The major changes weren't internal; the Active Valve Gas System remains the central component, as it was (with tweaks and improvements along the way) for the SX2 and SX3. (The Super X's long history started with the first model of Super X shotguns introduced in 1974. SX2 followed in 1999; SX3 in 2006, and now, the SX4, in 2017.)
The system, Nielsen said, gives you the two things you want out of a gas system: extremely soft shooting and extremely fast cycling. Because gas pressure from the shot activates the action, it takes some of the punch out of the recoil and provides fast cycling from shot to new round. "We can't say it's the fastest," he said, "but it's the fastest auto-loading gun out there."
The redesign doesn't tinker with the mechanics of the Active Valve Gas System, other than minor tweak improvements, Nielsen said. The SX3 "is a great-functioning gun and we didn't want to mess with what was making it great, but we wanted to do some things to upgrade it, give it a fresh look and feel and make it relevant again to the next group of guys coming up and coming through and wanting an update. Because the operating engine is still working great, we had to look at some other pieces of the pie," he said.
And one of the things Winchester was able to do, he said, (totally upending my next question: "By 'updated,' do you mean more expensive?") was bring the price down. Taking for example the highest end model, the camouflaged Waterfowl Hunter capable of handling 3½-inch shells, they were able to knock off a couple hundred bucks, getting it under a grand at retail stores. They pulled that off with improvements to manufacturing processes, cutting parts costs — but not cutting corners. The only noticeable change is the trigger guard in that the easy-to-drop-out trigger assembly is now made of polymer, not aluminum, which he called an improvement because it's lighter, won't ding like aluminum and better matches the finish, especially on the synthetic-stocked models.
Improved Ergonomics
The stock has been redesigned; it's lighter, has a thinner and textured pistol grip and forend (which is grooved for comfortable, natural finger placement), and the balance point is more forward than the SX3. It's more ergonomic, Nielsen said, and is "a little bit more fluid swinging gun."
Nielsen has been able to do side-by-side shooting comparisons. "From a personal standpoint, the SX3 is a fine gun," he said. "I shot it OK, but I shoot the SX4 noticeably better. It just fits me better. So, outside of what the specs are, I can tell the difference shooting the two different guns and will gravitate to the SX4 every day, all day long."
Shooters are becoming more demanding, and manufacturers are becoming more scientific, Nielsen said. Gone are the days of simple buttstock, recoil pad, forend, action and barrel, he said. Now, they are diving into how the shotgun fits and feels. With the SX4, there was a theme to build improvement upon improvement "all the way through to improve the entire gun, from recoil pad to muzzle."
Three of those improvements I had indeed put my fingers on.
First, the bolt handle has been enlarged to make it easier to grab with cold or gloved hands. The safety, which is reversible, is also larger and, likewise, the bolt-release button has been enlarged and is somewhat recessed into the receiver so it's easy to press yet not as likely to hit accidentally. The trigger guard is also larger, again for easier use with gloved hands.
The Inflex Technology recoil pad directs recoil down and away from your face, Nielsen said. And it has a larger footprint, so recoil is "spread out across a larger area so it dissipates more and [can] be a softer feeling gun," he said. Also, synthetic-stock models come with one ¼-inch spacer installed in the stock for a 14¼-inch length of pull and an additional spacer in the box. Wood-stock models come with two spacers in the box.
The guns also come with a selection of Invector-Plus in-barrel choke tubes — full, modified and improved cylinder. When I asked Nielsen about extended-length tubes, he said they have found most shooters interested in switching choke tubes have aftermarket favorites, and there's no point second-guessing them; therefore, they outfit the shotguns (other than sporting clays models, some of which come with specialty Briley tubes, and turkey models with a specialty turkey tube) with three perfectly functional options.
Currently, the SX4 is available in camo Waterfowl Hunter versions, black synthetic and wood-stocked Field and Field Compact models. In 2018, Winchester is slated to add Universal Hunter, Cantilever Deer and National Wild Turkey Federation Turkey models.
Though Winchester makes all these models, it knows "most people are going to buy one gun," Nielsen said. "They're going to use it for the specific purpose they buy it for, so if they're pheasant hunters, they're going to buy the wood or synthetic version; if they're duck hunters, they'll buy the camo version, and then they're going to use it for everything from the trap field to everywhere they go. This is going to be their go-to gun."
Editor's Notes: This article originally appeared in the January 2018 issue Gun Digest the Magazine.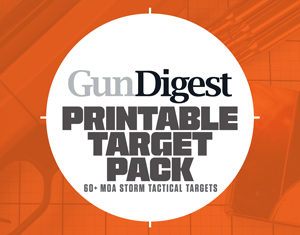 Next Step: Get your FREE Printable Target Pack
Enhance your shooting precision with our 62 MOA Targets, perfect for rifles and handguns. Crafted in collaboration with Storm Tactical for accuracy and versatility.
Subscribe to the Gun Digest email newsletter and get your downloadable target pack sent straight to your inbox. Stay updated with the latest firearms info in the industry.