The 555 and 555 Enhanced 16-gauge options breathe new life into the versatile medium bore.
What Are The 555 And 555 Enhanced Features:
Chrome-lined carbon steel barrels
Turkish walnut stock
Lightweight aluminum receiver with tang-mounted safety
Single selective mechanical trigger
Manual extractors
Five interchangeable choke tubes
The 16-gauge isn't dead yet. While the bore has been fading from American shotgunning for nearly a century, among those seeking a sleek and balanced field gun it still remains popular. Hard to find, but popular.
Stevens made it a bit easier to get into this versatile and easy handling bore recently, with the introduction of the 555 and 555 Enhanced in 16-gauge. Like many of its heralded predecessors, the Turkish-made gun is a slick and attractive over/under begging for a covey of quail or a rocketing rooster. Furthermore, the 555 Enhanced offers a touch of tradition with filigree engraving on its aluminum receiver. Outside of ornamentation, the brass tacks of the shotguns are nearly identical, both boasting chrome-lined 28-inch barrels, Turkish walnut stocks, Schnabel forends and manual extractors.
---
More Shotgun Posts:
---
Incidentally, if you ever wondered what happened to the 16-gauge in America, Terry Weiland gives you the answer. In a word, skeet:
In the United States, the 16's loss of popularity is generally blamed on the originators of skeet. When the rules for skeet were drawn up, in 1926, it was decreed that the game would be officially shot with four gauges—12, 20, 28, and .410—and that left the 16 an orphan."
Read the whole thing, it's worth your time.
From Stevens:
WESTFIELD, Massachusetts – April 10, 2019 – Stevens' new 555 Enhanced doles out world-class over-and-under performance — and now does it in 16-gauge. Shipments of these firearms have been delivered to dealers.

The field- and trap-tested platform is light and handles fast, thanks to a lightweight aluminum receiver that's scaled to gauge and reinforced by a steel insert. It's also loaded with features, including a stylish Turkish walnut stock and chrome-lined, 28-inch carbon steel barrels.

Features
• New 16-gauge offering
• Chrome-lined carbon steel barrels
• Turkish walnut stock
• Lightweight aluminum receiver with tang-mounted safety
• Single selective mechanical trigger
• Manual extractors
• Five interchangeable choke tubes

The available model list below also includes the standard 555 blued receiver without engraving option.

Part No. / Description / MSRP
22179 / 555 Enhanced 16-gauge, 28-inch barrel / $879
22178 / 555 16-gauge, 28-inch barrel / $705
For more information on the 555 and 555 Enhanced, please visit www.savagearms.com.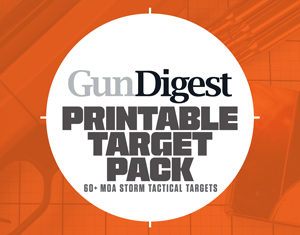 Next Step: Get your FREE Printable Target Pack
Enhance your shooting precision with our 62 MOA Targets, perfect for rifles and handguns. Crafted in collaboration with Storm Tactical for accuracy and versatility.
Subscribe to the Gun Digest email newsletter and get your downloadable target pack sent straight to your inbox. Stay updated with the latest firearms info in the industry.