Black Aces Tactical offers up a box-magazine fed, semi-automatic shotgun in a more traditional configuration with the release of the Pro Series M.
What Sets The Pro Series M Apart From Other Mag-Fed Shotguns:
More traditional configuration
Uses Saiga 12 magazines and drums
Can chamber 3-inch 12-gauge shells
Uses Benelli Mobile chokes
Ambidextrous charging handle
Generally speaking, box-magazine fed, semi-automatic shotguns have usually come in two variations – those based on the AK and those based on the AR. Now, Black Aces Tactical gives shooters a more traditional choice with the introduction of the Pro Series M.
The release comes in conjunction with Black Aces Tactical's introduction of its M Pump line of magazine-fed, pump-action shotguns. And both semi and repeater have a common and appealing thread – Saiga 12 magazines. Yup … box and drum. That's a rather nice break from what shooters have seen in the recent wave of similar scatterguns, which have gone proprietary with feeding systems. Saiga mags aren't difficult to dig up and come in several capacities, so you'll have the ability to match your firepower to your objective at hand. To start you off, Black Aces includes a 5-round mag.
In all Black Aces Tactical offers four variants of both the Pro Series M and M Pump. Each is available in either black synthetic or walnut stocks and outfitted with a 24- or 18.5-inch barrel. Mix and match to suit your needs. The shotguns are fairly well priced, as well. The Pro Series M runs $449 for the synthetic stock model and $499 for the walnut; the M Pump $399 for the synthetic and $469 for the walnut.
While there's no official word on this yet, given Black Aces Tactical's history shooters might expect a new variant sometime on the horizon. The company has been fairly prolific in its production of shorty smoothbore "firearms", in turn, it should come as no great shock if these new configurations are abbreviated.
---
Load Up On More Shotgun Content:
For more information on the Pro Series M and M Pump, please visit www.blackacestactical.com.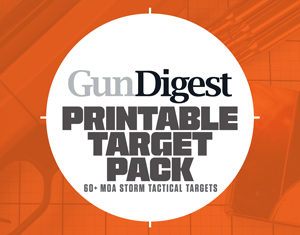 🎯 Exclusive Offer: Get Your FREE Printable Target Pack!
Dive into precision shooting with our 62 Exclusive MOA Targets featuring DOT Drills. Perfect for both rifle and handgun enthusiasts, these targets are designed for accuracy, especially for long-range shots.
Why You'll Love This Pack:
🎯 Expertly Crafted: Brought to you in partnership with the renowned Storm Tactical.
🎯 Versatile Use: Suitable for both rifle and handgun range sessions.
🎯 Precision Design: Target grids and bullseyes meticulously measured in MOA for the best shooting experience.
Bonus: By grabbing this offer, you'll also be subscribing to the Gun Digest email newsletter, keeping you updated with the latest in the world of firearms.
Don't miss out!
Simply enter your email below, and we'll send your downloadable target pack straight to your inbox.