Smith & Wesson makes a marked break from tradition with its first bullpup shotgun, the M&P 12.
How Does The M&P 12 Stack Up:
Dual tubular magazines
Push-button magazine selector
AR-style controls
3-inch chamber
Lower ejection
Loved in some corners, reviled in others, bullpups stir the passions. And while there are devotees to the oddball design stateside, the backed-up configuration has never really punched a toehold in the market. Outside of midsized manufacturers, such as KelTec, it's usually been gunmakers from across the pond—IWI and Steyr in particular—who've scratched the Yanks' bullpup itch. However, this might change.
Rolling the dice the bullpup shotgun's time is now, Smith & Wesson has unveiled its rendition of the oddball design as an expansion of its M&P line of defensive/tactical firearms. Dubbed the M&P 12 Shotgun, the 12-gauge is the company's first attempt at a scattergun in quite as spell and is a marked break from its previous smoothbores. One thing is for certain, the time is ripe for the introduction of a defensive shotgun—bullpup or otherwise. Much like carry-friendly pistols, tactical shotguns have flown off the shelves the past two years in America's record-breaking gun-buying flurry.
What The M&P 12 Shotgun Brings
If the UTS-15 and KSG had an attractive kid it might look like the M&P 12. It's definitely as blocky in stock and fore, and like the aforementioned bullpups, the shotgun boasts a dual-tubular magazine design. Throw the confetti, because this means the Smith & Wesson scattergun has plenty on tap without compromising overall length. To that end, the 27.8-inch long gun holds six 3-inch shells per tube or can maximize capacity with seven 2 3/4 shells per tube. Shooters can even load up even more, given Smith & Wesson boasts it will also properly cycle mini shells, which isn't the case with all shotguns. A push-button selector intuitively situated at the rear of the fore allows for quick mag changes and plenty of flexibility of what you pitch downrange.
Perhaps the most visually notable aspect of the M&P 12 is its two-grip design, offering more control over the guns and potentially faster actuation of the pump. Though, it does tend to increase the overall profile of the gun. The nice part, however, Smith & Wesson recently rethought the entire concept of grips and has veered away from run-of-the-mill AR handles. Instead, the shotgun is outfitted with M&P pistol grips, complete with interchangeable palm swell grip inserts to customize each user's fit.
As to some of the M&P 12's finer points, its controls are configured similar to an AR-15—fully ambidextrous as well—making it very intuitive to manipulate. It's outfitted with a Picatinny optics rail (there are M-Lok slots too), though this is somewhat forward, which makes sense, given a red-dot is the most likely candidate for an optic. It boasts a push-button load/unload assist system, as well as a loaded chamber indicator and compatibility with Rem Chokes. And it has a reciprocating dust cover over the receiver, a bid to make clearing damaged shells or malfunctions easier. One other nice touch, the action lock lever is located at the front of the trigger guard, which removes having to take the gun out of ready to reach.
As to the tale of the tape, the gun has a 19-inch barrel and weighs in at a tick over 8 pounds. Now the big question, what does it cost? At present, Smith & Wesson has an MSRP of $1,165 on the M&P 12, which puts it at the upper end of the market. Though with the way tactical and home-defense shotguns have flown off the shelves in recent months the price is likely far from prohibitive.
Not The First Smith & Wesson Shotgun
A quick note about Smith & Wesson pivoting to shotguns, it isn't the company's first rodeo with scatterguns. It's peddled both sporting and defensive break action, pump and semi-auto guns. Many of their more modern offerings were contract jobs, such as the Japanese-made (Howa) Model 3000 pump and Model 1000 semi-auto. However, shotguns have rolled off the manufacturer's lines, most notably the side-action 916—based on the Nobel Shotgun Company's Eastfield Model. Though the M&P 12 marks the company's first foray into the scattergun in nearly 30 years and no word if it's made in-house. Time will tell if this proves a wise move.
M&P 12 Specs:
Caliber: 12 Ga
Capacity: 6 3-inch per tube, 7 2 3/4-inch per tube
Optics: Yes
Color: Matte Black
Safety: Ambidextrous safety selector
Length: 27.8 inches
Action: Pump Action
Stock: Synthetic Fixed Stock
Grip: M&P with Four Interchangeable Palmswell Grip Inserts
Barrel Material: 4140 Chrome-Moly Vanadium Steel
Barrel Length: 19 inches
Weight: 8.3 pounds
MSRP: $1,165
For more information on the M&P 12, please visit smith-wesson.com.
---
More Tactical Shotguns:
---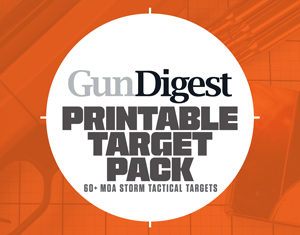 Next Step: Get your FREE Printable Target Pack
Enhance your shooting precision with our 62 MOA Targets, perfect for rifles and handguns. Crafted in collaboration with Storm Tactical for accuracy and versatility.
Subscribe to the Gun Digest email newsletter and get your downloadable target pack sent straight to your inbox. Stay updated with the latest firearms info in the industry.