Mossberg 500 Retrograde additions have plenty of old-school intimidation.
What The Mossberg 500 Retrograde Models offer:
Walnut stock
Cylinder bore
12 gauge, 3-inch chamber
590A1 has 20-inch barrel
18.5 has 18.5-inch barrel
14.5 length of pull
Introduced in 1960, the Mossberg 500 has become one of the most prolific firearms ever produced. At this point, more than 12 million have rolled off the assembly line and there's little reason why another 12 million won't follow suit in the impending decades. With that in mind, it's no wonder Mossberg picked the line to spotlighted the company's upcoming 100th Anniversary.
Featuring the same battle-tough design as the rest of the series with a throwback look, the recently introduced the 500 Persuader Retrograde and 590A1 Retrograde are eye-catchers. Essentially the tactical models of the shotguns, the guns have traded up their synthetic stocks for sticks of walnut with some solid results. The guns definitely have an air of old-school intimidation about them that any smoothbore fan is sure to love.
More from the company:
NORTH HAVEN, CT – O.F. Mossberg & Sons, Inc., a leading American firearms manufacturer, is announcing the introduction of the Retrograde Series of pump-action shotguns; the 500 Persuader Retrograde and 590A1 Retrograde. Designed to commemorate Mossberg's 100th anniversary in 2019, the Retrograde Series features the two most iconic police and military pump-action shotguns, built to today's standards, but with the retro look and feel of a walnut stock and matching corncob forend.

After over 50 years in production, over 12 million sold and the only pump-action shotgun to pass the U.S. military's MIL-SPEC tests, the Mossberg 500 platform has proven to be one of the most versatile and reliable shotgun designs available. Both the 500 Persuader Retrograde and 590A1 Retrograde are designed for smooth, dependable operation with the combination of non-binding twin action bars; dual extractors; a positive steel-to-steel lock-up; anti-jam elevator; anodized aluminum receiver for added durability; and universally-recognized, ambidextrous top-mounted safety.

Mossberg 500 Persuader Retrograde (50429) – Available with an 18.5-inch (6-Shot) cylinder bore barrel; topped with single front brass bead sight; blued metal finish; and full-length walnut stock and corncob forend. MSRP: $504

Mossberg 590A1 Retrograde (51665) – Built to MIL-SPEC standards, this 9-Shot 590A1 has a 20-inch heavy-walled, cylinder bore barrel complete with a heat shield, bayonet lug and Ghost Ring sights. This retro model also has a Parkerized finish; metal trigger assembly; metal safety button; and wears a full-length walnut stock and corncob forend. MSRP: $902
For more information on the 500 Retrograde models, please visit: www.mossberg.com.
---
More Information On Mossberg Shotguns: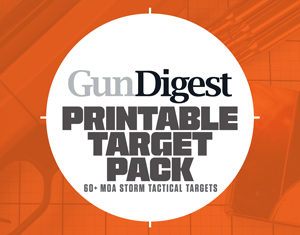 🎯 Exclusive Offer: Get Your FREE Printable Target Pack!
Dive into precision shooting with our 62 Exclusive MOA Targets featuring DOT Drills. Perfect for both rifle and handgun enthusiasts, these targets are designed for accuracy, especially for long-range shots.
Why You'll Love This Pack:
🎯 Expertly Crafted: Brought to you in partnership with the renowned Storm Tactical.
🎯 Versatile Use: Suitable for both rifle and handgun range sessions.
🎯 Precision Design: Target grids and bullseyes meticulously measured in MOA for the best shooting experience.
Bonus: By grabbing this offer, you'll also be subscribing to the Gun Digest email newsletter, keeping you updated with the latest in the world of firearms.
Don't miss out!
Simply enter your email below, and we'll send your downloadable target pack straight to your inbox.